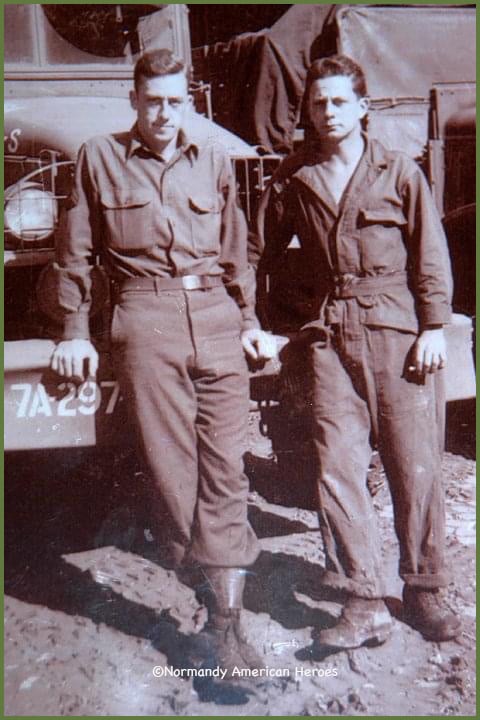 If we want to talk about Hal Miller, we need also to talk about Tom Miller. Twin brothers were born on September 26th, 1923, to Thomas and Pansy Miller, in Owensboro, Kentucky.
Dear readers, you might have a twin, both of you are one, you are nothing without him and he is nothing without you. Everything you want to do, you do it together…always.
This is exactly what happened for Miller's twin brothers.
USA declared war on the Empire of Japan on December 8th, 1941, after the attack on Pearl Harbor. Hitler has declared war on the United States on December 11th . Thousands of boys were drafted for what it was going to become their greatest undertaking "Liberate the world from the tyranny".
Hal and Tom were among those drafted boys, but after finding out they would be separated, they have chosen to drop out school just before graduation to stay together. As they always did everything together, they didn't want to be separated. Thanks to God, twin brothers succeed to stay together.
As I'm writing these words, I think to their parents who have seen their boys leaving the family house for a country they never heard of. Leaving the house in which they grew up, leaving behind them their childhood memories, leaving behind them everything they cared so much.
Both enlisted into 297th Engineer Combat Battalion, Hal and Tom will storm together the Normandy beaches, will liberate Cherbourg, will take part to Operation Cobra, and will put to the end the Nazi oppression over the oppressed people of Europe.
Dora Death Camp
The Nazi have committed several war crimes against the politic opponents, Jews, war prisoners and minorities. Nowadays there are a lot of testimonies from people who survived the Death Camps. How their liberators reacted when they discovered Nazi crimes ?
On April 12th, 1945, 297th was in Nordhausen, Germany. As the end of 3rd Reich was close, the only things boys could seen were destroyed towns, abandoned vehicles, and columns of German prisoners. The only remaining resistance was from fanatic SS soldiers. As I'm aware there are some unforgettable events for the 297th:
D-Day.

Cave full of alcohol under Fort du Roule in Cherbourg.

Tribéhou shelling.

City nuts.

Belleau wood.

The town of Nordhausen.
Why Nordhausen? It will always remain a memory of Nazi atrocities. There was a concentration camp four hundred yards south for Russian, Polish and other political prisoners. These men and women were sent there to die slowly as a result of mistreatment and starvation.
Nordhausen camp was built to receive people who became too weak to be any use to the Nazi as slave labor. When 297th 's men discovered of it there were around 6000 dead bodies laying on the ground and rotting plus 1000 others in various stages of starvation.
The dead bodies were humans of both sexes of all ages, mothers were sleeping in the mud with the body of their dead children, men were doing the same with their wife. In most of the barracks there were not sanitary facilities. No beds, just the floor and its accumulated filth to sleep and die on. Some of these dead had lain for days and the odor was terrific.
In the North of the town, above the underground V2 plant where the slave labor had been forced to work, was a crematory with a daily capacity of two hundred. As there were too many bodies to burn, Nazis piled them up like pieces of wood outside of the plant.
Some guardians were still in town trying to act as "German soldiers" and not Nazi but they were arrested and turned over to the few survivors, who were still able to get around. They forced their former jailers to crawl in the mud, among bodies which were rotting everywhere in the camp. Americans took them in custody for an eventual trial before survivors killed them.
297th asked for tanks to dig graves for the bodies laying on the ground so that they could be given a decent burial.
Inhabitants of Nordhausen were brought to the camp to witness what Nazis have done, it was sure that they were aware of the crimes. Some of them were chosen to carry the corpses, on litters, from the camp to the burial grounds.
Hal and Tom didn't only build bridges and roads, but brought about the destruction of the Nazi regime.
After the war, brothers went back to high school to finish their studies then went off to college in Albuquerque, New Mexico.
Tom had a cattle farm but turned it in to a place where people could come for camping, fishing, swimming and dinning in the 60's. His parents joined him and opened a store selling souvenirs and antiques which later became a museum.
In 1974, Tom found out he had leukemia, this is why Hal brought the campground so his brother could focus on getting better. As always, they continue to support each other.
Unfortunately, Tom passed away at the age of 51 years old, six months later.
(Note: During the time spent in New Mexico, Tom and Hal were closed of their uncle also named Hal. He was a chaplain during the First World One)
After a few years of managing the campground, family sold it to focus on the restaurant. Hal who had items from the war moved his museum into the restaurant in the 80's but burning destroyed most of his collection in 2006.
Being the great man he was, at 83 years old, he opened a new restaurant, filling it with some of his items.
As Hal lost his twin brother, he decided to reconnect with his surrogate brothers, 297th Engineer Battalion with who he shared so much for almost four years.
In 1993, C Company's boys from New York City invited him to a reunion to talk about the warfare experience, to know what he became. Hal then, offered to host a reunion for the veterans of the 297th during the 50th Anniversary of the landing and so until the 2000's.
On April 18th, 2014, at 90 years old, the boy from Kentucky, passed away few months after an accident on his farm. Nowadays, his daughter Evelyn is running the restaurant and pleased to tell her father story with people. In 2016, the History Channel's show, American Pickers came to visit Hal's Museum.
Hal and Tom left their house in Kentucky for the war, by leaving it they saved thousands of lives and returned home changed forever. Love they had for each other allowed them to overcome the atrocities of the war.
As we are discovering together the story of these boys, I would like also to have some thoughts for their older brother, Robert. Contrary to his brothers, Robert joined the United States Marine Corp facing the Japanese forces in the Pacific ; Semper Fi !
"297th Engineer Battalion ; Essayons" "
(Note: Hal Miller married Deanna Miller, together they became parents of Karen, Kathryn and Evelyn; Thomas P. Miller Jr married Nancy Miller becoming parents of Mike and Thomas Miller III)