In February 1979 came a call from Chief Warrant Officer Carl Hansen of the Awards Office in the Pentagon. "Colonel Urban, I have some great news for you! On digging through our great volume of files, we have located a bona fide application for the Congressional Medal of Honor sent to us by Sergeant Earl Evans!"
Sergeant Evans spent the last months of the war in a German POW captured shortly after Matt Urban final evacuation from the front… and was the one pushing the U.S. administration to recognize the valor in action of his comrade when he came back safely home. It will take him almost 35 years to accomplish this administration crusade!
Why? Once you will have read the story of Matt Urban, you will understand why one comrade did this for another comrade!
Would you have done the same?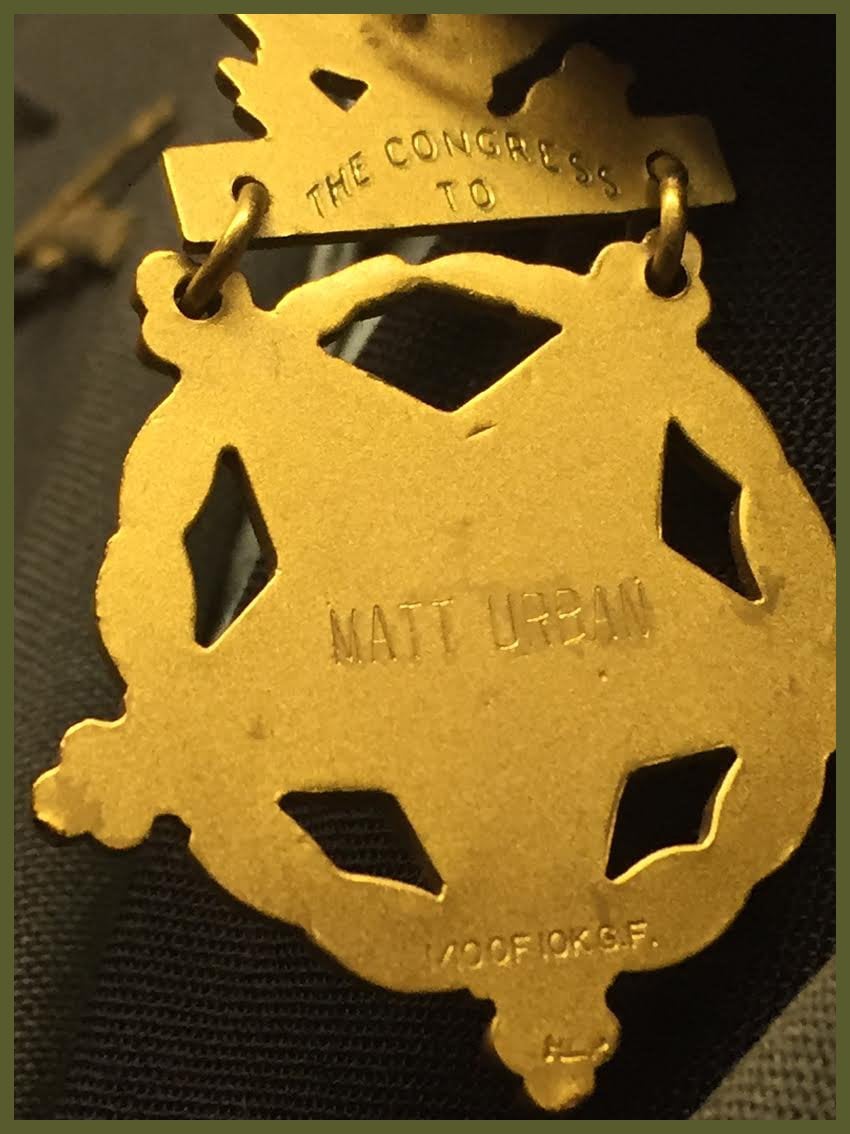 Medal of Honor of Lieutenant Colonel Matt Urban
Devotion to duty
... Matt had been injured seriously in the throat. Taken back to England to be hospitalized his only focus was to make it back to the front lines where he belonged with his men. So what did he do you may ask? Simple, he became a stowaway on an airplane heading for Paris, and then convinced a pilot crew flying to Germany to take him with them. Upon landing he was to be finally arrested by the Military Police who allowed him to see for the last time his battalion before being sent back to the States to recover from his wounds!
The Ghost of Normandy
The Ghost of Normandy is the story within all the incredible and unique stories of WWII that Normandy American Heroes like to share with its guests on the battlefield of Normandy.
When Sergeant Evans returned from his service, on many occasions he reminded his former Battalion Commander that the late Major Max Wolf had recommended the Congressional Medal of Honor for Captain Matt Urban's actions in the hedgerows of Normandy and the breakout at Saint Lo. Sergeant Evans could not understand why Matt Urban still had not heard anything 34 years later!
Matt Urban will actually receive the Congressional Medal of Honor not for one act of valor but for the whole Normandy campaign!
For Matt it was academic, he was honored to have been recommended but kept quiet about it. People around him in civilian life never realized Urban's heroic actions or the extent of his wartime service. How could this be so? Why was he discreet of his heroic accomplishments? Why not go up front thru the Medias etc…? The answer is probably in his past...
Matt left Buffalo in the late summer of 1937 to begin his studies at Cornell University, located in Ithaca, N.Y. The life style in the United States was changing noticeably as Europe was clinging to an uneasy peace. The interest and emotions of the people were affected by risky developments in Europe. Civil war had broken out in Spain.
A few years later will come out from Spain the greatest double agent of WWII, who more than surely saved thousands of lives on D-Day in Normandy! Another incredible story Normandy American Heroes like to share with its guests.
The Republicans and Falangists (members of General Franco's political party) struggled for control. Russia provided aid to one faction; the Germans were providing aid and military equipment to the other. The French and British governments still believed Adolf Hitler's threats of military aggression could be tamed through compromise and appeasement; history would prove they were wrong.
All youngsters today should look up on Matt's motivation. Why? During his studies at Cornell University, coming from a modest family, he held five part-time jobs while balancing classes, studying and running on the cross country track team. A person will less motivation and stamina would have been exhausted by such a work/study schedule! After the first trimester, his academic accomplishments were unimpressive; it shocked Matt into reality and motivated him even more so as not to fail.
Cornell's beloved history professor, Fred Marcham, invited the struggling freshman to his home for a game of chess. As one game led to another, the compassionate professor wove many lessons of life into the conversation. Matt learned that one can handle a multitude of tasks under extreme pressure if they are completed in a good priority, one at a time. He put in practice that important lesson of life during his war service driving the soldiers under his command to succeed in whatever mission they were to accomplish.
Deciding to optimize efficiently his time, he chose to practice Boxing as it demanded the least training time! With no experience, he felt at home there, his success based on quickness and agility; again this will greatly help him making the right decision against the enemy.
In September 1940 Matt was preparing to enter his senior year. On the 16th of September, Congress passed the Selective Service Act. The Selective Training and Service Act of 1940, also known as the Burke-Wadsworth Act, enacted September 16th, 1940, was the first peacetime conscription in United States history.
It was necessary to organize the draft to strengthen the manpower of the extremely weak American forces. Three months later the country implemented its famous FISH-BOWL Selective Service drawing. By the time Matt graduated from Cornell in 1941, over 500,000 men had been called into uniform.
Late Summer 1941, 2nd Lieutenant Urban (military protocol required to use the last name) entered Fort Bragg to be assigned to the D Company as platoon leader of the 60th Infantry Regiment of the 9th Infantry Division. He had the privilege to be under the order of Colonel (Major General) Franck C. Mahin, veteran of WWI Infantry.
Colonel Mahin had firsthand knowledge of the terrible slaughter of American troops back in France during that conflict because of insufficient weapons training. He was determined to give the best training possible to his troops and they gave it back to him! The troops accepted the fact that their rifles were the key to combat survival; it became automatic for them to keep their rifle within arm's reach at all times. Captain Matt Urban more than surely saved the lives of soldiers under his command by making sure they kept their rifles in working conditions at all times, no matter what.
Combat training was not the only part of Matt Urban, Fort Bragg experience! He was also assigned the responsibility of Regimental Morale Office… Not only was he responsible for keeping his platoon alert and efficient; he will do so from Morocco all the way to Germany, but his orders were to keep up the morale of the troops! He achieved this by development of sports and recreational projects. He soon became as tough a coach as Sergeant Groves had been a combat drill instructor. Matt was deeply respected by the men as he treated everyone the same regardless of their rank or ability, a natural born leader.
Matthieu Ricard, French writer and Buddhist monk who resides at Shechen Tennyi Dargyeling Monastery in Nepal is said to be the happiest man in the world… He says "If you want to be happy, practice Compassion. If you want the others to be happy, practice Compassion".
As you may have guessed Matt never met Matthieu, nevertheless he put this in practice every day of his life. His compassion developed the best ability in each man, encouraging average athletes to achieve performance they didn't believe possible. Both in the States but more so abroad on the battlefields these men will accomplish extraordinary feats, Matt finding the right words to push them to their limits! They fought with him to become overachievers, "From Good to Great", a lot of them stating after the war that Matt had had a profound influence on their lives.
Now you are beginning to know who Matt Urban was, an ordinary man who will achieve extraordinary feats in battle!
Like all natural born leaders he challenged his men, using guilt, inspiration and appeal to logic. He would ask his men during a sport tournament "How can you expect to win a war if you can't even beat these guys!" This strategy paid off at Fort Bragg but more importantly, it paid off with many last minute victories against the enemy! It's said today that a highly effective leader is ambitious and humble, Matt Urban, yes, was both.
Being so efficient, his Regimental Team winning all of its matches, Matt came to the attention of the higher brass. The 9th Infantry Division needed a coach to put together a winning team to compete in the all-army boxing matches. You must not forget that boxing was a primary attraction in the military, regimental pride being always on the line.
Thanks to Matt, the 9th Infantry Division became consistent winners reaching the prominence as team champions in the European Theatre of Operations! One of them you have read of earlier, Sergeant Earl Evans.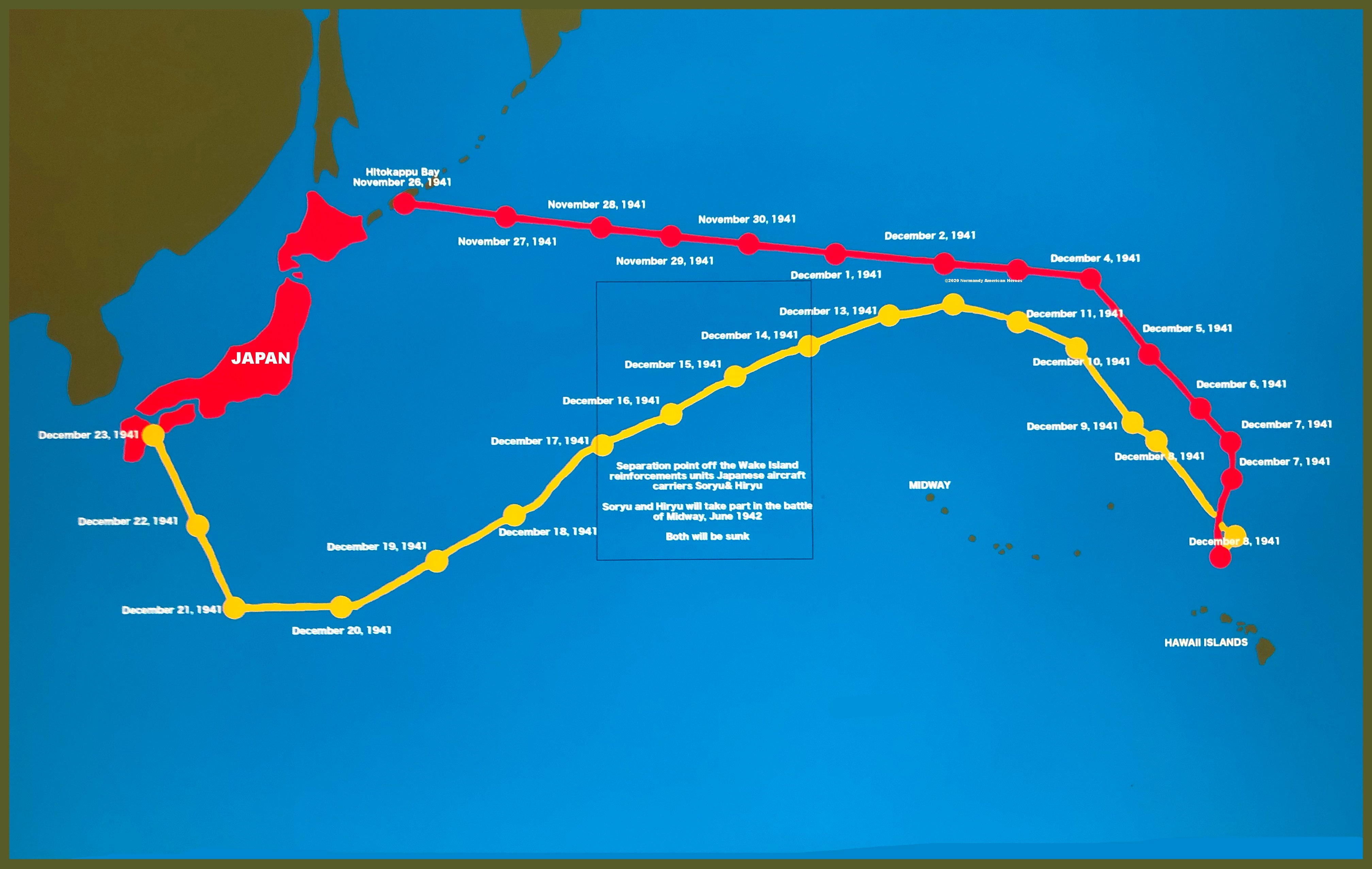 But let's stay focus. Hitler declared the war on the U.S. December 11th, 1941, 5 days after the infamous attack of the Japanese at Pearl Harbor.
Matt like other rambunctious army recruits of Fort Bragg frequently spilled over into nearby towns to celebrate their passes and furloughs! A welcoming relief after a grueling training schedule.
A day that will live in infamy
December 7th, 1944, it's just another day? Matt is perched on a cushioned bar stool sweet talking with his lovely date, floating on cloud, drifting closer and closer to her. Suddenly he is snapped out of his reverie. The bartender turns up the radio volume. The gaiety of the lounge is instantly triggered into shocked silence by the radio bulletin. Conversations stopped, silence prevailed.
The tense radio voice announced, "Stand by for an urgent report".
Soon the solemn radio announcer tersely reported, "Sunday morning, December 7th at 7:00 AM, Japan attacked Pearl Harbor. The U.S. fleet was heavily damaged and thousands of American casualties resulted. All military personnel are ordered back to the base IMMEDIATELY! Repeat: All passes are cancelled. Return to your outfits!"
As never before the dance band burst into a medley of military songs. "Over There", "Anchors Aweigh", The Marine Hymn "From the Halls of Montezuma" was sung by hundred of voices. Emotions were building with pride and fierce determination. That fateful day would live in their memories forever.
Troop deployment was now certain. On April 10th 1942, orders from the 9th Infantry Division Headquarters assigned 2nd Lieutenant Matt Urban and Lieutenant Bill Goodman to another special duty mission. Matt became Chief Swimming Instructor for the Regiment with the responsibility of training 4,500 men for waterborne invasion of hostile beaches. The amphibious training will save a lot of lives on the coast of Morocco, during Operation Torch.
Matt noticed, close to the end of his assignment, that Lieutenant Goodman seemed to be burdened by personal problem. One evening at the Officer's Club Matt, with compassion asked him about it.
"Well Lieutenant I do have a problem, I'd like to talk about it, and get if off my chest".
"Goodman, I'm here to help if I can," Matt volunteered.
"I'm from Portland, Oregon, and back home, there's this girl… her name is Betty Cummins. She is my childhood sweetheart and lives next door to my parents. We have been together as long as I can remember. I feel as if I deserted her. When I enlisted, she cried like a baby and begged me to marry her and bring her along, even if only for a few days".
"How old is she?"
"She's eighteen".
"What do you want to do?"
"I want to marry her, but I've got nothing to offer her, no certain future. I don't want to face death before I've even had a chance to live life. I love this girl. It's hard to know what to do, but I don't know what's going to happen to me!"
"She's probably considered that". Matt responded. "You are both adults, do what you want to do".
"Yeah, that's what I hoped you would say". He went straight off to the wall phone. "Thanks Urban!"
A few days later Matt drove Lieutenant Goodman and his Bride to the Justice of Peace in Dillon, South Carolina. The ceremony was simple. The happy faces of the newlyweds were a pleasure for Matt. He was so proud that he let Lieutenant Goodman drive his new tan convertible for their honeymoon. It was one happy soldier who returned to camp the following Monday.
"That's the nicest thing anybody ever did for me, Urban. I'll never forget it".
"Look after him for me", pleaded Betty in tears as she left on the long trip back home to Oregon.
"I will", Matt assured her.
He could not have known then the terrible confusion of battle…or what fate would prove to be during Operation Torch.
During the sea travel toward the coastline of Morocco, for no reason other than been popular and respected by his men, Colonel Stevens had grounded him on the vessel. Thus the decision of Matt to take on a raft with the risk of being court-martialed as he believed he belonged with his men. After rescuing soldiers in the sea, Matt stumbled onto the men of his Battalion up the hill. Luck, Fate…
Lieutenant Goodman
The first infantryman he reached was down on his knees, petrified with terror, as he stared down at the torn-up body of his fellow soldier. Trying to settle his own shock, Lieutenant Urban intervened and jerked Private First Class Walter Grabski to his feet, repeatedly howling: "Come on! Come on! Let's get the Hell out of there!" The other men around took heed. They followed their officer to rejoin the remainder of the platoon. Together they were criss-crossing for clumps of cover, moving inland from the open beach. They ran Indian style. Just as they were about to reach shallow cover, a shell detonated, throwing a swash of piercing fragments into their midst. Men fell screaming for help.
Urban moved, trying to avoid an object which rolled against his foot…
He looked… it couldn't be! A human head!!!
Momentarily stricken, hesitating, uncontrolled courage drove him to pick up the severed head.
In a glance, Urban recognized the face on the decapitated head of Lieutenant Bill Goodman.
"Noooooooo!!!" shrieked Urban. He refused to believe that it was the head of his buddy! Delirious, he nestled the head to him. Raging in passion, he shrilled "You're alive, you're alive! Bill, you're alive!" A gleam in the eyes, his usual expression, was still there on the muddy face.
Urban frantically tried to reattach the head to its neck as thoughts of Bill's wife Betty, asking him to take care of him for her flashed through his mind. The body was warm, quivering in its last reflexive movements. Unable to accept it, Urban tried to make himself believe that his friend was alive. But he was dead!
Rage flooded his entire being like a white hot flame.
He grasped Goodman's M1 in his bloodied hands and leaped up, overwhelmed with anger. Despair bubbled over inside of him.
Urban exploded. Avenge! Revenge! Kill or be killed! The horror of war hit him straight in the face. If he didn't kill, he would not survive!
Lieutenant Matt Urban will as you may have guessed not be court martial for not following orders to stay on the vessel but on the contrary decorated for his courage under enemy fire!
He understood from that moment on that yes if he didn't kill he would not survive, and oh survive he did.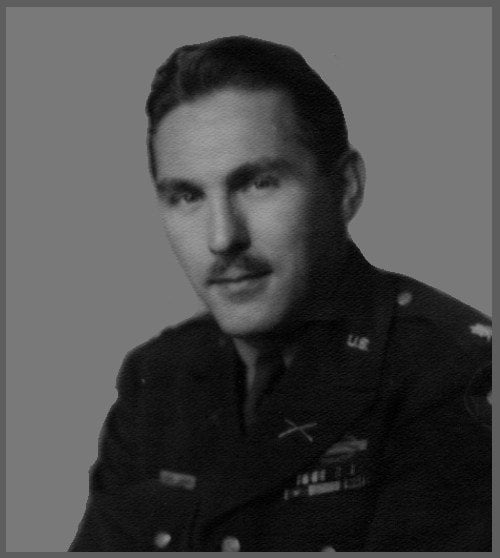 Between 1945 and 1979 the battle continued for him back in the States on the behalf of his comrades, a bit like Sergeant Bob Slaughter…for the D-Day memorial in Bedford, VA.
For his WWII service, Lieutenant Colonel Matt Urban will have received the following US and Foreign decorations and Service Medals.
Congressional Medal of Honor (received in 1980)
Silver Star with one oak leaf cluster
Legion of Merit
Bronze Star Medal with "V" (valor) device, two oak leaf clusters
Purple Heart with six oak leaf clusters
Presidential Unit Citation with one oak leaf cluster
American Defense Service Medal
American Campaign Medal
European-African-Middle Eastern Campaign Medal with six service stars (Silver & Bronze)
World War II Victory Medal
Combat Infantryman Badge and Bronze Star Medal upon award of CIB
Presidential Unit Citation
Croix de Guerre with Bronze Star (individual award from the French government)
Croix de Guerre (unit award from the French government)
Belgian Fourragere (unit award from the Belgium government)
Lieutenant Colonel Matt Urban nevertheless had to wait 35 long years to be recipient of the Congressional Medal of Honor!
He was awarded 29 medals for bravery!
He was 20 months in Front-Line Action!
He was wounded 7 times in action, thus the surname given by the Germans,

"The Ghost of Normandy"

, as he kept coming back even though wounded!
He took part in 6 Major Battle Campaign and 5 Major Countries (Algeria, Tunisia, Sicily, France & Belgium)!
The White House
Needless to say, when Matt Urban on July 10th 1980 at 10:00 hours received the call from The White House telling him that he would be the recipient of the Congressional Medal of Honor he probably was filled with emotions and memories. The Office of the President told him: "Colonel Urban, you are to be the recipient of the Medal of Honor. I relay Congratulations from the President (J. Carter) who will personally present the medal. The date and details of the presentation will be rushed to you in a day or two."
The following morning, Matt was informed that July 19th, 1980 was the only day that the Commander in Chief could free himself for the Medal of Honor award ceremony.
Note: The Medal of Honor is the highest award for valor in action against an enemy force which can be bestowed upon an individual serving in the Armed Services of the United States.
The White House notification stated that he could only have ten to fifteen guests including his family, limiting the number of guests was an enormous blunder! Not surprisingly Matt's response was, "NOOOOOOOOOOOO WAY! My troops are going to be there with me or I won't go. Every man in my unit deserves that medal as much as I do!"
Matt insisted on inviting the men who had fought beside him. Matt's sense of fairness wouldn't allow him to exclude his troops who had saved each others' lives time after time. He submitted a list of eighty names…!
On the 19th of July, in the ballroom of the White House, Matt was overwhelmed with emotions seeing close to a thousand people!
9th Infantry Division veterans and their wives, Generals, Admirals, all ranks of the commissioned and non commissioned officers were represented!
To say not the least the Medal of Honor Ceremony was elegant. Lieutenant Colonel Matt Urban proudly stood in uniform, looking out on the brothers in arms who had come to pay their respects and share with him in this honor. He listened as a tearful President Carter read with deep emotion from the Congressional Record: "Captain Urban's personal leadership, limitless bravery, and repeated extraordinary exposure to enemy fire served as an inspiration to this entire battalion. His valorous and intrepid actions reflect the utmost credit on him and uphold the noble traditions of the United States Army".
The moment had arrived. Abrupt silence filled the ballroom upon presentation of the long overdue recognition… 35 long years!
President Jimmy Carter was about to bestow the highest U.S. mark of distinction for valor upon one of America's greatest combat soldiers, Lieutenant Colonel Matt Urban.
President Carter turned & gave Matt a long, warm bear hug. Wiping away tears from his eyes, he then draped the Medal of Honor on the chest of America's newly discovered here.
Matt's heart was bursting with pride. His eyes glistened with tears; joyfully he waved to friends and family and to his comrades.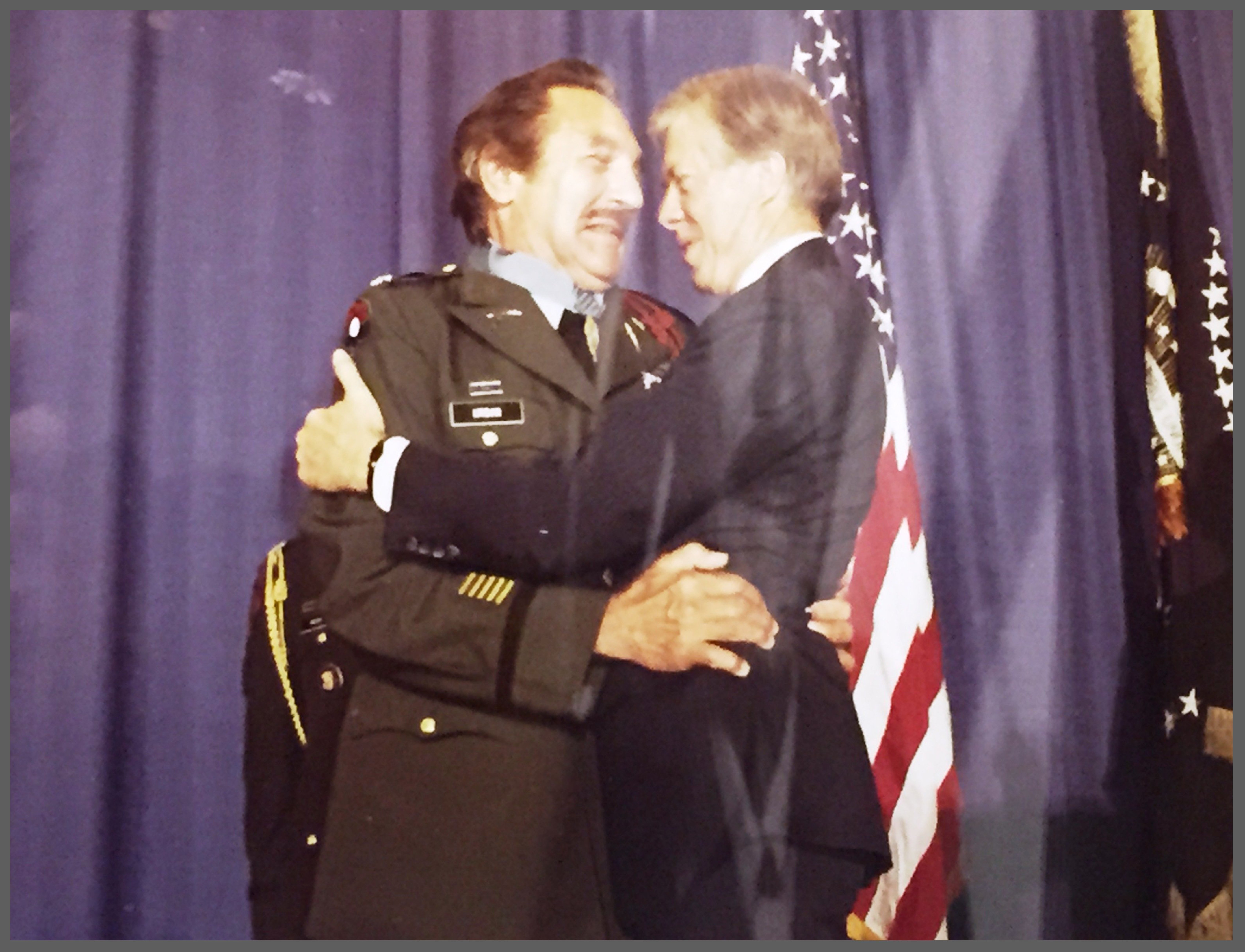 Luck in a certain way, God probably accompanied Lieutenant Colonel Matt Urban to make this happen. Why? As you are all aware, a destructive fire took place in the Military Archives Building in St. Louis, Missouri. Inspired research though revealed Matt's courageous exploits!
Miraculously, a lone file in the 9th Infantry Division records had survived. Its charred remains carried the necessary documentation to recommend the Congressional Medal of Honor for Matt Urban…and what a story this is!
Normandy campaign
For you to fully comprehend Captain Urban's return to the Normandy battlefront, one must review the impact and vacuum of leadership created by his untimely departure due to wounds near the soon to be headquarters of General Patton, at Néhou, 20 km west of Sainte-Mère-Eglise.
When he got shot near Néhou, he left a brave, viable fighting unit with whom he had been fighting in North Africa and Sicily. To say the least Captain Urban was more than motivated to come back to his men.
He negotiated with the Doctor in England to let him go back to his unit even though he had been seriously wounded. How? By taking on the challenge of the Doctor who believed this wouldn't be possible! Turn filthy, disrespectful men into soldiers…! If he succeeded then yes he would be authorized to go back to Normandy with these men. Matt needless to say was more than motivated and of course succeeded. He landed again at Utah beach, turned in the "new" soldiers to an officer, and "kidnapped" an ambulance driver to take him down to Saint Lo!
When he made it back he found a frustrated, frightened, motionless mass of soldiers that were supposedly on the attack in the St. Lo Breakthrough, known still today as Operation Cobra. Angrily denouncing any and all leaders, regardless of their rank, Captain Urban, within minutes, ignited the fighting spirit he knew they possessed and rallied these soldiers to attack!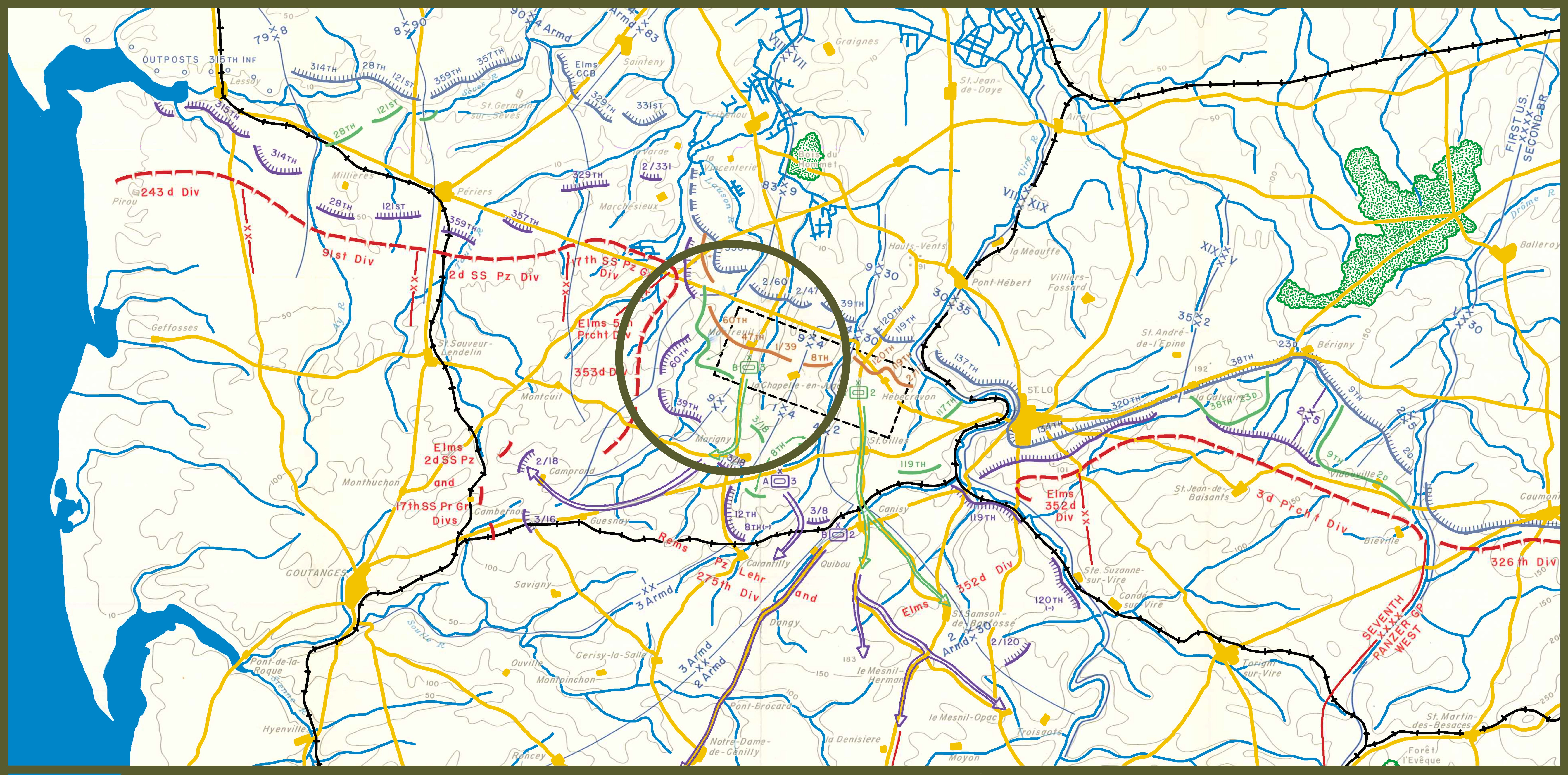 During this crucial breakthrough attack, Captain Urban resumed command of his entire battalion frontline activity.
Within a short period of time, he reached the leading elements and found one of the tanks destroyed and burning. Another tank was hit and smoldering with an agonizing cry for help coming from within. Knowing that the tank would soon be engulfed in flames, Captain Urban and an unidentified soldier dashed immediately to aid the stricken GI. In defiance of concentrated enemy fire which was zeroed in on the disabled tank, the aiding soldier made his way into the tank. Captain Urban was behind the tank, shielded from the enemy fire while machine gun bullets ricocheted from the turret. The injured man's legs were badly mutilated, therefore immobilized. With the aiding soldier hoisting the wounded tank man from inside the tank, Captain Urban, maintaining as low a silhouette as possible, crept up on top of the smoldering tank and pulled him to safety. This complete life-saving mission was accomplished under heavy enemy fire and with a smoldering tank seconds away from exploding into an inferno. The tank did, in fact, explode a few minutes later.
With the leading elements of that fighting force temporarily halted, Captain Urban moved over to his flanking rifle company for supporting fire. Upon reaching that company's action, Captain Urban found one of their two support tanks in flames, while the other seemed intact but had no turret gunner and was not moving. He quickly located the Lieutenant and Sergeant in command of the supporting tanks and directed a plan of attack with the remaining tank to lead forward. As the Lieutenant moved up to man the turret gun, he was immediately killed by enemy fire. The Sergeant tried to do the same and was also killed by fire!
Here again Captain Urban realized that quick action had to be taken. The enemy was well dug in with complete observation and overwhelming fire. He dashed under the scathing fire and safely made his way into the tank's turret. He then gave the tank crew orders to start moving directly at the enemy's gun emplacements. Blazing away with the machine gun, his riflemen launched simultaneously their attack with inspired valor and overran the enemy force!
From Africa to Sicily then to France, Captain Urban concept of combat leadership showed time after time his courage, fearlessness in every confrontation he had with the enemy, his disregard of personal safety, his incredible courage above and beyond the call of duty.
Countless lives of Americans were saved thanks to his overwhelming leadership.
Lieutenant Colonel Steve Sprindis who fought side by side with Captain Urban shared the same philosophy of combat leadership. Thanks to the testimonial of Lieutenant Colonel Sprindi