1945
January 1945
From 1940 to 1945, the RAF and USAAF caused heavy damage at Nuremberg with the greatest bombing occurring on January 2nd, 1945.
521 British Bombers dropped at least 6,000 high-explosive bombs and one million incendiary devices on the city. 1,800 civilians estimated were killed and more than 100,000 lost their homes in this attack.
The air raids ceased on April 11th, 1945, the city will then be taken by the 7th US Army on April 20th, 1945.
Headquarters of the 8th USAAF Services Command (Advanced) is established in Brussels, Belgium, along with a "Far Shore" staff division.
Through this HQ, the Commanding General Air Force Services Command can administer his command and closely communicate with other commands operating on the Continent; this arrangement functions until April 29th, 1945 when it is relieved by the 5th Strategic Air Depot at Merville, France. Source 8th AFHS
Nuremberg town center
February 1945
February 14th, 1945, the Allies bomb Dresden in Eastern Germany. In four raids between February 13th and 15th 1945, 722 heavy bombers of the British Royal Air Force (RAF) and 527 of the United States Army Air Forces (USAAF) dropped more than 3,900 tons of high-explosive bombs and incendiary devices on the city.
The bombing and the resulting firestorm destroyed more than 1,600 acres (6.5 km2) of the city centre.
An estimated 22,700 to 25,000 people were killed in the firestorms that engulf the city. Overall, 90% of the city centre was destroyed.
Three more USAAF air raids followed, two occurring on 2 March aimed at the city's railway marshalling yard and one smaller raid on 17 April aimed at industrial areas.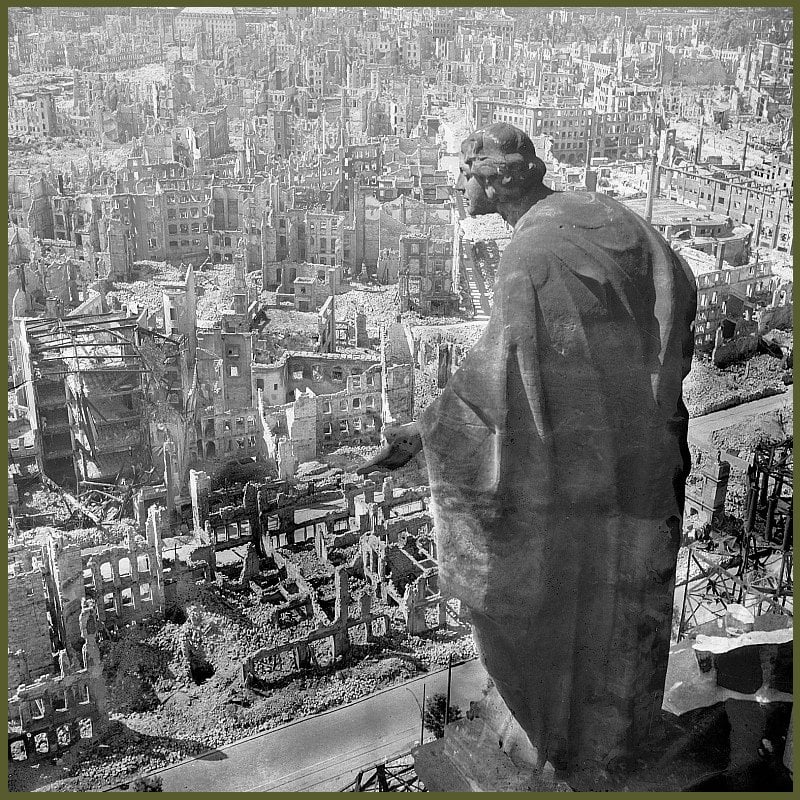 "It is not possible to describe! Explosion after explosion. It was beyond belief, worse than the blackest nightmare. So many people were horribly burnt and injured. It became more and more difficult to breathe. It was dark and all of us tried to leave this cellar with inconceivable panic. Dead and dying people were trampled upon, luggage was left or snatched up out of our hands by rescuers. The basket with our twins covered with wet cloths was snatched up out of my mother's hands and we were pushed upstairs by the people behind us. We saw the burning street, the falling ruins and the terrible firestorm. My mother covered us with wet blankets and coats she found in a water tub.
We saw terrible things: cremated adults shrunk to the size of small children, pieces of arms and legs, dead people, whole families burnt to death, burning people ran to and fro, burnt coaches filled with civilian refugees, dead rescuers and soldiers, many were calling and looking for their children and families, and fire everywhere, everywhere fire, and all the time the hot wind of the firestorm threw people back into the burning houses they were trying to escape from.
I cannot forget these terrible details. I can never forget them. "Lothar Metzger, survivor
"To my left I suddenly see a woman. I can see her to this day and shall never forget it. She carries a bundle in her arms. It is a baby. She runs, she falls, and the child flies in an arc into the fire.
Suddenly, I saw people again, right in front of me. They scream and gesticulate with their hands, and then—to my utter horror and amazement—I see how one after the other they simply seem to let themselves drop to the ground. (Today I know that these unfortunate people were the victims of lack of oxygen.) They fainted and then burnt to cinders.
Insane fear grips me and from then on, I repeat one simple sentence to myself continuously: "I don't want to burn to death". I do not know how many people I fell over. I know only one thing: that I must not burn ". Margaret Freyer, survivor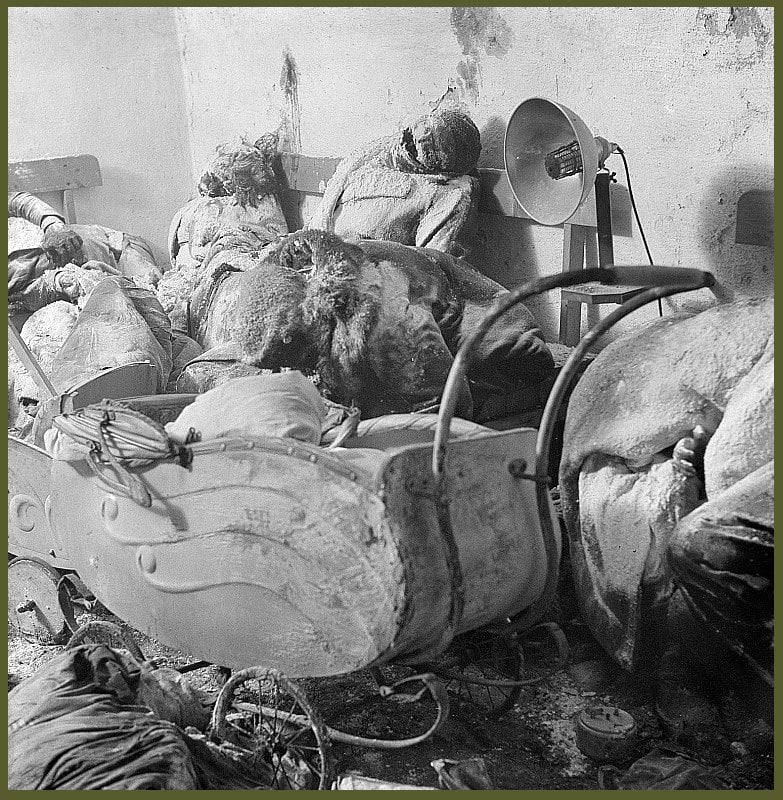 Mission 830
1,377 bombers and 962 fighters are dispatched to hit oil and rail targets in Germany; bombing of most targets is by H2X radar; they claim 11-0-3 Luftwaffe aircraft; 7 bombers and 7 fighters are lost.
461 B-17s are dispatched to hit the marshalling yard at Dresden (311); targets of opportunity are Prague (62), Brux (25) and Pilsen (12) in Czechoslovakia and other (25); they claim 1-0-0 aircraft; 5 B-17s are lost, 3 damaged beyond repair and 54 damaged; 4 airmen are KIA, 15 WIA and 49 MIA.
Escorting are 281 of 316 P-51s; 3 are lost (pilots MIA) and 1 damaged beyond repair.
457 B-17s are sent to hit the marshalling yard at Chemnitz (294); targets of opportunity are Eger Airfield (38), Bamberg (33), Sonneberg (23), Tachov (24), Hof marshalling yard (12) and other (17); 1 B-17 is lost, 3 damaged beyond repair and 103 damaged; 2 airmen are KIA, 4 WIA and 14 MIA.
The escort is 224 of 238 P-51s; 2 are lost (pilots MIA) and 1 damaged beyond repair.
375 B-24s are sent to hit an oil refinery at Magdeburg but are unable to attack due to weather; 340 hit the secondary, the marshalling yard at Magdeburg; targets of opportunity are Emlichheim (1), Meppen (1), Bad Bodenteich (1) and other (1); 1 B-24 is lost, 2 damaged beyond repair and 16 damaged; 9 airmen are MIA.
253 of 273 P-51s escort; they claim 10-0-3 aircraft; 2 P-51s are lost (pilots MIA).
84 B-17s are sent to hit the Wesel road bridge (37); 35 hit the secondary, the Dülmen oil depot and 1 hits Ahaus, a target of opportunity; 15 B-17s are damaged. 26 of 30 P-51s escort the bombers.
44 of 49 P-47s fly a sweep of the Magdeburg area without loss.
24 P-51s escort photo reconnaissance aircraft over Germany.
29 of 32 P-51s fly a scouting mission. Source 8th AFHS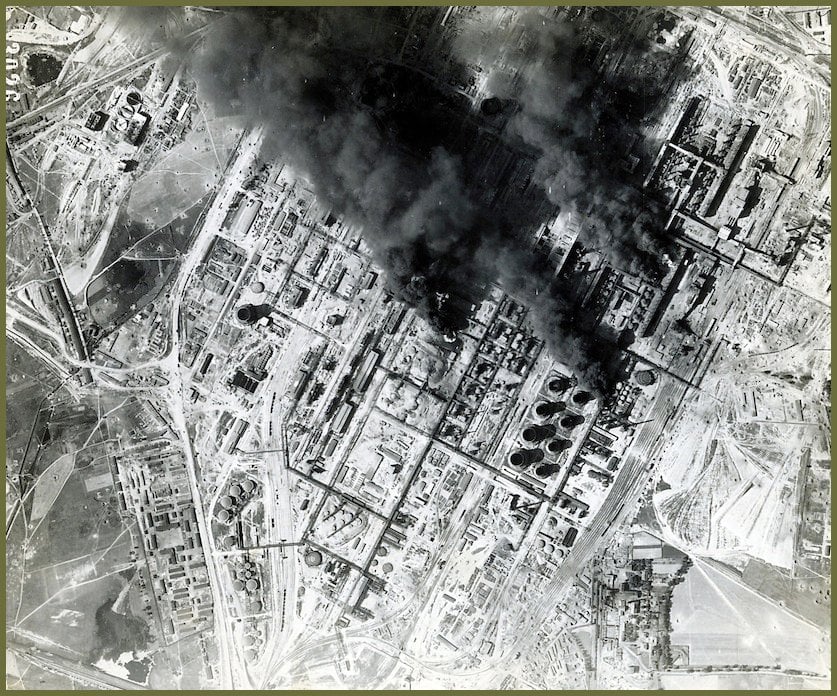 Brux Oil Refinery
March 1945
The large-scale air attack on the city of Würzburg was targeted by RAF Bomber Command to break the spirit of the German people on March 16th, 1945.
225 Lancaster and 11 Mosquito Pathfinders targeted the town center and released 1,127 tons of bombs including 370,000 incendiaries bombs dropped in three waves in just 17 minutes! 89% of the town will be destroyed by the firestorm with 1,000 to 2,000-degree Celsius heat by midnight. More than 3,000 civilians will be killed and another 2,000 missing.
The vast majority killed were women and children, most of them painfully burned to death.
The crews who dropped the bombs had been told that it was an "important center of communication", yet the vast majority of the bombs dropped were incendiaries with diabolical time delays and fell mainly on residential areas.
April 2nd to April 6th, 1945, the city finally surrenders to the 42nd Infantry Division.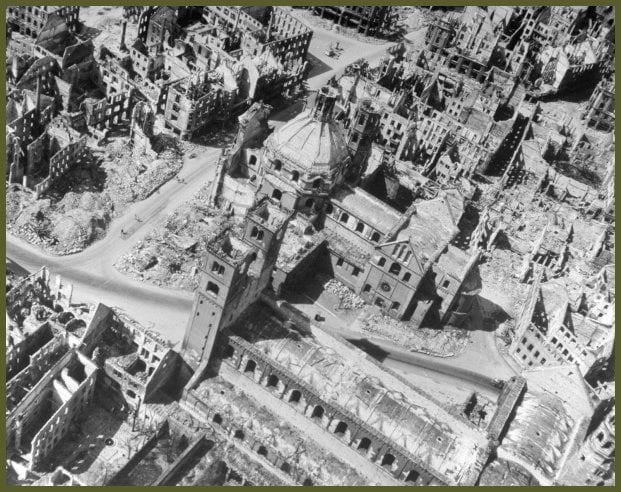 Würzburg town center
April 1945
The last RAF air operation using Grand Slam bombs in Europe takes place over Heligoland, a small archipelago in the North Sea
Twenty aircraft from the 617th Squadron, six with Grand Slams and the remainder with smaller Tallboy bombs, along with 16 aircraft from 9 Squadron attack the island's coastal gun-batteries. No aircraft were lost. A total of 42 Grand Slams were dropped in air operations over Germany
The last Eighth USAAF full-scale mission in the ETO hit the Škoda Works, one of the largest European industrial sites, at Pilsen - Czechoslovakia with B-17s, while B-24s bombed rail complexes surrounding Hitler's Obersalzberg complex, Germany.
When the Combined Bomber Offensive ended April 12th, 1945, the Americans had dropped almost 1,400,000 tons of bombs and the British 1,000,000 tons on Germany at the cost of 110,000 airmen from both nations lost in action!

Eagles Nest overlooking Obersalzberg
May 1945
May 7th, 1945 Victory for the Allies in Europe is signed in Reims, France, a remake will be organized in Berlin as they were no Russians representative at the capital of the Kings of France!
The bombing campaign cost hundreds of thousands of lives on both sides. It did not alone win the war, but it helped to bring victory!
The USAAF began the war planning to attack specific sites with precision accuracy. But they soon found that this was hard to achieve, often because the targets were covered by clouds!
Electronic devices were developed to get the bombers to the right place. Accuracy did improve, but precision bombing remained difficult: at least 80% of bombs dropped landed 300 meters (1,000 feet) or so from their targets.
Nevertheless, some bomb campaign was more successful than others. When the USAAF attacked Germany's oil production facilities and transport networks, the Third Reich was severely weakened.
Achieving to destroy the Third Reich Luftwaffe gave the Allies full control of the skies. This considerably helped the troops fighting on the ground. But overall, the Allies discovered that weakening German industry and morale was harder than many had hoped. When you defend your own soil, the motivation is not the same as defending a country that you invaded!
Of course, it's a reality, bombing did have a dramatic effect on life in Germany. The Nazi government had to plough huge resources into defense and Joseph Goebbels speech of propaganda at one point failed to motivate the Germans to believe in Hitler.
The Nazis knew that fighter aircrafts and anti-aircraft guns had to be built to attack the bombers, and that millions of people in Germany had to deal with the problems caused by the raids. Even German children at the end of the war were forced to fight! But in the end, the Third Reich could not prevent the USAAF and RAF to bomb:
Germany's cities
Factories
Communications
Defenses
Industry
Naval
Railroad
Supply
V-weapons sites etc. to be totally wiped out!
At least 80,000 Allied airmen and approximately 750,000 men, women and children on the ground lost their lives.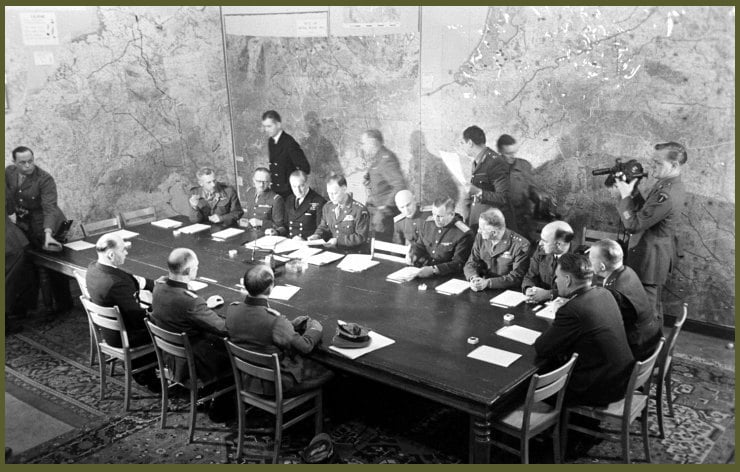 Unconditional surrender of the Third Reich at Reims, May 7th, 1945
HQ 453rd Bombardment Group (Heavy) and the 732nd , 733rd , 734th and 735th Bombardment Squadrons (Heavy) begin a redeployment from Old Buckenham, England to the US. It is only group departing by ship.
During late May, the 407th Bombardment Squadron (Heavy), 92nd Bombardment Group (Heavy), moves from Podington, England to Istres (French Riviera) France with B-17s. Source 8th AFHS
After the war the cities were rebuilt, but even now unexploded Allied bombs continue to be discovered as in Courseulles-sur-Mer, Normandy – France, September 2020.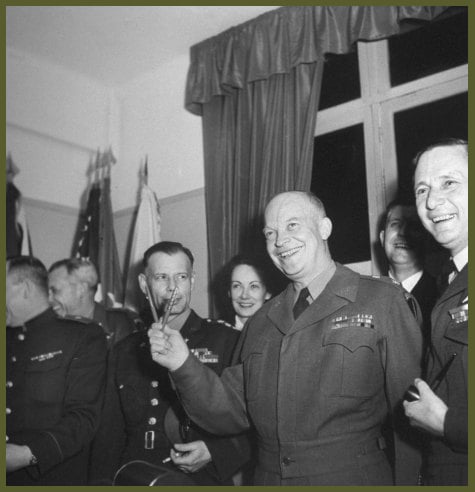 Eisenhower makes V for victory with surrender pens!
Tonnage dropped in the first four months of 1945 was just over 600,000 tons, proportionally to 1944, an increase of 40%