1944
January 1944
Operation Steinbock sometimes called the Baby Blitz, was a strategic bombing campaign by the German Luftwaffe targeting southern England and lasted from January to May 1944. Steinbock was the last strategic air offensive by the German bomber during the conflict and didn't have the expected result with approximately 70% of their bombers lost in battle.
The consequences will be disastrous as it will stop the Luftwaffe from being be able to launch any significant counterattacks on D-Day, June 6th, 1944.
Fighter aircraft such as the P-51 Mustang protected bomber aircraft, and helped to destroy the German air force, the Luftwaffe. In intense battles as of 1944 until 1945, American fighter pilots such as Huie Lamb effectively destroyed the German air force. This gave the Allies control of European skies.
Huie Lamb flew missions that could last up to seven hours! Some missions we to escort the bombers: others involved attacking targets on the ground.
Although fighter pilots did work together, it was still cold, lonely and dangerous work. "It was said if you can survive ten combat missions, you are probably going to be okay to make your tour", said Huie. "Because on the first ten you learn a lot".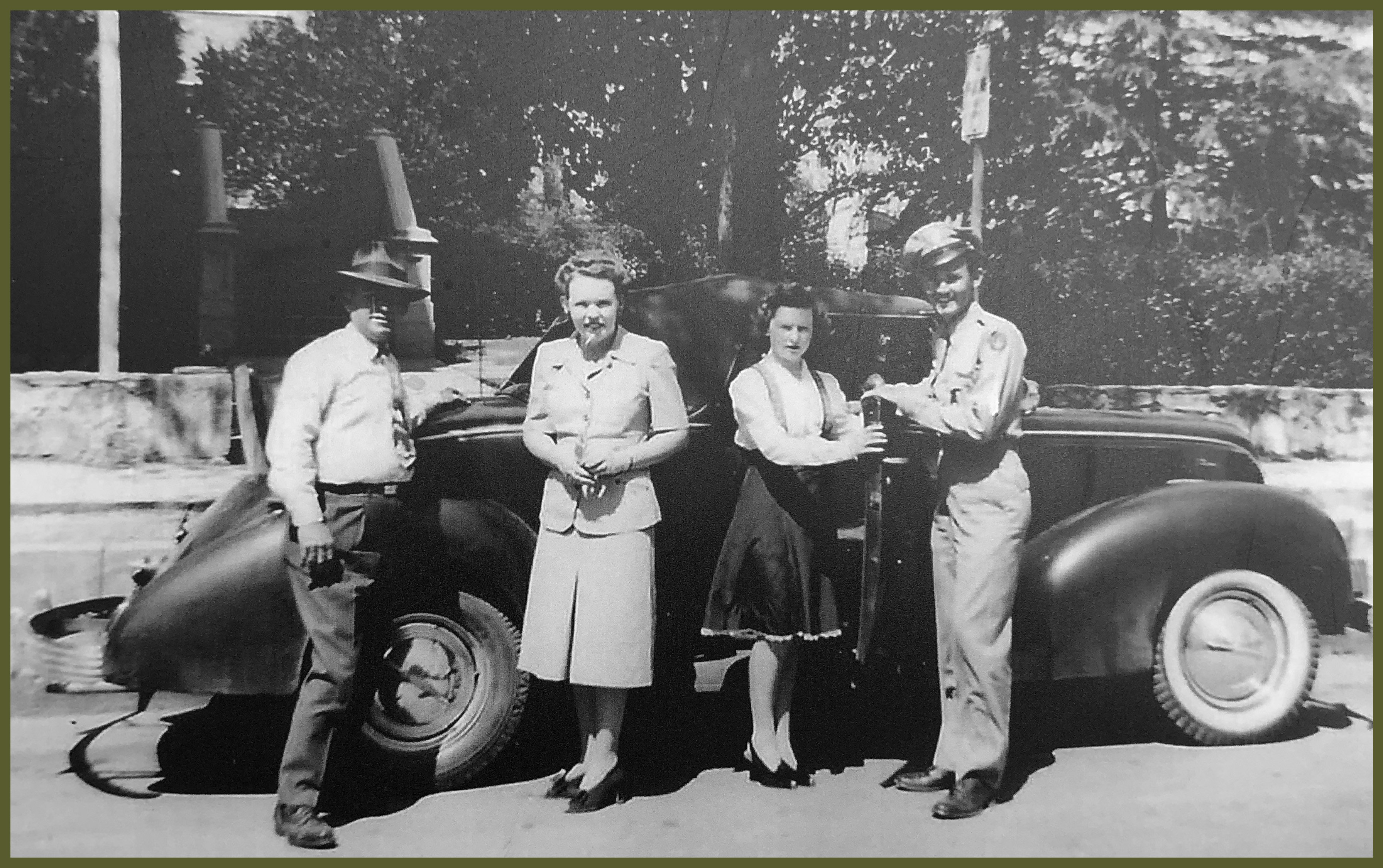 Huie's sister, Etta Jeanne is second from the right. Huie said that when he wrote to tell her he had named his aircraft after her, she was thrilled. She may have told all her girlfriends: "I've got a plane over there flying with my name on it!"
B-24 FORD FACTORY
America's ability to produce and maintain equipment was crucial to the Allies' upcoming victory. The USA built more aircraft than any other country in WWII: at least 300,000
American aircraft factories became huge and complex during WWII. Car assembly lines shifted to producing aircraft, and new production techniques meant ever more aircraft were produced in record time. At Willow Run in Michigan, the largest factory, Ford proudly claimed to build one B-24 every hour during peak production in 1944!
Once the planes arrived in the UK, they were very well looked after. Ground crews made sure that the engines, airframes, bombs and guns were maintained and fully operational for the aircrews flying over Europe.
These men had to work long hours in often harsh and difficult conditions knowing that their work could make a difference between life and death for the aircrews.
February 1944
February 20th – 25th, 1944, the Allies will succeed in wiping out the Luftwaffe in what became known as "Big Week", Operation Argument. How so? They attacked the German aircraft industries to lure into a trap the Luftwaffe to defend the industrial sites and fight in the air.
Allies bombers by then had selected targets to improve the chances of a successful ground invasion in Normandy on D-Day, June 6th, 1944.
They also attacked V-weapon sites to prevent flying bombs from being launched against the U.K. with more or less success.
Overall in February 1944, the Allies gained air superiority over the Third Reich and air supremacy over France.
This will greatly facilitate the ability to continue to focus on the objectives of Operation Pointblank and secure as much as possible the landing of the ground troops on D-Day in Normandy and the Breakout and Pursuit all the way to Berlin, Germany.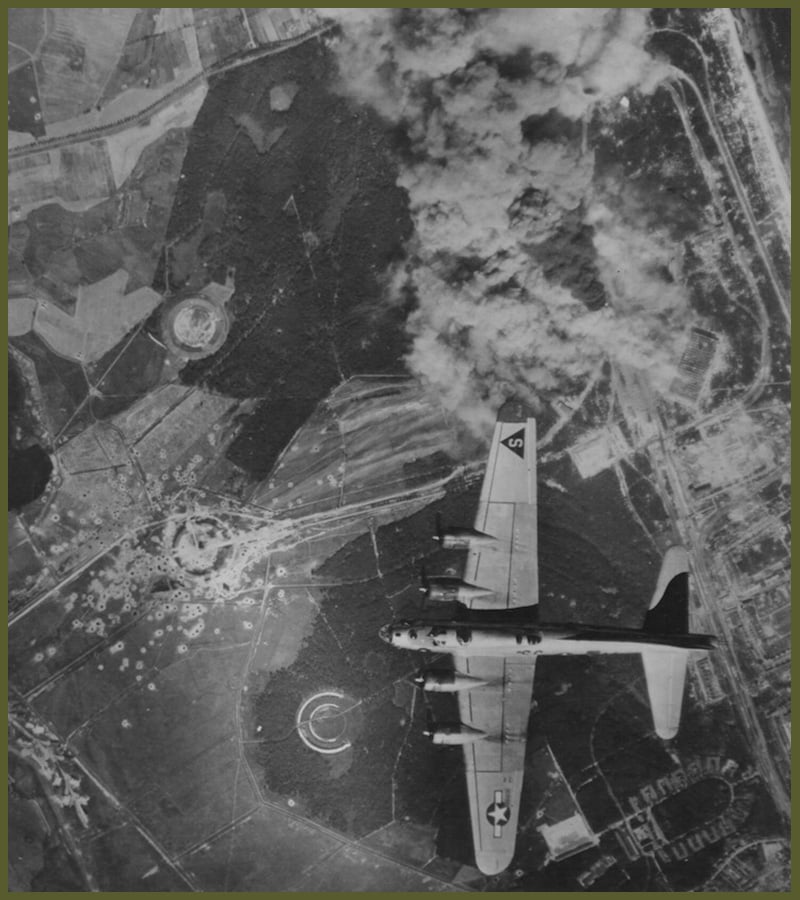 Peenemünde air strike
Mission 226
The Eighth Air Force begins Big Week attacks on German aircraft plants and airfields. For the first time, over 1,000 bombers are dispatched; 21 bombers and 4 fighters are lost hitting 3 areas in Germany
417 B-17s are dispatched to Leipzig/Mockau Airfield, and aviation industry targets at Heiterblick and Abnaundorf; 239 hit the primary targets, 37 hit Bernburg, 44 hit Oschersleben and 20 hit other targets of opportunity; they claim 14-5-6 Luftwaffe aircraft; 7 B-17s are lost, 1 damaged beyond repair and 161 damaged; casualties are 7 KIA, 17 WIA and 72 MIA.
314 B-17s are dispatched to the Tutow Airfield; 105 hit the primary and immediate area, 76 hit Rostock and 115 hit other targets of opportunity; they claim 15-15-10 Luftwaffe aircraft; 6 B-17s are lost, 1 damaged beyond repair and 37 damaged; casualties are 3 KIA and 60 MIA.
272 B-24s are dispatched to aviation industry targets at Brunswick, Wilhelmtor and Neupetritor; 76 hit the primary, 87 hit Gotha, 13 hit Oschersleben, 58 hit Helmstedt and 10 hit other targets of opportunity; they claim 36-13-13 Luftwaffe aircraft; 8 B-24s are lost, 3 damaged beyond repair and 37 damaged; casualties are 10 KIA, 10 WIA and 77 MIA.
Missions 1 and 3 above are escorted by 94 P-38s, 668 Eighth and Ninth Air Force P-47s and 73 Eighth and Ninth Air Force P-51s; they claim 61-7-37 Luftwaffe aircraft; 1 P-38, 2 P-47s and 1 P-51 is lost, 2 P-47s are damaged beyond repair and 4 aircraft are damaged; casualties are 4 MIA. . Source 8th AFHS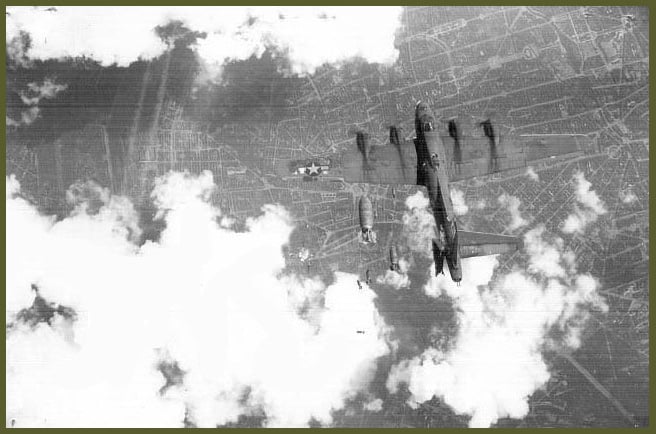 March 1944
Major Damon Jesse Damon Gause, US Army Air Forces, 365th Fighter Group.
In April 1942, the Japanese captured Major Gauge in the Philippines where he had been ordered to set up a communication post on the Bataan peninsula where approximately 80,000 American and Filipino troops had taken refuge.
Thanks to providence and some luck, he killed a Japanese guard with his own bayonet, then swam an easy two miles to the fortress island of Corregidor. After making it to the mainland in a canoe, Major Gauge, in one of the greatest escape stories of the war, swam, paddled and sailed with Captain William Lloyd Osborne more than 3,000 miles to freedom in Australia!
The old fishing boat they used to escape took them safely across the ocean, often they flew the Japanese flag to go unnoticed. Again, providence will be with them, as they were getting close to the Australian coastline, they decided to raise the Stars and Stripes. Big mistake as a Japanese plane spotted them and strafed them, luckily without any real consequences.
Both received the Distinguished Service Cross for the uncommon valor.
After returning to the United States, he volunteered to serve again and joined the 365th Fighter Group in England.
Major Gauge flew combat missions over Europe but died in March 1944 when his P-47 crashed near Beaulieu, England during a test flight.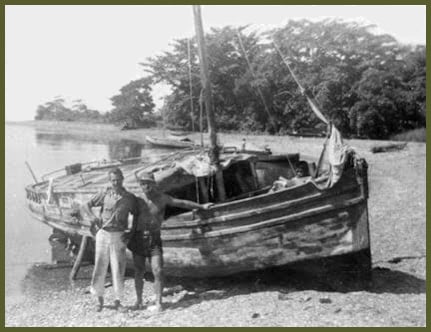 Fishing boat used for their escape
Distinguish Service Cross Citation Captain William Lloyd Osborne
General Orders: Headquarters, South West Pacific Area, General Orders No. 44 (1942)
The President of the United States of America, authorized by Act of Congress July 9, 1918, takes pleasure in presenting the Distinguished Service Cross to Captain (Infantry) William Lloyd Osborne, United States Army, for extraordinary heroism in connection with military operations against an armed enemy, during the period 9 April through 11 October 1942, in the Philippine Islands following the surrender at Bataan.
Captain William Osborne and escaped American POW Lieutenant Damon Gause, located a 22-foot sailboat with a diesel engine and tattered sails. With no charts or navigation equipment, and little fuel, the two men sailed south in the ship they named "Ruth-Lee" after their wives. Continuing south, while evading enemy patrols and despite one strafing run by an enemy aircraft, the two men neared Australia where they were picked up and rescued.
Captain Osborne's intrepid actions, personal bravery and zealous devotion to duty exemplify the highest traditions of the military forces of the United States and reflect great credit upon himself and the United States Army.

Distinguish Service Cross Citation Lieutenant Damon Jesse Gause
Service: Army Air Forces
Battalion: 17th Bombardment Squadron
Division: Far East Air Force
General Orders: Headquarters, South West Pacific Area, General Orders No. 44 (1942)
The President of the United States of America, authorized by Act of Congress July 9, 1918, takes pleasure in presenting the Distinguished Service Cross to First Lieutenant (Air Corps) Damon Jesse Gause (ASN: 0-421599), United States Army Air Forces, for extraordinary heroism in connection with military operations against an armed enemy, in action against enemy forces in the Philippine Islands following the surrender at Bataan.
Lieutenant Gause escaped captivity and together with Army Captain William Osborne and, during the period 9 April to 11 October 1942, located a 22-foot sailboat with a diesel engine and tattered sails. With no charts or navigation equipment, and little fuel, the two men sailed south in the ship they named "Ruth-Lee" after their wives. Continuing south, while evading enemy patrols and despite one strafing run by an enemy aircraft, the two men neared Australia where they were picked up and rescued.
The personal courage and zealous devotion to duty displayed by First Lieutenant Gause during this period have upheld the highest traditions of the military service and reflect great credit upon himself, the Far East Air Force, and the United States Army Air Forces.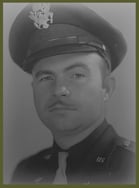 April 1944
Private Jacob Bohl a soldier of the Engineering Special Brigade, took part in the training Exercise Tiger at Slapton Sands. The objective? A landing rehearsal for the coming invasion at Utah Beach.
Maneuvering in the English Channel in pitch dark night, his convoy was spotted by German attack boats coming from Cherbourg, France and torpedoed.
Private Bohl and more than 700 others will go down. The tragedy of Exercise Tiger will be revealed 35 years later. Just imagine how the mothers, wives must have felt discovering that the US Government had lied to them and that their beloved ones they thought had died on D-Day actually died not in combat but during a rehearsal in the U.K.!
Sergeant Louis Bolton, US Army, 607th Grave Registration Service also died during Exercise Tiger.
The German torpedo boats that came from Cherbourg – France ambushed the slow-moving landing craft, sinking Louis Bolton's ship along with another LST (Landing Ship, Tank).
He had been assigned to the Graves Registration Service; his task was to bury the soldiers who would have been killed on D-Day in Normandy. His body regretfully was never recovered.
Note: Normandy American Heroes European tours starting from the U.K. take its guests to Slapton and Blackpool Sands to relive the tragedy with our local historian expert.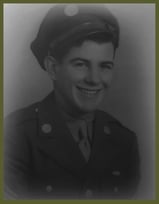 May 1944
Choo-Choo missions May 21st, 1944
The Allied Expeditionary Air Force and the Eighth Air Force began the unrestricted bombing and strafing of French trains and railroads using low-flying aircraft equipped with wing machine guns and nose mounted cannons.
This was to help prepare the ground for the Allies Normandy landing by stopping the Germans the use of rail lines to bring in their tanks, troops, and supplies.
These missions quickly referred to as Choo-choo missions after the popular song Chattanooga Choo-Choo performed by Glenn Miller.
Allied bombing and French Resistance attacks isolated efficiently the future battlefields of Normandy, while elaborated security and deception plans focused the Third Reich attention in the vicinity of the Pas-de-Calais with Operation Fortitude and a key player, Agent Arabel, one of the most incredible stories of a double agent during WWII and the favorite of Normandy American Heroes guests!
Choo Choo Rouen - France
Elinor Otto – B-24 riveter
Elinor was one of the tens of thousands of women who started working in aircraft factories to increase the production of the B-24.
They were known as the "Rosie the Riveters". At the peak of production in 1944, almost 9 million worked in war industries, a 1/3rd of them were women.
Each of the thousands of rivets to be put on a B-24 was added by two people. One used a rivet gun to drive the rivet against a "bucking bar" held by the other worker on the inside of the panel. This flattened the part of the rivet inside the aircraft to secure the joint.
Elinor was in her early 20s when she to leave her job as a waitress to work in an aircraft factory in California. "Suddenly we were needed and appreciated as never before", she said. Elinor, who was a single mother, couldn't see her son as often as she wished during the working week. "It was a challenge to do men's work for the first time. We worked hard and proved ourselves as we knew we could. Working and raising children was difficult, but as women we learned we could do it, and did!"
At the end of the war, women were more than encouraged to leave their jobs for the returning servicemen. But when the opportunity presented itself to continue to work in the plane industry, Elinor without hesitation took it! She worked as a riveter until 2014, retiring symbolically at the age of 95! "Almost 70 years of building airplanes", she said. "I hope there are no airplanes in heave, or rivet guns!"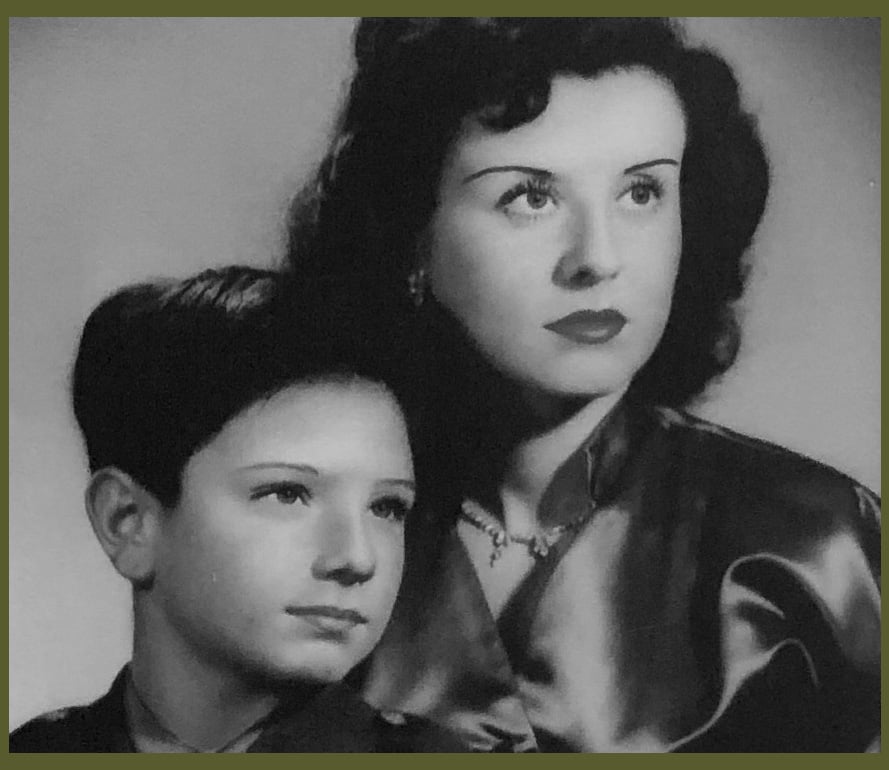 Elinor Otto and her son
June 1944
June 6th, 1944 – D-Day, the landing of the Allies in Normandy began with the greatest military amphibious undertaking in history of mankind. The Allies flew over 14,600 sorties in support of the landings at Sword, Juno, Gold, Omaha and Utah.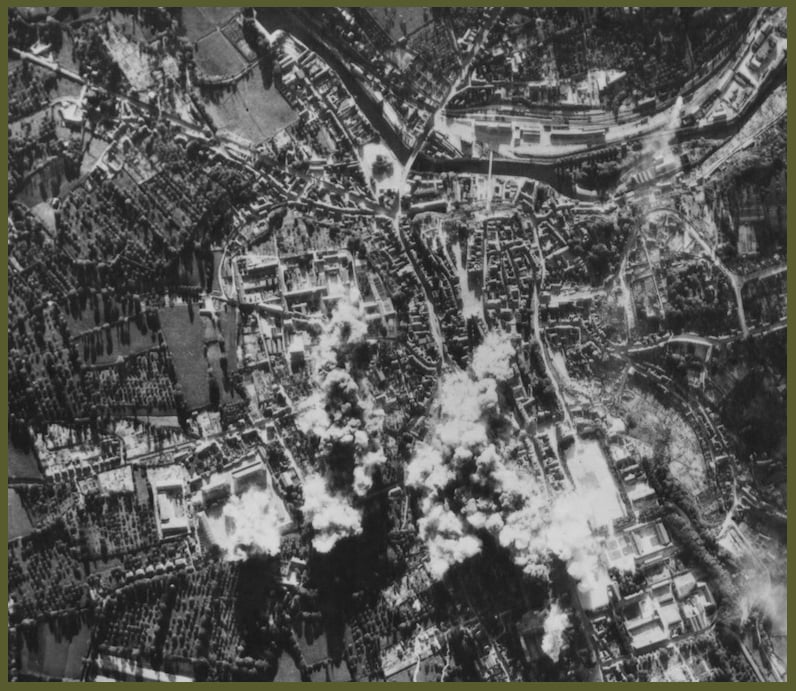 Saint Lo - France
Georgie Harries, then serving as a WRNS (Women's Royal Naval Service) based at Portland, United Kingdom right on the air route of the 82nd and 101st Airborne Divisions heading toward France remembered: "You couldn't see the sky! The sky was black with planes towing gliders with soldiers and that sort of thing. We had a marvellous view, if you can call it that, but it was horrifying really as well. It was excitement more than fright. You just thought this is it."
Lieutenant Colonel Leon Vance junior, US Army Air Forces, 489th Bombardment Group
During a raid on June 5th, 1944, enemy flak hit the B-24 carrying Lieutenant Colonel Vance, damaging three engines and killing the pilot.
As Lieutenant Colonel Vance took over the controls, another shell nearly severed his foot. Despite his injuries, he nursed the crippled plane towards home before crash landing in the English Channel after his crew bailed out safely.
Lieutenant Colonel Vance survived the landing but died a month later when the transport plane ferrying him back to the United States disappeared without a trace. He posthumously received the Medal of Honor.
Medal of Honor citation Lieutenant Colonel Leon Vance
Organization: U.S. Army, 489th Bomber Group
Born: 11 August 1916, Enid, Oklahoma
Date of Issue: 01/04/1945
For conspicuous gallantry and intrepidity above and beyond the call of duty on 5 June 1944, when he led a Heavy Bombardment Group, in an attack against defended enemy coastal positions in the vicinity of Wimereux, France.
Approaching the target, his aircraft was hit repeatedly by antiaircraft fire which seriously crippled the ship, killed the pilot, and wounded several members of the crew, including Lieutenant Colonel Vance, whose right foot was practically severed. In spite of his injury, and with 3 engines lost to the flak, he led his formation over the target, bombing it successfully.
After applying a tourniquet to his leg with the aid of the radar operator, Lieutenant Colonel Vance, realizing that the ship was approaching a stall altitude with the 1 remaining engine failing, struggled to a semi-upright position beside the copilot and took over control of the ship. Cutting the power and feathering the last engine he put the aircraft in glide sufficiently steep to maintain his airspeed. Gradually losing altitude, he at last reached the English coast, whereupon he ordered all members of the crew to bail out as he knew they would all safely make land. But he received a message over the interphone system which led him to believe 1 of the crew-members was unable to jump due to injuries; so, he made the decision to ditch the ship in the channel, thereby giving this man a chance for life.
To add further to the danger of ditching the ship in his crippled condition, there was a 500-pound bomb hung up in the bomb bay. Unable to climb into the seat vacated by the copilot, since his foot, hanging on to his leg by a few tendons, had become lodged behind the copilot's seat, he nevertheless made a successful ditching while lying on the floor using only aileron and elevators for control and the side window of the cockpit for visual reference. On coming to rest in the water the aircraft commenced to sink rapidly with Lieutenant Colonel Vance pinned in the cockpit by the upper turret which had crashed in during the landing. As it was settling beneath the waves an explosion occurred which threw Lieutenant Colonel Vance clear of the wreckage. After clinging to a piece of floating wreckage until he could muster enough strength to inflate his life vest, he began searching for the crew-member whom he believed to be aboard. Failing to find anyone he began swimming and was found approximately 50 minutes later by an Air-Sea Rescue craft.
By his extraordinary flying skill and gallant leadership, despite his grave injury, Lieutenant Colonel Vance led his formation to a successful bombing of the assigned target and returned the crew to a point where they could bail out with safety.
His gallant and valorous decision to ditch the aircraft in order to give the crew-member he believed to be aboard a chance for life exemplifies the highest traditions of the U.S. Armed Forces.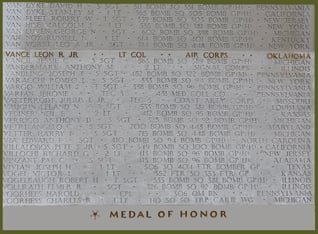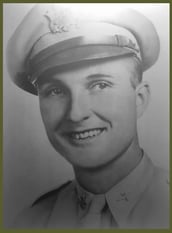 Douglas C-47A Skytrain (Dakota)
The C-47 Skytrain was the most successful and widely used military transport aircraft of WWII. Known as the "Dakota" in RAF service, the plane was a military version of a commercial passenger plane: the Douglas DC-3 which first flew in 1935.
The aircraft was perfectly suited to the job. It was tough, its engines were powerful (two 895 kW (1,200 hp) Pratt & Whitney R-1830 Twin Wasp air-cooled 14-cylinder radials with superchargers).
It could carry a lot. Around 2,722 kg (6,000 lbs.) of cargo or over 20 troops or Jeep or a 37 mm cannon for a crew of three or four. Top Speed was 354 km (220 mph) at 2,287 meters (7,500 feet) and a cruise speed of 296 km (185 mph) at 3,050 meters (10,000 feet) but it could climb up to 7,320 meters (24,000 feet)!
C-47s dropped thousands of troops into battle in Europe (Sicily, Normandy, Holland, Germany…), but their journeys were rarely comfortable. They were also used to evacuate casualties and to tow gliders like on D-Day in Normandy.
General Eisenhower who commanded all Allied forces in Europe, described the C-47 as one of five pieces of equipment that were "most vital to our success". Can you name the other four?
June 7th, 1944, Falaise, the birthplace of William the Conqueror, Duke of Normandy and King of England, will live the darkest hours of its long history.
At 12:30 hours, USAAF planes bombed the town center. A series of violent fires engulfed the town's ruins, burning or asphyxiating the survivors who were trapped under the rubbles or walled in their cellars like other towns bombed that day: Lisieux, Argentan, L'Aigle etc.
They were at least a dozen people killed. More terror ensued. Why? The destruction of the town was followed by two additional waves of Bombers on June 10th when many of the inhabitants had stayed among the rubbles in the hope of protecting their goods from plunder.
Then on June 12th, Falaise is again bombed! Luckily when the last allied bombing took place on June 14th, no inhabitants were killed as they had finally decided to evacuate the town.
The Ghost Town will be liberated by the Canadians on August 16th, 1944.
At least 200 civilians lost their lives and 90% of the town was destroyed. It will take more than 10 years after WWII to rebuild it as it is today.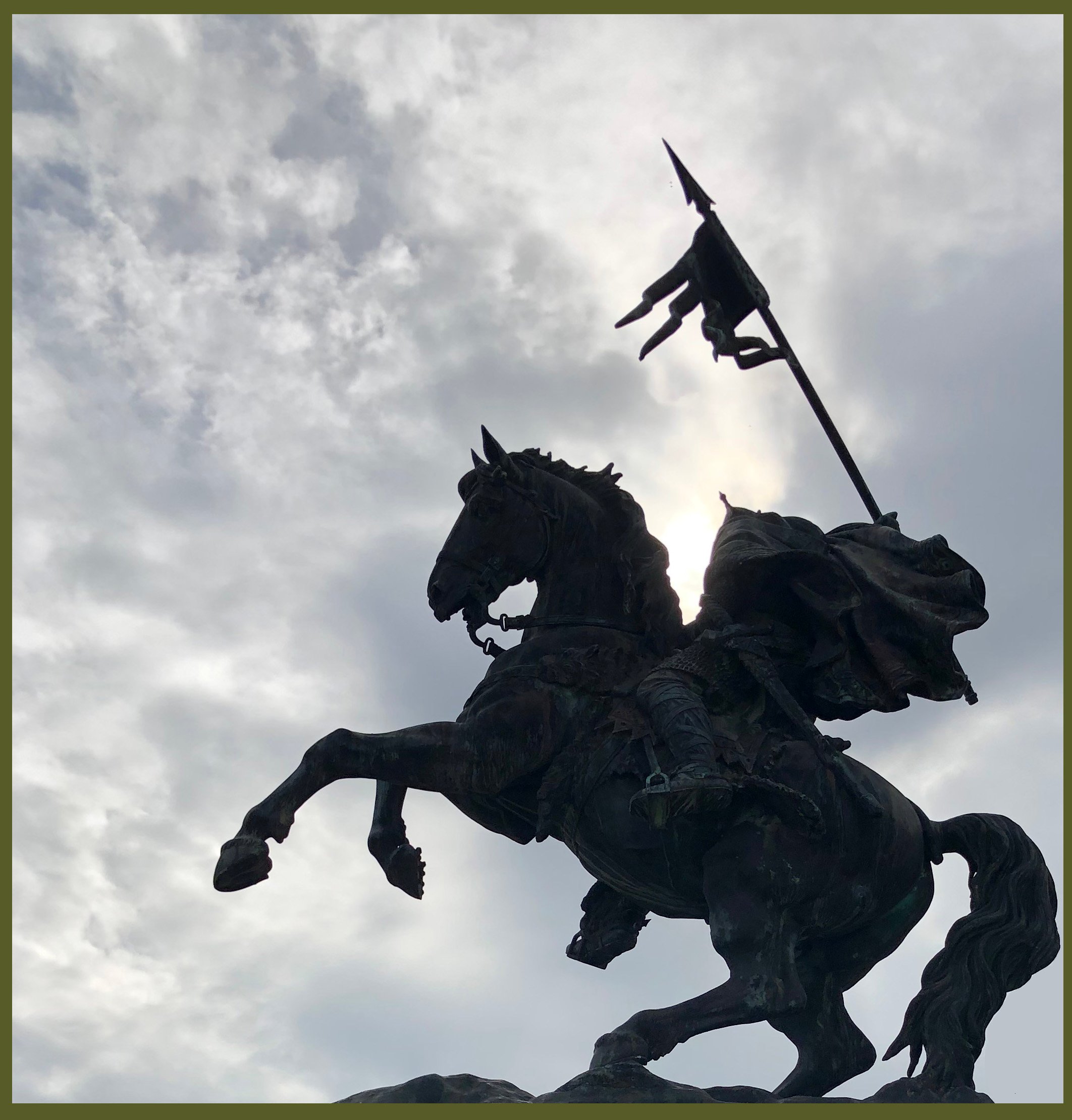 The Nazis didn't destroy the statue of William the Conqueror…why?
The Allied Expeditionary Air Force (AEAF) directs air attacks against congested points to delay movement of more enemy forces into the assault area.
Mission 397 in the morning
182 B-17s and 291 B-24s, including 20 PFFs, are dispatched; of the B-17s, 58 hit Condé-sur-Noireau, 60 hit Flers, and 54 hit Falaise; of the B-24s, 66 hit Argentan, 19 hit Vascoeuil, 61 hit L'Aigle and 83 hit Lisieux
1 B-24 is damaged beyond repair and 17 B-17s are damaged; 8 airmen are KIA and 3 WIA.
Mission 398 in the afternoon
487 B-17s and 88 B-24s are dispatched; the primary targets for the B-17s are Nantes (190 bomb) and the Kerlin/Bastard Airfield (Brittany) (132 bomb); 23 B-17s hit Niort and 40 hit the Nantes Bridge; the primary target for the B-24s is Tours/La Roche (12 bomb) and 13 hit Pouancé, 13 hit Blain, 13 hit Chateaubriand, 25 hit Laval Airfield, 12 hit Vitré and 3 hit Tours.
1 B-17 and 1 B-24 are lost, 1 B-17 and 7 B-24s are damaged beyond repair and 78 B-17s and 96 B-24s are damaged; 21 airmen are KIA, 12 WIA and 12 MIA. Heavy cloud prevents almost 100 others from bombing targets. Source 8th AFHS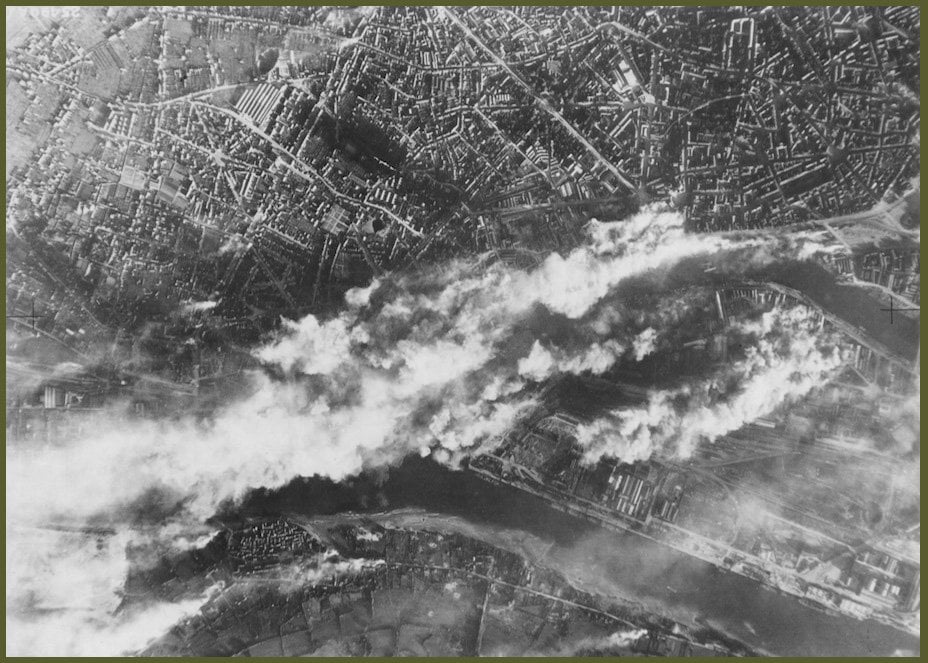 Nantes Shipyard
July 1944
In the following months, the "Breakout and Pursuit" across hedgerows, fields, forests, valleys, hills, rivers of France the tide of battle will slowly but surely turn to the advantage of the Allies. The USAAF and RAF bombers will support ground troops as they move through France and then return to bombing the Third Reich.
Clarkair CA-1 Bulldozer
This bulldozer was designed to be carried by transport glider or airplane to be used to build or improve airstrips, and to clear obstructions from newly captured airfields. It was sturdy and powerful, but also light and compact, so it could be transported by air. It was intended for use particularly by Airborne Engineer Aviation Battalions, to clear fields, hedges and woodlands to build airfields.
A large number will be shipped to Europe after the Allied invasion in June 1944.
Henri H., a very close friend of Rudy
Henri H., a civilian today 95 years old and a close friend of Rudy owner of Normandy American Heroes, witnessed the D-Day landing! During the battle of Caen, he was wounded by a German shell. With eight members of his family he will survive the closing of the gap of Falaise – Chambois (end of the 100 days Normandy campaign) at the Fjord of Moissy with hiding in a barn! An incredible story I take pleasure sharing with my guests.
When the battle ceased, he clearly remembers seeing two Clarkair pushing on the side the corpses off the main road! He asked one of the drivers: "Couldn't you show some respect for the dead?" The driver replied: "I will show respect to the dead once Germany surrenders".
Hélène, Henri and Rudy
August 1944
Dunkeswell Airfield was built between 1942 & 1943 and following its completion was initially occupied by the USAAF 479th Anti-Submarine Squadron and then by the US Navy. It was the only US Naval Airbase in Europe who undertook U-boat hunting in the Bay of Biscay and as far as Brittany.
The Navy bombers were responsible for fanning out and hunting U-boats beyond the range of Allied land-based planes. Speed and altitude enabled the fighter planes to search many more square miles of ocean than a ship could do alone.
Pilots used their eyes to scan the seas for U-boats during the day and relied on radar at night.
They also dropped sonobu