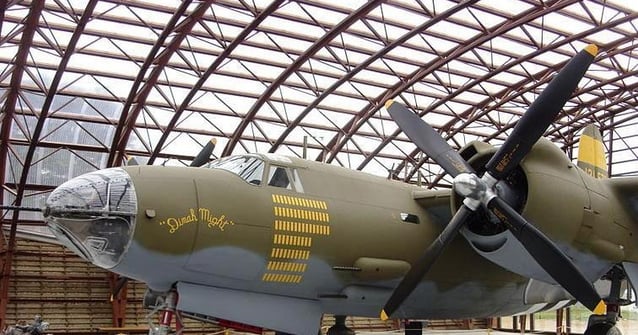 A few years ago, working as the Interpretive Guide at the Utah beach museum I had the honor to welcome Theodore Harris, son of Captain R.T. Harris who flew the B26-Martin Marauder "Dinah Might" above Germany on his last mission.
Theodore Harris agreed that the story of his father be published on the Normandy American Heroes blog. Discover the story behind the story!
The B-26 Marauder was designed to meet the U.S. Army Air Corps demand for a high-speed medium bomber. Martin's proposal was considered to be so far in advance of other proposals that the company was awarded an "off the drawing board" contract for 201 aircraft in 1939, and the first production B-26 flew by year's end.
Testing confirmed that performance expectations had been achieved but at the expense of low-speed handling characteristics. Training accidents multiplied, and an investigation was set up to consider whether or not to stop production. It was decided to introduce modifications that would improve its slow-speed handling qualities.
Because of its small wing area, the B-26 was nicknamed the "Widow maker." MacDill Air Force Base in Tampa was the main training base for B-26 crews during the War. As a result of a short series of training accidents after take-off, the undeserved phrase "One a Day in Tampa Bay" came about.
Later aircraft were built with longer wings, a lengthened fuselage, and larger vertical fin and rudder. The aircraft saw combat in the South Pacific, North Africa as well as in Europe. On D-Day they took part in the bombing of Utah beach and La Pointe du Hoc where they were late...but that's another story! Bombing from medium altitudes of 10,000 to 15,000 feet, the Marauder had the lowest loss rate of any Allied bomber. Less than one-half percent!
U.S., British, Free French, Australian, Canadian and South African aircrews all flew the B-26 in combat. By the end of WWII, B-26 crews had flown more than 110,000 sorties and dropped 150,000 tons of bombs. In 1945, when B-26 production was halted, 5,266 had been built. Only three exist today.
The first is situated in Florida at the Fantasy of Flight museum, also in flyable condition; the second one is at the National Museum of the US Air Force in Ohio, flown in combat by the Free French during the final months of WWII.
The last one is on display at the Utah beach museum. It is the Martin B-26G Marauder 44-68219 painted to represent 41-31576 "131576" "Dinah Might" AN-Z of the 386th Bomb Squadron of the United States Army Air Force, 85 missions with success!
This model exposed at the Utah beach museum did not fly over Normandy but is painted up to represent the 386th Bomb Group of the 9th USAAF under the command of Major David Dewhurst. His mission on Dday was to annihilate the Widerstandsnest 5 (WN 5 Utah beach). His squadron will succeed by dropping their loads at 6h24.30! Major David Dewhurst will survive the war only to be killed back in Texas in 1948.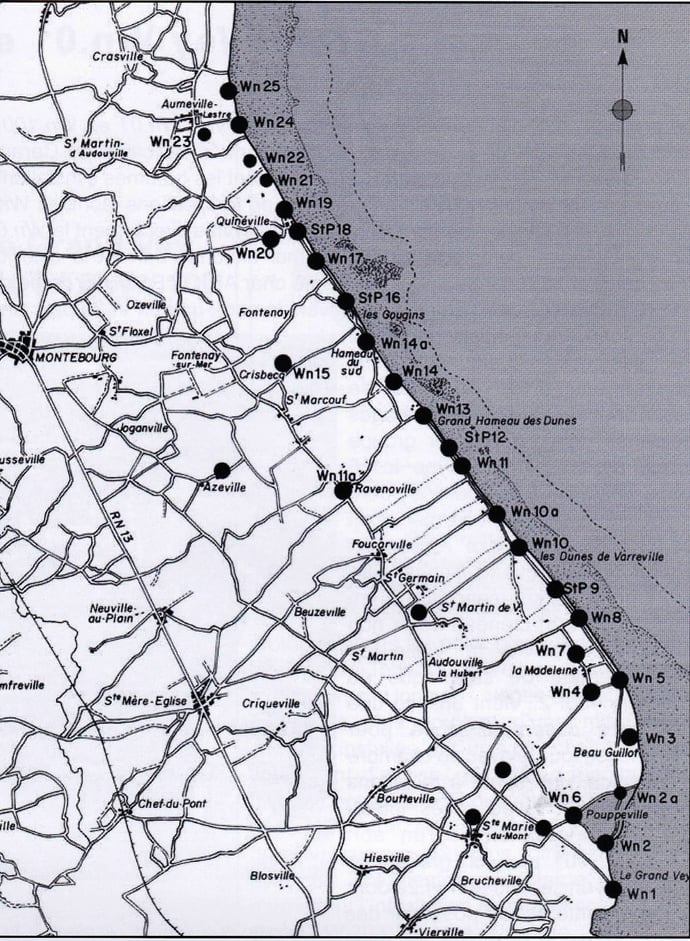 Layout of the Widerstandsnest (strongpoints) between Le Grand Vey & Quineville
Major David Dewhurst, B-26 Dinah Might pilot - Tuesday the 6th of June 1944
Interview of one of his sons, Lieutenant Governor David Dewhurst of Texas (2003-2015)
When a drunk driver killed Major David Dewhurst his 3-year-old son, Lieutenant Governor David Dewhurst, was deprived of the opportunity to learn about his father's past. Nearly 60 years after the accident, Dewhurst discovered his father led the final D-Day bombing run at Utah Beach on Dday.
"I always wanted to know more about my dad," Dewhurst said tearing up. "I always wanted to know what I had missed by not having a father."
Dewhurst's father participated in the D-Day invasion on June 6, 1944. He said his mother only told him and his siblings that their father was a pilot during the war, but did not specify his duties as all correspondence was classified.
David Dewhurst did not gain further knowledge about his father's involvement in the war until June 7th 2007 when he discovered a museum on Utah Beach with an exhibit detailing his father's mission on D-Day. This was meant to be!
"The memorial was to my dad and it had his picture. As you'd imagine, it was pretty emotional," Dewhurst said. "I probably stood there for an hour. I couldn't move, I just couldn't move."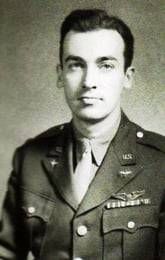 Major David Dewhurst
Dewhurst said the events of that day prompted him to do two things: revitalize the museum, which he and his family have contributed millions of dollars to since that day, and to seek out the remaining members of his father's outfit.
Dewhurst said he found four of them and, aside from asking about their experience of the war, he asked them to describe his father.
"Of course, not knowing him, I kept asking these four people that had flown with him, that had known him: how he acted, how he reacted, what kind of guy was he?" Dewhurst said. "Did he get mad? How did he handle himself? I knew that he occasionally smoked cigars: did he try to do that on bombing runs? Answer: no, but yes."
Spending most of his talk relating the story about his father during an interview in Texas, David Dewhurst said to the attendees that visiting the battle sites and the Normandy American Cemetery and Memorial of Colleville sur Mer (Omaha beach) will "make you proud to be an American. It will remind you that freedom is not free".
553rd bomb group mission number 294 – Saturday the 18th of November 1944
Last flight of the Dinah Might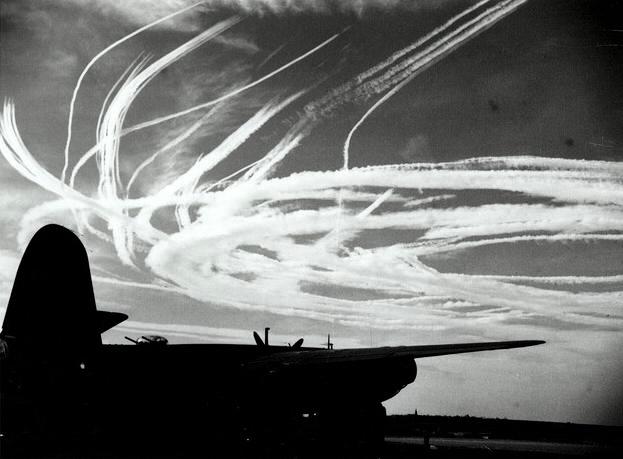 Briefing began at 0950 hours; the target is a storage dump located at St. Wendel, Germany.
St. Wendel, Germany
During the Third Reich a huge military base was built near the western city border beside Highway B269 to Winterbach. The town was captured by the US Seventh army in March 1945, the US 10 Armored Division briefly establishing its command post there on 19 March 1945.
Captain Philip Tener of the 555th Squadron will lead the first box of eighteen at 11,500 feet with "HELL'S ANGELS" 131615 YA-W. The high flight leader flying at an altitude of 11, 750 feet in ship 334315 is Lieutenant Morgan, also from the 555th Squadron. Low flight leader from the 552nd Squadron is Captain Herbert Ritter flying at 11,250 in ship 334202 RG-S.
The second box of eighteen is headed by Major Hoover of the 553rd Squadron flying in a ship called "RAT POISON" 131606 AN-S. His high flight leader in another 553rd ship named "DINAH MIGHT" 131576 AN-Z assigned altitude of 10,750 feet is Captain Robert Harris. Captain Paul Schuler from the 554th Squadron flying at 10,250 will lead the low flight flying ship 334413 RU-D. Temperature at altitude is going to be a chilly minus 03 degrees Centigrade!
Each of the thirty-six planes will carry sixteen 250 pound general purpose demolition bombs with 1/10th second delay nose fuses and 1/100th second delay tail fuses. All interval meter settings will be 50 feet.
Eight aircraft will carry K-21 Strike Cameras, four of which are in the first eighteen aircraft. Briefing ended at 1020 hours, and the crews were delivered to their respective hardstands within ten minutes. Engine starting began at 1055 hours. Soon the thirteen foot diameter propellers of the thirty-six B-26 Marauders were churning the cool moist air at Beaumont sur Oise, France.
Beaumont Sur Oise
It was a pre-World War II French Air Force airfield with a 5,000-foot (1,500 m) concrete runway.
The airfield was seized by the Germans in June 1940 during the Battle of France. It was used by the Luftwaffe only sparingly, with Luftlandegeschwader 1 (LLG 1), a glider unit being assigned to the airfield between April and May 1943, equipped with Henschel Hs 126 liaison aircraft; Dornier Do 17s to pull the units DFS 230 transport gliders. Later, in November and December 1943, Schlachtgeschwader 4 (SLG 4) operated Focke-Wulf Fw 190F/Gs as a ground-attack unit.
Beaumont was attacked on several missions by the United States Army Air Forces Eighth Air Force and IX Bomber Command groups during 1943 and 1944.
The airfield was liberated by Allied ground forces around the 3rd of September 1944 during the Northern France Campaign. Almost immediately, the United States Army Air Forces IX Engineering Command 818th Engineer Aviation Battalion cleared the airport of mines and destroyed Luftwaffe aircraft. Fortunately, little battle damage was sustained, and the airport became a USAAF Ninth Air Force combat airfield, designated as "A-60" as of the 26th of September.
Under American control, the Ninth Air Force assigned the 386th Bombardment Group to the airport which flew B-26 Marauder medium bombers from the facility between 2 October 1944 and 9 April 1945. The 386th was then replaced by the 410th Bombardment Group, an A-26 Invader group, which operated from the airport until June 1945. The Americans returned full control of the airport to French authorities on 17 July 1945
A slow procession of B-26's worked their way to the active end of the runway where final cockpit equipment checks were completed. A green light shone and Captain Tener was on his take off roll with "HELL'S ANGELS". It became airborne at 1115 hours, followed in quick order by the remaining thirty-five bombers. The leader circled the airdrome as his flight leaders developed that familiar B-26 formation pattern. At 1136 hours the Group departed home base—climbing on course for a 1220 hour rendezvous with the 19th Tactical Fighter Group, they would provide fighter escort for today's mission.
Heavy type flak began to come up on course near the Moselle River. It was moderate in amount and accurate, but soon increased to intense and very accurate as the bomb run began. Snow and haze made the target impossible to locate so the formation began a 360 degree turn. While in the turn the secondary target, a storage area at Aulenbach was seen twelve and a half miles northeast of the primary target. Flak continued to harass the bombers as they came around to take up their second bomb run heading. Captain Owen flying deputy lead of the lead flight in ship "SON-OF-SATAN" took a direct hit in a wing, blowing it completely off the aircraft at 1240 hours. The plane began to spin down as one chute was seen to open! Flak was continuous as the formation maneuvered for position on the bomb run. Time was 1247 hours when plane number 334353 YA-S piloted by Lieutenant Maxwell was hit by flak; it began to spin down immediately as three chutes were seen to open.
The aiming point came into view, two large rectangular buildings, and it was bombs away at 1254 hours. The lead flight's bombs fell in a concentrated pattern which covered the chosen aiming point. The high flight pattern fell 350 feet north of the AP covering a series of slit trenches, fires were started nearby. The low flight dropped 700 feet south of the AP, hits were seen on road intersections, and some fell in an open field. Bombing results were rated from poor to good.
A startling event began to unfold quickly in the cockpit of "DINAH MIGHT", lead ship of the high flight in the second box of eighteen bombers. The voice of Tail Gunner, Staff Sergeant Spencer Volpp jolted the crew over the intercom with a terse question, "Hey do you know we're on fire, left wing outboard, and flames to the tail?" The intercom calls from the cockpit were to no avail--silence! Captain Harris looked over his left shoulder and saw fire behind his left engine. Both pilots deduced immediately that they had a wing tank fire to deal with.
Co-pilot Stanley Guistwite feathered the left engine and rang the alarm bell to signal bail out to the crew—as Pilot Harris trimmed the ship for level flight with a desperate hope the wing would not burn through before his seven man crew could exit the doomed aircraft. Even a slight turn or nose down attitude could increase the burning rate and cause the wing structure to fail!
In the aft section Radioman Staff Sergeant John Depue pulled in his waist guns and then secured them in the stowed position, thus providing the maximum waist window opening for bail out. Flight engineer Staff Sergeant Reuben Small scrambled from his upper turret position and received cuts on his head in the process. However this did not slow his exit, he dropped to the floor of the ship, strapped on a chest pack chute and went out of the waist window in articulated fashion. All three gunners cleared the aircraft in a hurry. Tail Gunner Volpp apparently had some slack in his harness, when his chute opened he received some pronounced strap burns from his parachute harness. Radioman John Depue delayed opening his parachute; during his free fall he noted a large diameter hole through the left wing just outboard of the engine. A very large size flak projectile had passed through the wing panel, but did not explode!
Meanwhile up front Navigator Lieutenant Donald Bell and Lieutenant Eskenazi made their way out of the ship via the nose wheel well door along with Co-pilot Guistwite who delayed his chute opening to a very low altitude. The right hand engine was still running, thus keeping the aircraft reasonably level. As pilot Harris vacated his seat his eye caught sight of the unwinding hands of the altimeter as they passed through the 8,000 foot level. The ship had been flying at 10,750 feet when struck by enemy fire. Captain Harris was tumbling end over end in free fall when he heard a loud explosion, he pulled his ripcord, was jerked upright by the billowing parachute canopy. He saw "DINAH MIGHT" for the last time; the explosion had blown off the left wing and engine. The remaining airframe was flopping over and over as it plunged earthward!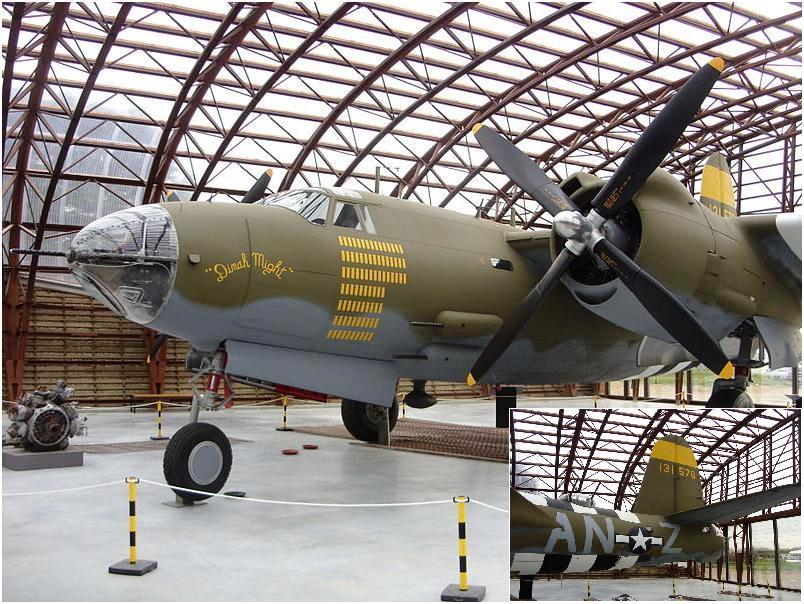 The second eighteen had commenced their bomb run as the lead bombardier chose a railroad bridge nine and a half miles from the primary target. His bombs fell 1800 feet northeast of the aiming point in a field. The high flight dropped on the lead ship AP and the bombs fell in the same area in a concentrated pattern. The low flight had a scattered pattern in an open field some 3,000 feet northeast of the chosen aiming point. Bombing results were rated poor.
Co-pilot Guistwite came down in a wooded ravine and hastily discarded his parachute. He dug a small hole with his hands and buried his wallet and AGO Card, (Officer's I.D.) then moved smartly out of the area. As he walked an incident after briefing came to mind. He found out the last minute about the seventh man on his crew for the mission today. He had handed out all six of the personal property bags to the crew; they would be kept at the air base until they returned. With no time to locate another bag for himself, he said, "I'm optimistic today, we will get back okay," and with that put his wallet back into his pocket. Now the last of his personal possessions lay buried in a shallow hole in German soil! The wind condition at formation altitude was 40 m.p.h. from 270 degrees which caused Captain Harris to drift at a good rate away from the target area. The bomb run had been made at 240 degrees.
As he hung in his chute everything seemed quiet at 7,000 feet, he could see the Moselle River and a hill of greenery even though an inch of snow covered the land. Suddenly the pilot heard what he said sounded like bees buzzing around him at 2,000 feet, and then sharp cracking noises were audible. A stark realization set in, he was being shot at by some German riflemen. Descending lower, the greenery turned out to be a vineyard with tall poles set out on approximately four foot centers. A new peril as he envisioned one of the poles coming out of his mouth when he landed! Luck was still with him as a stiff surface wind carried him clear of the poles and dumped him unceremoniously in a small clearing directly in front of a flak gun emplacement. A German rifleman ran up to him with his gun pointed as the air filled chute dragged the pilot along. Painfully bumping on the ground he tried desperately to get out of his chute harness and still not appear to be trying to escape his captor!
The returning Group appeared over home base, and Captain Tener broke his lead flight away from the main bomber formation in preparation for landing procedure. Aircraft with wounded aboard landed first, firing red flares on final approach which would alert ambulance crews standing by at the far end of the runway! On downwind leg Captain Tener called for gear down and realized immediately he had a problem. The landing gear indicator showed both main gears down and locked, but the nose gear was still in the up position! Hydraulic fluid was spraying in the nose well compartment due to battle damage.
Continuing the landing pattern he ordered all his crew not essential to landing sequence to the tail section of the ship. They hurried to the rear via the bomb bay cat walk and took positions on the floor of the waist section just behind the aft bomb bay bulkhead; this would help keep the nose high after landing. The pilot made a smooth touch down on the main gears, then holding up the nose as long as possible; as the nose began to sink he gingerly applied a bit of right wheel brake and guided his ship off the right side of the runway onto the soft muddy grass area. The nose pitched down ever so gently and crunched in the Plexiglas nose as the ship ran with its tail high for some 80 feet. At this point there was a strong resemblance of a hound dog trotting in an open field with his nose down in hot pursuit of a fresh scent!
The crew in the aft section dropped out of the waist windows to the ground after the plane came to a halt. Lieutenant Travis Foster lead bombardier surveyed the wreckage of his former greenhouse. The lower portion of the nose section extending to the windshield line was badly buckled. All propeller blades were bent back about 45 degrees from the outer two feet of blade tip. The package gun pods and both of the engine cowlings escaped damage in the nose over landing of "HELL'S ANGELS," Staff Sergeant Tail Gunner Robert Trittipo was slightly injured in the landing. Lieutenant Peebles flying a ship called "MORE SPAM BURGER" 334436 YA-F also had battle damage and had to make a crash landing upon his return. Lieutenant Thompson flying ship named "HELL'S BELLE II" 131789 YA-A was so badly shot up it was a total loss after he made a crash landing on the home field. During interrogation the crews gave details involving all of the aircraft lost over enemy territory. Captain Brockhouse flying a plane which was named "HARD LUCK" 131610 AN-P in the number two position high flight, second box of eighteen—reported how his flight leader Captain Harris was shot down near Lorbach, Germany. Others related details about Captain Owen's ship going down over Bernkastel and Lieutenant Maxwell being shot down at Bedenbach. All lost aircraft were knocked down prior to bomb release!
Vivid accounts of the intense flak were also recorded. It was a rough mission for the Group with three planes shot down, one totaled in a crash landing, and two others were damaged in crash landings. In all twenty-five of the thirty-six aircraft received battle. Nineteen men were reported missing in action.
The Owen crew: Captain R.J. Owen, Jr. KIA—Lieutenants W.F. Melson and R.L. Holm KIA—Staff Sergeants T.A. Price KIA and R.C. Beegle KIA. Tech Sergeant C.J. Mann was able to bail out and became a POW.
The Harris crew: Captain R.T. Harris, POW—Lieutenants S.U. Guistwite, POW—D.E. Bell, POW—J. Eskenazi, POW—Staff Sergeants J.W. Depue, POW—R.E. Small, POW and S.A. Volpp, POW. All members of this crew had completed sixty-five or more missions.
Captain Harris was taken to a small village after being captured by the flak battery crew where he was held at a local police station until near dark. He was not put into a cell. In the meantime Lieutenant Guistwite was still walking in a partial wooded area with a road off to one side.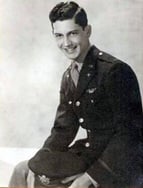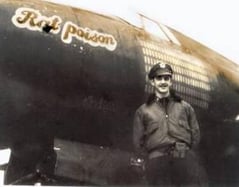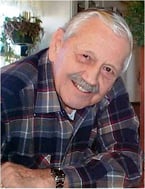 Captain R.T. Harris
Recounting the events of the day, he remembered that they had destroyed the IFF (Identification Friend or Foe) unit in the aircraft just before bailing out. He was concerned about the trail he was making in the light snow covering the ground in his area. A bit later a road came into view on the other side, he found himself walking into the apex of the two roads, and then at this point he heard dogs barking!
IFF (Identification Friend or Foe) facts
Early in the European conflict of World War II, British airmen were puzzled by the strange behavior of German fighter aircraft. Occasionally and without apparent reason, the German planes would simultaneously roll over. The British eventually intercepted radio signals from the ground that always preceded this maneuver. It was then realized that by rolling over at a predetermined signal the Germans were changing the polarization of the radar reflections picked up by their own ground radars. They created a distinctive blip on the radars that differed from others so German radar operators could identify their friendly forces.
As crude and simple as it was, this constituted the first attempt at an electronic IFF system. It incorporated the basic structure of all cooperative IFF systems that followed: a challenge or question (the coded radio message) and a specific response (the roll over that caused a change in the reflected radar signal).
Both British and American forces were working to develop a viable identification system as well. That first German maneuver, which was soon superseded by others, was a passive system in that the returned signal was still just a reflection of the radar energy sent from the ground.
The first active system used by the allies employed radio energy generated onto the target aircraft and then used for the return signal. This is the basic method now used in all modern cooperative IFF systems.
About 1940 an active system, designated the Mk I, was put into service. It used a receiver aboard each aircraft that broke into oscillation and acted as a transmitter when it received a radar signal. Because of the variety of radar frequencies used, it had to be mechanically tuned across the radar bands in order to be triggered by any radar that was illuminating it. This mechanical tuning requirement and other factors limited its performance.
The system was developed further by the addition of a separate transmitter that was tuned through the radar bands simultaneously with the receiver and was triggered by signals from the receiver. This greatly increased the strength of the return signal and the return range. Known as Mk III, it also could be programmed to respond in one of six different codes thus providing some further degree of identification.
German soldiers were looking for him with Bloodhounds on both roads. Lieutenant Guistwite freedom was short lived. He was taken to Aulenholden and held in a place that looked like a stable. That night he was moved by jeep to another location while passing a German armored group near a small airfield. He was told to enter a building with straw covering the floor, was pleasantly surprised that all his crew gathered therein, less Captain Harris. He noticed Staff Sergeant Small had cuts about the head and asked a German guard if this man could be looked at by a doctor. A short time later Ruben Small did receive medical treatment for his injuries.
The crew was split up the next day and Lieutenant Guistwite was told to go with an old man who was a member of the Home Guard, he did not appear to be armed. They went to a small barroom so the old man could get a drink of beer. Later the man gave the co-pilot an apple to eat as they walked to the railroad station. While at the station he became very uneasy as German civilians crowded close, the Home Guard ordered them away as they boarded the train for Frankfurt. Captain Harris also turned up at Frankfurt; both men were taken to Auswertestelle West, a camp where captured airmen were taken for interrogation prior to being assigned to a POW Camp. It was situated at Oberursel a few miles north of Frankfurt. Both officers were placed in solitary confinement upon arrival there.
"Auswertestelle West" which means Evaluation Center, West
"Durchgangslager der Luftwaffe" or "Transit Camp of the Luftwaffe" was called Dulag Luft by the POWs. It was located at Oberursel (13 km north-west of Frankfurt-am-Main with a population of about 20,000) and was recognized as the greatest interrogation center in all of Europe. Nearly all captured Allied airmen were sent there to be interrogated before being assigned to a permanent prison camp. While at Dulag Luft - Oberursel the prisoners were kept in solitary confinement. The average stay in solitary was one or two weeks. According to the Geneva Convention a prisoner could not be kept in solitary confinement for interrogation purposes for more than 28 days.
At Dulag Luft each prisoner was studied by several psychologists in order to learn his likes, dislikes, habits and powers of resistance. The method of procedure was then determined, and the machinery was set into operation to destroy his mental resistance in the shortest possible time. If the prisoner showed signs of fright or appeared nervous, he was threatened with all kinds of torture, some of which were carried out, and he was handled in a rough manner. Others were bribed by luxuries. They were traded clean clothes, good living quarters, food and cigarettes for answers to certain questions. Those who could neither be swayed nor bribed were treated with respect and handled with care in the interrogator's office, but were made to suffer long miserable hours of solitary confinement in the prison cells.
Nothing was overlooked by the German interrogators. They studied the results of each interview, and devised new methods to gain the desired information. Allied Air Corps Intelligence started a counter attack against Dulag Luft by training every flier in its command on how to act as a prisoner of war. Every method used to gain information from prisoners was illustrated with films and lectures. Interviews between prisoners and their interrogators were clearly demonstrated to bring out the tactics of the German interrogators. Name, rank and serial number became the byword of the counterattack. Men were drilled and trained by Intelligence until they knew exactly what to expect and what to do. Patriotism and loyalty were stressed, and American airmen were shown the results of information the Germans had secured from prisoners at Dulag.
The camp was built on level ground. There were large white rocks that covered the length of the front lawn forming the words "Prisoner of War Camp". The same identification was painted in white letters across the roof of nearly every building. Dulag Luft was of great importance to the Germans and they knew the Allies would never bomb it as long as it could be identified from the air. The camp was estimated to cover about 500 acres, the boundaries of the camp were formed by two parallel fences ten feet apart and they stood 12 feet tall, with trenches and barbed wire entangled between them. Watch towers were spaced around the camp at one hundred yard intervals. Trained dogs prowled the outer boundaries and heavily armed pill boxes were scattered beyond the barbed wire."
Hanns Scharff was primarily an American 8th and 9th Air Force Fighter pilot interrogator. He was considered the best of the interrogators at Dulag Luft. He gained the reputation of magically getting all the answers he needed from the prisoners of war, often with the prisoners never realizing that their words, small talk or otherwise, were important pieces of the mosaic. It is said he always treated his prisoners with respect and dignity and by using psychic not physical techniques; he was able to make them drop their guard and converse with him even though they were conditioned to remain silent. One POW commented that "Hanns could probably get a confession of infidelity from a nun." Hanns personally stepped in to search for information that saved the lives of six US POWs when the SS wanted to execute them. Many acts of kindness by Scharff to sick and dying American POWs are documented. He would regularly visit some of the more seriously ill POWs and arrange to make their accommodations more humane. At one time the Luftwaffe was investigating him. After the war, he was invited by the USAF to make speeches about his methods to military audiences in the US and he eventually moved to the United States. General Jimmy Doolittle was one of the first to extend the hand of friendship to Hanns after the war, inviting him to a luncheon where they compared notes. Later he was invited to the home of Col. Hub Zemke who thereafter would send Hanns what he called a "Red Cross Parcel" every Christmas. And 38 years after he was Hanns "guest" at Dulag Luft - Oberursel, Col. Francis "Gabby" Gabreski was a guest of honor at Hanns 75th birthday party. In the United States Scharff worked as a mosaic artist. His works are on display in Cinderella's castle at Disney World.

Hanns Scharff
Number of Interrogators

Number of prisoners

passing through the camp

1942

1942 - 3,000

1943 - 35 - 40

1943 - 8,000

1944 - 60 - 65

1944 - 29,000
After the war ended the British convened a war crimes trial. The Trial was knows as the "Dulag Luft Trial". It was held in Wuppertal, Germany, beginning on November 26, 1945. The hearing was convened due to the allegations of ill treatment of British Prisoners of War. Four officers were charged: Killenger, Junge, Eberhardt, and Boehringer. Killenger and Junge were sentenced to five years confinement. Eberhardt received three years. Boehringer was acquitted.
Captain Harris and Lieutenant Guistwite were put through a series of interrogation sessions over an eleven day period.
During one session Captain Harris as usual was answering with only name, rank and serial number. Then the civilian interrogator picked up a book off a nearby shelf, it was nearly five inches thick and about eight and a half inches by eleven inches in size. He told the pilot this was information they had on the 386th Bomb Group. Then he asked about Captain Stewart Marquis, it so happened that both officers had received their Captain promotions on the same set of orders. How did the Germans know about Captain Marquis, he was still flying with the 386th!
Lieutenant Guistwite was also receiving shocking bits of information during his sessions with the interrogator. He was asked many questions about the Group and its operations, but he told the interrogator nothing. The co-pilot noticed a group of five by seven size photographs on a shelf behind the interrogator. He recognized one officer as Lt. Colonel Hankey Group Operations Officer along with some other officers from the 386th Group.
Lt. Colonel Hankey had finished up his tour with the Group in September, and at this time was assigned to duty in Washington, D. C. The interrogator saw him looking at the photographs and asked if he knew any of the persons shown. He replied, "Looks like you know more about the Group than I do." With that he was hustled directly back to his cell. On another occasion the interrogator walked over to Lieutenant Guistwite and put an AGO Card (Adjutant General's Office card necessary to prove your identity) on the table and asked if he knew that fellow. He sat there staring at the picture card, it was difficult to believe what he saw—the AGO Card of Captain Harris.
Several weeks earlier he and Captain Harris were on leave in Paris, and somehow the Captain managed to lose his AGO Card—now here it was in the hands of a German Intelligence Agent deep in Germany! The German interrogator did not at anytime show the card to Captain Harris. Up to this point the war was scary, now it had become bewildering! A few days later both fliers were shipped off to a regular POW Camp in Germany.
The Maxwell crew: Lieutenant J.E. Maxwell—Flight Officer N. Brancato--Lieutenant R.L. Anderson—Tech Sergeant L.A. Rosanbalm—Staff Sergeants G.B Powell and W.A. Sundberg III. None of this crew was listed as KIA by the 386th Bomb Group, so it is assumed that they all became POW's.
The following is an account by Hans-Gunther Ploes whose home is in Traben-Tirrbach, Germany, which is several miles north of where two of our planes crashed. His statement follows: "Two of the planes were lost to flak during a mission to a St. Wendel storage area on November 18, 1944.
Unfortunately it is very difficult to identify the involved flak units. Nevertheless one eyewitness told me that at least "DINAH MIGHT" was hit by shells of the heavy flak battery stationed at the "Graacher Schanzen" near Bernkastel. After being hit "DINAH MIGHT" turned west. During the following minutes the crew bailed out. Finally Captain Robert Harris left the ship and was taken prisoner near Gonzerath. His plane had lost a wing and plunged to earth. She hit the ground in a meadow near Veldenz (Moselle) and her wing landed in some vineyards only a few hundred meters away.
The crew of "SON-OF-SATAN was not so lucky. After being hit by flak almost instantly the left wing fell off, and the aircraft began to spin. The crew was trapped and only Tech Sergeant Chester J. Mann, Jr. the radio operator landed safe. "SON-OF-SATAN" crashed in a wood near Kempfeld (Hunsrück). In the smoldering remains of the aircraft four bodies were found. Tech Sergeant Mann landed in a tree not far from the crash site. Unable to leave the tree by himself he was forced to wait until someone could help him. Finally people from Mörschied found him and he was taken to the town.
The fate of the sixth crew member was a mystery until two boys found his body several months later in the winter of 1944/45. It seems that he like Tech Sergeant Mann could leave the ship, but unfortunately his parachute did not open, he hit a tree and was found wrapped around the trunk!
Chester P. Klier, flight engineer & top turret gunner, historian of the 386th Bomb group
Chester P Klier joined the Army Air Corps shortly after the start of the war. He was assigned to the 386th Bomb Group as a flight engineer and top turret gunner in a B-26 bomber (serial number 41-31953) nicknamed "Buzz N Bitch" and was based in England. He flew 66 missions (almost 3 tours), shot down a German fighter. He was awarded the Purple Heart, 2 Distinguished Flying Crosses, Eleven Air Medals, a European Theater of Operations Medal with 2 battle stars, and a Unit Citation.
After the war he began a long career as a design engineer, working on our manned Apollo moon rocket, and various fighter jets and defense projects, retiring from McDonnell Douglas. He became the unit historian for the 386th Bomb Group, remained an active pilot for decades, and built two home built aircraft with the Experimental Aircraft Association. His passion was flying and aviation in general and he remained active in writing the history of his bomb group until his recent death.