The England team composed of Tommy Thirsk and Arnold Bentley achieved the incredible feat of defeating Germany Golf Prize of Nations in 1936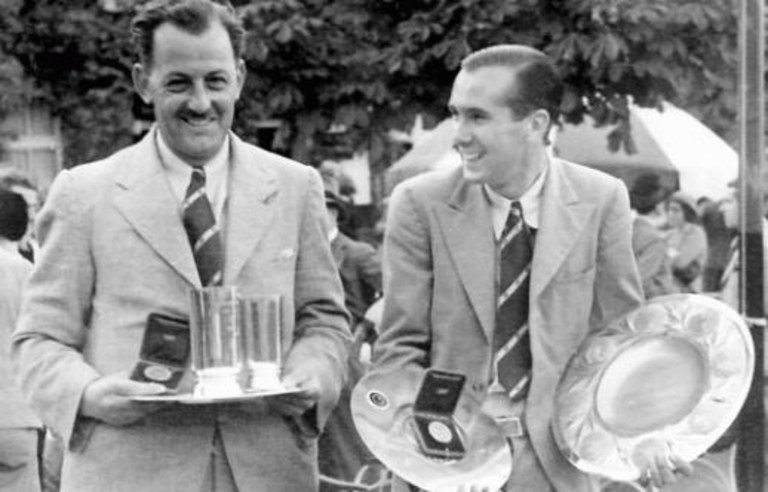 This avoided Reich Minister of Propaganda of Nazi Germany Joseph Goebbels to exploit, at least for a short time, the "Master Race" Nazi vision. It's based on the notion that the Aryan or Teutonic peoples were the great force, the great civilizing force through history and they'd become Germanic...the German people...
Let's finish with the second actor of Germany defeat... Tommy Thirsk (1900 - 1979).
Born at the start of the XX century, Tommy Thirsk developed into a naturally gifted sportsman, excelling in cricket, rugby and athletics during his schooldays, before taking up golf.
His father played off 6 handicap and was instrumental in his son's rapid progress; before he reached his twenty-first birthday he was already a scratch player, eventually achieving the plus 2 mark. He had an easy, yet stylish golf swing and enjoyed rare mastery of the short shot from just off the green. Amazingly he had thirteen holes in one during his playing career.
His club membership started at Bridlington Golf Club in 1912; he was appointed Club Captain in 1935 and eventually became a Life Member. He had also been a member of Hull Golf Club but it was grom Ganton Golf Club that Tommy enjoyed much of his success. His talents were not limited to the golf course; he excelled in administration as well, serving on their committee from 1931 to 1934, and eventually being rewarded with Honorary Life Membership. His contribution to the game of golf was recognized when he became President of Ganton Golf Club in 1972.
Tommy was an extremely modest man but yet was a legend in the county of Yorshire, representing it on numerous occasions. He was Yorkshire Champion in 1932 and was runner-up in 1929 and 1933. He had a long English international career and was capped over thirty times. He captained the side against France in 1937, when coincidentally Arnold Bentley was in the team, and was eventually appointed Captain of England in 1939. In later years, Tommy Thirsk became a member of the Senior Golders' Society and played for it in South Africa in the 1970s.
Altogether Tommy Thirsk had four children, of whom twin sons still survive. They were born whilst he was playing an international match in Ireland, and he quickly returned home! He was managing director and later chairman of T S & D Thirsk Ltd., a small privately owned flour-milling company started by his grandfather. He retired from the company in 1974.
In addition to being the overall individual winner of the Golfpreis der Nationen at Baden-Baden Golf Club in August 1936, he also played international golf in Germany, Ireland, Denmark and France, being capped twenty times between 1933 and 1939.
He was a semi-finalist in the English Amateur Championship in 1934 when he was 'stymied' on the eighteenth green. Had he got into the final, it is thought tht he would have gained selection for the Walker Cup.
In 1937 he did, however, become a Walker Cup selector and helped to pick the team that beat the USA at St Andrews the following year by sevent matches to four, with one halved.
In 1949 he was appointed to referee matches in the Ryder Cup at Ganton; he also played exhibition matches with Walter Hagen (USA) and with Bobby Locke (South Africa).
Years later, a monologue performed in the manner of Stanley Holloway at a dinner in honour of Tommy Thirsk at the Golf Club House, Bridlington and later included in his unpublished book "...but mine own" by W Ivoer Sanderson, was dedicated with pride and humility to Tommy Thirsk on winning Hitler's Golf Prize of Nations in 1936. The verses thereafter were reproduced as faithfully as possible...
You've all heard of that place Baden-Baden, Where two English Lads came in first, It I'm repeating old history pray pardon, But the best of the lot was Tom Thirsk...
It seems Hitler Had said to Von Blomberg, I'm fair sick of clocking them Jews, And as diversion from shooting, I'd like to see Thirsk holing twos'.
So they invited the French and the Belgians, The Dutch and the Yanks and the Japs, In Fact they invited all comers, To compete with these two English chaps.
Weel, Tom didn't think much to the fairways, They were nobbut a thousand yards long, The greens were all hummocks and valleys, And sloped like the sides of Mont Blanc.
The rough covered thousand of acres, But it only came up to his chest, So in spite of the course being so simple, Tom said that he would try his best.
So he took out his putter and mashie, And clouted the ball good and hard, His score?...it was two under fours Sir, And he damned nearly tore up his card.
He thought to himself... "Blimey. Seventy!". When Hitler said, "Tom very good", But Tom said to Hitler, "That's nothink. The next time I'll take out my wood".
So he went out again on the Fatherland, And hit them so hard with his wood, They went faster and straighter and father than, Anyone else's could.
Sixty-five were the strokes that took him, It just was no bother at all, For as Tom said "How could I help it, I was playing the 65 ball".
But Hitler had turned a bit awkward, Leibe Gott, zu gewinnen der Kranz, "Aint' it time you eased off a bit, Tom lad, And give the poor Nazis a chance?"
But Tom he was standing no nonsense, And refused to be put off his drive, So he went out twice more, just for fun like, Another 70' then 65'
Then Hitler said "Hoi, that'll do Tom, Don't start stirring up any unrest, I can see you're determined to win it, I declare that you two are the best"
So he gave Tom two Cups and a Platter, A medal in gold and a Flag, And funny thing is since he wom'em, Tom's t'only one that doesn't brag.
Lastly Hitler gave Tom a young sapling, Which he planted in centre of Brid, So that long after Hitler's forgotten, Folks can say... "That's what Tom did"
Note: Stanley Augustus Holloway, OBE was an English stage and film actor, humourist, singer, poet and monologist. He was famous for his comic and character roles on stage and screen, especially that of Alfred P. Doolittle in My Fair Lady.
Source: Derek Holden "Golf and the 1936 Berlin Olympics"
@ 2019 Normandy American Heroes