Nowadays to acquire knowledge about a specific subject, we have at our disposal a multitude of resources as books, internet websites, articles and more.
But sometimes when these resources talk about a specific subject which happened a long time ago, information may differ with what really happened. Testimonials, from direct witnesses are in that case the most reliable resources.

Ten days after Tribéhou shelling, which happened at 1910 hours on the 21st of July 1944, the 297th Engineer Battalion moved to Le Glinel and then to Gavray-sur-Sienne. The CP was set up at coordinates 299463 (Road D-102) and Battalion Headquarters in the vicinity of coordinates 305468. (Probably in the farm along the road D-102)
On the 30th of July 1944, at 0745 hours, "A" Company was alerted for a construction work to be executed for the 3rd Armored Division in Gavray-sur-Sienne. To accomplish their mission, the Company had the following equipment:
One Platoon of Treadway Bridge.

One D-7 dozer.

60 feet of Timber Trestle.

900 feet of Chespaling & Sommerfeld Track.
Note: Colonel Julian P. Fox Jr and some Reconnaissance elements moved in with the Company to Gavray-sur-Sienne.
Then orders for "A" Company were received as follow:
0830 hours: Be sure to take along your black and white marking posts. S-3 message 3322

1110 hours: Take along one rubber recon boat with paddles by order of Colonel Barney. S-3 message 3326.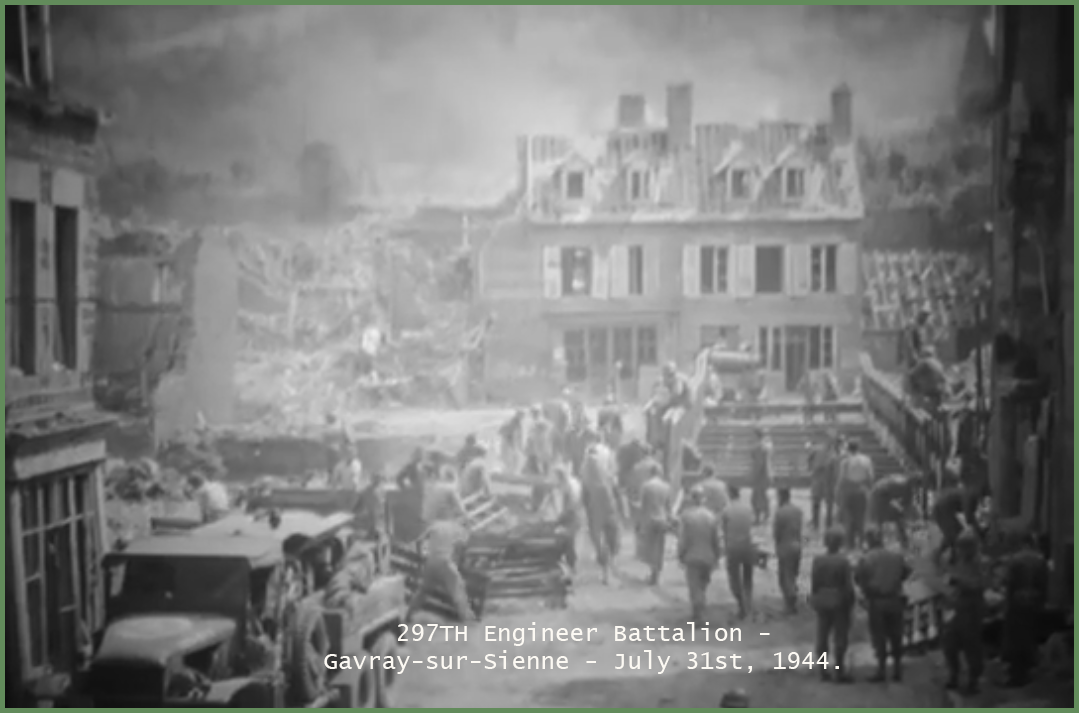 Boys were assigned the mission to build a Bailey Bridge 80 feet at coordinates 298409 and a Treadway Bridge 75 feet, Class 40 at coordinates 304568 (East of the Bailey Bridge). Both in Gavray-sur-Sienne across the Sienne river.
The construction of the Bailey Bridge started at 1245 hours and was opened to traffic at 1910 hours. Treadway Bridge's construction started at 0845 hours and was completed at 1330 hours.
Thereafter a video showing 297th's boys building the Bailey Bridge at Gavray-sur-sienne. Enjoy !
During the whole day several heavy tanks and many vehicles were approaching the Treadway Bridge at the same time to cross the river, causing a maintenance and traffic problem. Officers described the situation as "Traffic was heavy as hell".
Traffic was intense in the area due to the breakthrough of the German lines in Normandy, indeed Operation Cobra was a huge success. Roads toward Brittany and Paris were finally opened.
Note: "C" Company took over the job at 1910 hours to convert DS Bailey Bridge into a DD Class 70 bridge. DD Bridge was completed at 0130 hours on August 1st, 1944.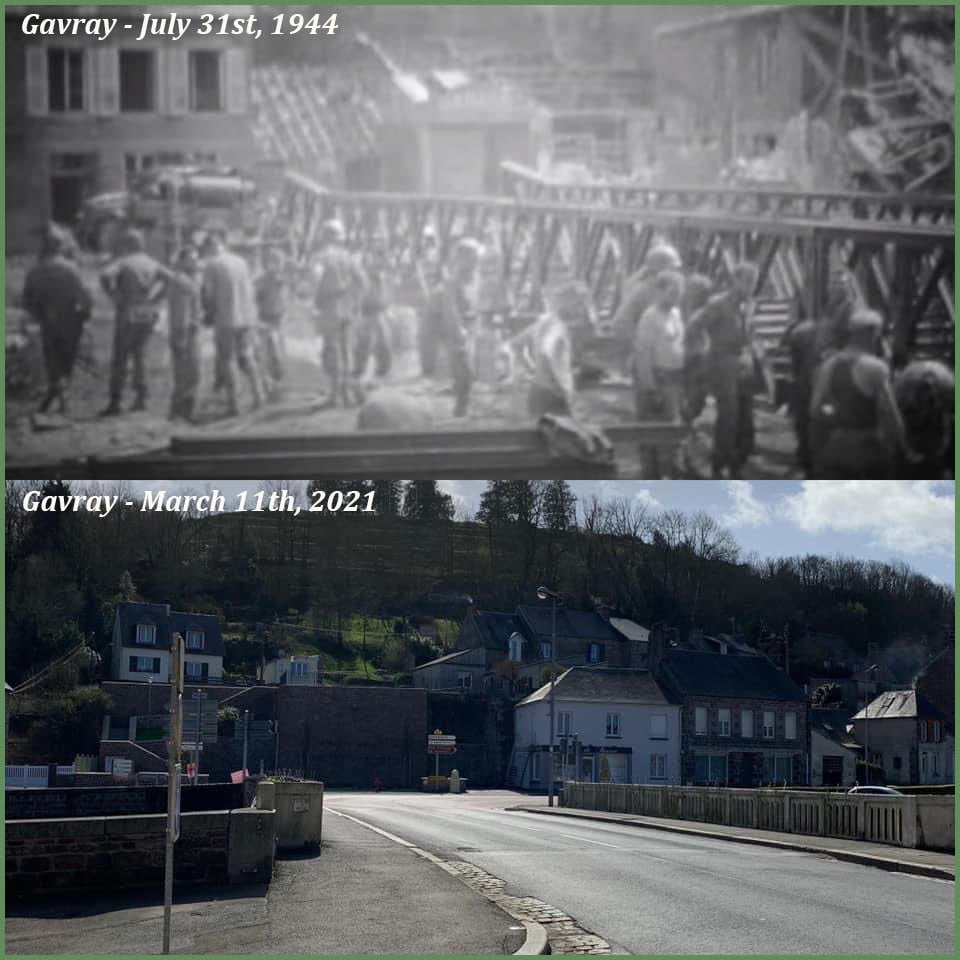 At 2330 hours, German planes flew over the bridge and dropped their bombs on it to tyr and destroy it.
The shelling caused some damage, two 2-tons trucks and five Enlisted Men were wounded but the bridge was still intact.
Private First-Class Weldon E. McClane was among the wounded and we are honored to share with you his story.
Note: When the Officer made his report, he wrote that the bridges were signed "Built by two loyal sons of the republic of Texas". Mr. McClane still lives in Texas.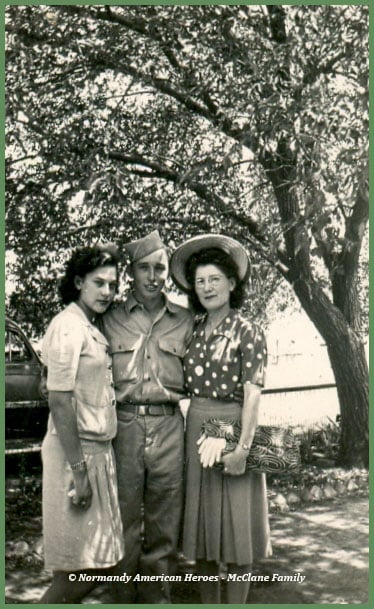 "I was working under the bridge and we were told to clear the bridge. I remember a large shell coming in but it hit the water and didn't damage the bridge. They timed how often a shell would come. But at night we were told to clear. I was shot from a machine gun from the plane—strafed. A guy in front of me was hit in both shoulders. I was hit in the leg and arm---back of my leg. They dropped a bomb after he went past us and I was hit with shrapnel—all in the same leg. I still have problems with my leg.
A jeep came and picked us up as we were walking on the road. He took us away from the bridge and said he would come back to get us. We were sitting in a bar ditch. We saw a guy walking that couldn't get his rifle off. When we heard him say, "Them guys are really catching hell there..."we knew he was American.
There were ambulances in a field there and two came to get us. A guy started cutting my boot...I tried to stop him. He said you don't need that anymore. They hauled us to a field hospital at daylight. They did more work on me. I saw some guys from the 297th and asked if any were killed...they said none they knew of. I was taken to where a C47 was parked. I was put on a top bunk and during the flight I crawled down. An orderly tried to make me go back up. I told him I had claustrophobia. The Captain told me "come up" and asked if I had ever seen Big Ben...I hadn't. He was going to try to get permission to fly around and he did. I was in a hospital in England over a week then to a rehabilitation center ".
The Battalion Headquarters was informed at 0100 hours on August 1st, 1944, that 5 Enlisted Men were WIA and men were still working on the bridge.
Lieutenant Hugh C. Miller, S-3 of the Battalion reported that the bridge was once again opened to traffic at 0130 hours.
Normandy American Heroes thanks Mr. Weldon McClane for his time and service and his daughter Mrs. Vicky McClane French for her time.
Written by Fallet Pierre, WWII Trainee of Normandy American Heroes.