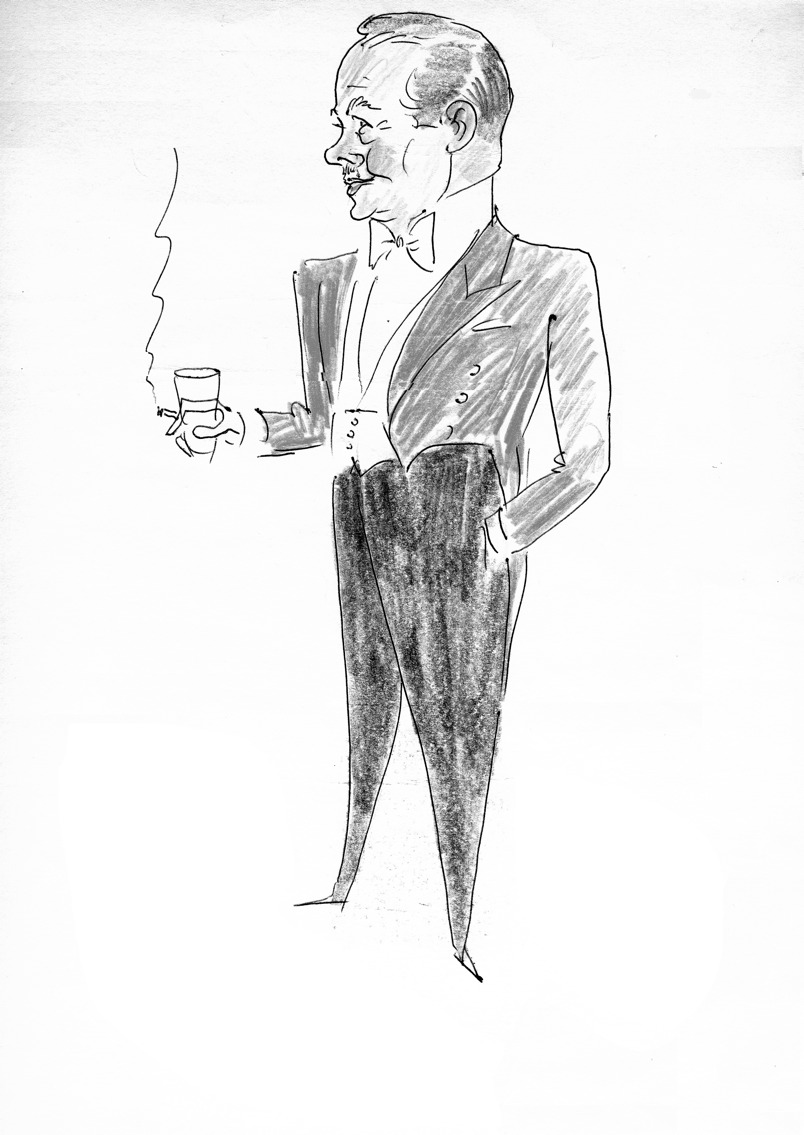 The England team composed of Tommy Thirsk and Arnold Bentley achieved the incredible feat of defeating Germany Golf Prize of Nations in 1936
This avoided Reich Minister of Propaganda of Nazi Germany Joseph Goebbels to exploit, at least for a short time, the "Master Race" Nazi vision. It's based on the notion that the Aryan or Teutonic peoples were the great force, the great civilizing force through history and they'd become Germanic...the German people...
The Aryan Teutonic people were the best because that's how fate, providence, nature had intended them. They believed that the superhuman Aryans had been weakened by interbreeding with inferior and morally corrupt races. The enemies of Aryan Germany being the Bolsheviks, the Communists and most of all, the Jews...who already in 1936 were excluded from Golf clubs in Germany!
So who were these two ordinary men who achieved the incredible feat of defeating Hitler's and Goebbels propaganda?
Let's start with Arnold Lewis Bentley (1911 - 1998).
Arnold was the youngest of the acclaimed Bentley brothers, his brother Harry already being a well respected figure in European Golf. In addition to membership of the Royal & Ancient Golf Club, (The Royal and Ancient Golf Club of St Andrews was founded on 14 May 1754 with the first Challenge for the Silver Club), Hesketh Golf Club (Honorary Life), Royal St George Golf Club (* one of the world's great sporting events will return to the south east of England in 2020 when the 149th Open is played at Royal St George's Golf Club), Royal Birkdale Golf Club (** Royal Birkdale Golf Club has held more Championship and International events since World War II than any other course in the world!) and Sunningdale Golf Club (***).
Harry was also a member of Monte Carlo Golf Club (**** It offers an 18-holegolf course in an idyllic setting between the sea and the mountains!), Le Touquet Golf Club (***** Set in the dunes, it has hosted many major tournaments, including the French Open on six separate occasions), Saint Cloud Golf Club (****** Saint-Cloud Golf Club was one of two French clubs which was invited to the 250th anniversary of Saint Andrews in 2004) and Real Club de Golf Guadalmina and was the winner of several European national championships. There is a little doubt that had WWII not occurred, Arnold would have achieved similar success as his elder brother Harry incredible golf career.
Born in Southport, Arnold was a member of the Royal & Ancient Golf Club, Hesketh Golf Club (Honorary life) where he was Captain in 1953, Royal Wimbledon and Royal Birkdale Golf Clubs. He was also an Honorary Life Member of the Senior Golfers' Society. Like his brother Harry, he played quite a lot of his golf in Europe: in addition to Baden-Baden (Germany) and Brussels (Belgium), the majority was played on some of the best courses in France such as Biarritz, Boulogne, Chantilly, Dieppe, Fontainebleau, Granville, Hardelot, La Baule, Le Touquet, Lys-Chantilly, Morfontaine, Saint Cloud and Saint Jean de Luz...
Between 1930 and 1954 he played 37 times for Lancashire, losing only 10 matches.
He played for England in the Boys' International in 1928. He won the Ashton Trophy at St Annes Old Links at the age of seventeen and followed it three years later with the Squires Gate Trophy.
In the 1936 - 1937 and 1937 - 1939 he played in the Internationals against France. He won the English Amateur at Royal Birkdale Golf Club in 1939 beating Leonard Crawley along the way and played for the British Seniors in 1969. He held course records at Blackpool Squires Gate, Penwortham and Hesketh.
More often than not, Arnold would play in 'collar and tie' and on cooler days in a woolly cardigan. With an unusually wide stance, and a characteristic raising of the right heel, he had a smooth and powerful swing. His unerring putting stroke with his hickory shafted putter, frequently causing despair to his opponents!
In addition to all the competitive golf, Harry and Arnold also played in many exhibition matches, particularly in support of the Red Cross, with such fine professionals as Richard Burton and Henry Cotton. Arnold's Christmas card list read like something from 'Who's Who' with Guy de Rothschild, Sir John Junor, Gerald Micklem, Leonard Crawley and Sir Michael Bonallack being amongst his close friends.
Much of the Bentley brothers' working life was spent in London where they had a flat in Park Lane and where they even had a permanently reserved table in the bar of the Dorchester Hotel. Indeed, a letter from Arnold's accountants recalls how much the writer enjoyed the annual audit of H.G. Bentley Limited: "It was always a particularly enjoyable audit. At least once or twice during the week or so that I was there, we would go to the Dorchester Hotel in Park Lane, via the back door, through the kitchens and into the lounge to have a few gin and tonics, followed by lunch".
It would appear that Arnold's war record was not as glorious as his golfing one! He enlisted in the RAF but according to son Robert: "After pranging two Tiger Moths, he was posted to Canada where he grew tomatoes....!"
Possibly exhibiting a similar modesty to Tommy Thirsk, he was quite reluctant to discuss his golfing achievements but occasionally would produce a newspaper cutting, or a photograph from the past, with a "There what do you think of that?"
At the Hesketh Golf Club bar he was a most personable companion, an avid reader of The Daily Telegraph; it would appear that he committed it to his memory before appearing for his regular evening pre-dinner tipple. When he had listened to enough of the frivolous bar-chat, about the topic of the day, he would then voice his own opinion, spread out his hands with a flourish, palms down, and pronounce: "End of story, right?" and the discussion moved on.
In the British Golf Museum, at St Andrews - Scotland (******* from the 16th century to the present day, the whole history of the great game is explored under one roof), a considerable amount of space is devoted to the achievements of Harry Bentley, with many of his trophies and medals on display. Sadly, due to the majority of Arnold' trophies having been stolen in a raid on his London flat, and never having been recovered, there is none of his memorabilia on show.
* Founded in 1887 and intended by its founder Dr William Purves to be a rival to St Andrew's in the South of England, St George's is consistently ranked amongst the leading courses in the world
** On 30 July 1889, nine gentlemen met at the home of Mr J C Barrett and it was here that they took the unanimous decision to form themselves into a Club, to be called the Birkdale Golf Club
*** During 1899 two brothers, T.A. and G.A. Roberts built a house in Sunningdale called "Ridgemount". T.A. Roberts approached St. John's College with a view to making a golf course and to creating leaseholds on the adjoining land for quality houses
**** The Monte-Carlo Golf Club designed by Willie Park, Jr. opened in 1911.
***** Set within superb natural surroundings between the Forest and the Dunes LeTouquet Golf Club is one of the most beautiful of European sites founded in 1904
****** Saint-Cloud Country Club presided over by its founder Henry Cachard, an American lawyer, purchased the estate in 1911.
******* The museum's collections have a strong focus on amateur golf, featuring many of the most prominent players from the late 19th century to the present day. The greatest amateur of all time, Bobby Jones, held his own against the best professionals by winning The Open Championship in 1926, 1927 and 1930. In 1930 he also won the Amateur Championship and the US Open and Amateur Championships. This feat remains unbeaten to this day.
Sources: Derek Holden "Golf and the 1936 Berlin Olympics" and websites of *
@ 2019 Normandy American Heroes