2nd Battalion of the 313th Infantry Regiment of the 79th Infantry Division assembled in Park at 1030pm on March 23rd. If you have read our blog 79th Infantry Division – Operation Flashpoint: Rhine Crossing Training, you are aware that the battalion was used as an assaulting unit, which means they would be the first men of the regiment to cross the Rhine River.
By 0200am on the 24th of March, 2nd Battalion moved up to an area immediately south of Dinslaken where the engineers of the 187th Engineer Combat Battalion were waiting for them with boats ready. Men were quiet, no one smoked, everything went as smooth as silk. Boats were picked up by 0300am by crews who were to occupy them then carried down to the river between coordinates 264271 and 266265 (see map below).

©GoogleMap - 2022
To cross the Rhine men traveled vert light, they only had their uniform, life belt and a small number of rations, the feeling of sinking was real. Three minutes later, everyone was ready for the move under a very dense cloud of smoke provided either by smoke pots or smoke generators. First wave composed of twenty-eight M-2 assault boats powered by a 20-horsepower motor and two storm boats (British type) powered by a 50-horsepower motor crossed the river first.
Captain George H. Dale, C.O of "E" Company was on the left and "F" Company led by Captain Walter C. Holtsmith on the right, in the middle there was the Command Group of the battalion. Supported by a platoon of "H" Company the first wave crossed without difficulties but smoke was so thick and heavy, men had absolutely no idea where they were going and used their compass for direction. Four boats, however, lost their sense of direction and returned to the west bank where they met the 1st Battalion. Upon reaching the center of the Rhine, American artillery stopped to shell the east bank as men were approaching but more so all of enemy strongpoints were reduced to none. Second wave did the crossing the same manner as the 1st but it was assigned the mission to bring up ammunition and the rest of the equipment that men needed.
First enemies met by the 1st wave were rapidly made prisoners as they were stunned by the artillery barrage. No guard duty was required to keep an eye on them, they didn't know to make the difference between their left or right hand. At 0340am, once all companies composing the first wave were on shore, "E", "F" and "G" moved up to coordinates 277277(see map below).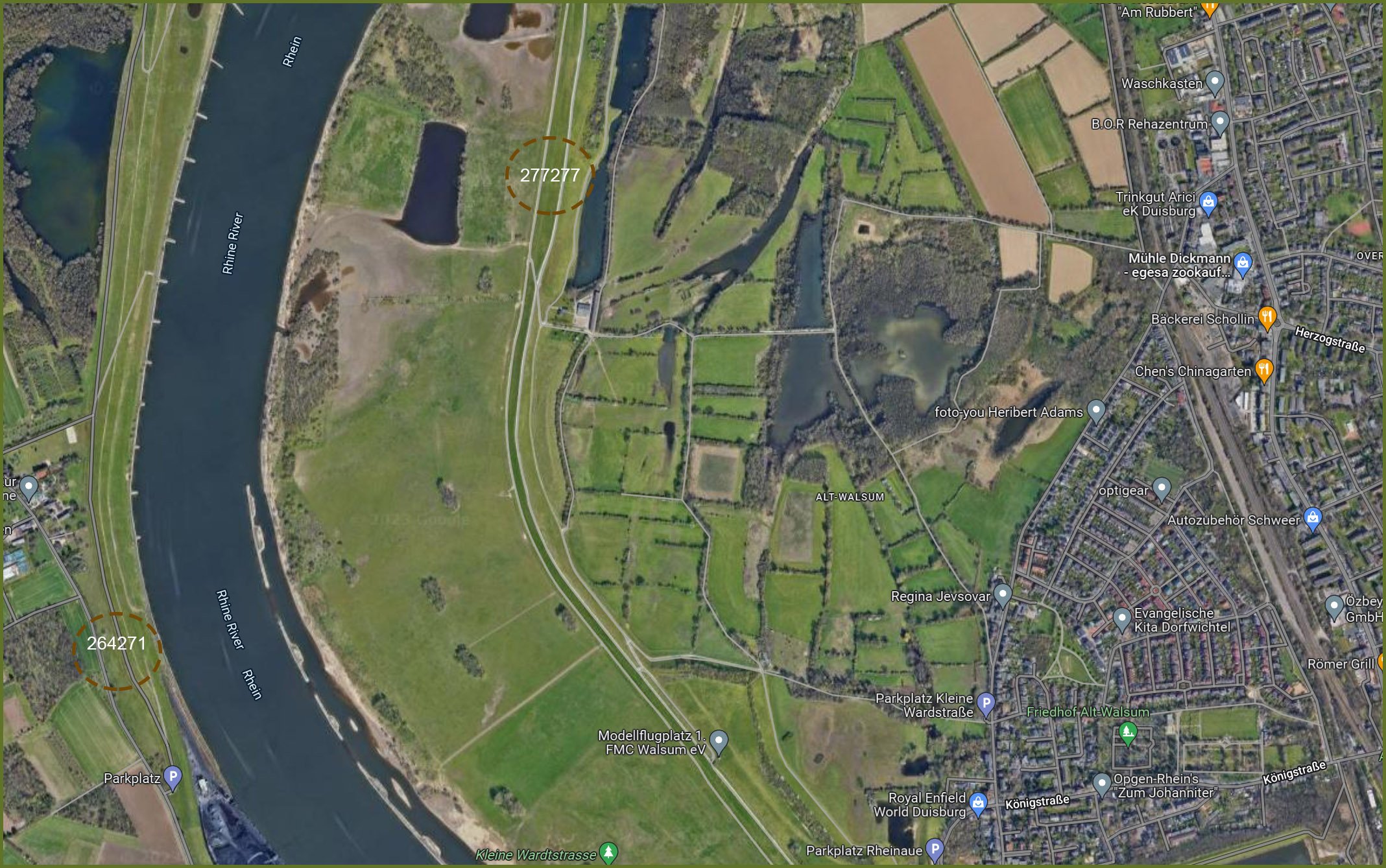 ©GoogleMap - 2022
"E" and "F" crossed the railroad bridge in lead, followed by "G". The advance of "F" Company's men was fast, moving on the east side of the tracks, they put into action what they learned during the crossing training, when a built-up area was nearby, several shells from a panzerfaust were fired scaring Germans. In the meantime, "E" Company who was on the left flank of "F" was liberating Vierlinden. As always during Operation Flashpoint everything was well prepared, "G" Company didn't take part in the first fights, it stayed at coordinates 300275 to collect straggling prisoners of war and so forth.
The two leading companies which were "E" and "F", by 0630am were on a position along the Emscher Canal. "G" Company came into action at that time when "E" and "F" were on the Emscher Canal but went at coordinates 307275 to form a semi-circle. By doing so, 2nd Battalion had a perfectly line defense at 0900am.
By that time around two-hundred German prisoners were already made. The advance was so easy because no real resistance has been yet met. Three hours later, at 1230pm Lieutenant-Colonel Clarence E. Gooding commander of the 2nd Battalion was instructed to move his troops at the east to take up position on a slag pile which was the highest ground in the area. Plans were made during the whole afternoon and at 0430pm "E and "G" moved out. "E" headed for the pile and "G" was on its right in support. Thirty minutes later 2nd Battalion was on its third line of the day and will stay on it until the next morning.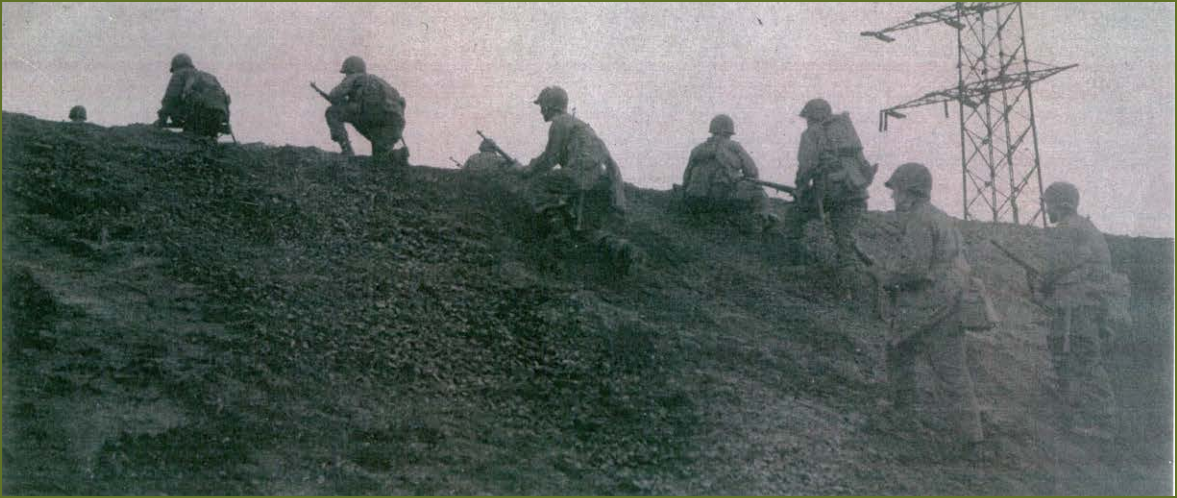 ©79thCombatHistory
Mars 25th found the 2nd Battalion maintaining its position but this time under enemy artillery fire as 4.2mm mortar and 105mm Howitzer fire. 3rd Battalion took over and men were withdrawn in reserve at coordinates 295275 where they will remain until the next day.
On the 26th, Lieutenant-Colonel Gooding and his men left the assembly area to be brought up again on the frontline at coordinates 305272. The all unit jumped off at 0500am on the road running from Dinslaken to Aldenrade, "F" on the left and "G" on the right were moving forward the east with a platoon of machine gun, two tank and two tank destroyers attached.
Note: "E" Company was in reserve.
Small isolated rifle fire was encountered by "G" Company' men but in less of fifteen minutes the whole company had taken Aldenrade, its objective. "F" ran into couple of strongpoints but by 0630am was on the east side of Aldenrade. "E" Company came in action that day once Aldenrade was under control to take position in Horsterbruchstrabe, these men encountered resistance but not the veterans previously met during the Rittershoffen – Hatten battle. These men were World War I soldiers fighting with outdated weapons, according to information gained they were from the 7th Infantry Regiment of the 2nd Paratrooper Division. Meanwhile, "G" and "F" Companies consolidated along the Neue Emscher Canal.
In Aldenrade, Captain Holtsmith, and his command group, were welcomed by a bazooka shell, probably fired by one of those sixty years old Volkssturmers, "who can't do a thing". Along the canal, about two-hundred of those Volkssturm were collected, all with World War I Soldbuchs.
Written by Pierre Fallet - Normandy American Heroes