After having left Fortress Cherbourg, the third and last regiment of the 79th Infantry division, 315th Infantry Regiment reached the village of Fierville-les-Mines. No need to tell men that they were about to launch a new offensive in direction of the south of Manche county.
On July 1st , 315th's command post was set up at coordinates 099968 near Fierville-les-Mines, new fresh soldiers arrived to replace the casualties, Killed or Wounded in Action during the Cherbourg Campaign.
Men relieved some units of 90th Infantry Division in the vicinity of Saint-Lô- d'Ourville. Indeed, three US divisions were composing the frontlines in the area:
79th Infantry Division on the extreme west (313th, 314th and 315th were holding a line running from


coordinates 097886 - 117896 - 130894 - 150910 - 183911.)



82nd Airborne Division on the east.

90th Infantry Division still at the east but further.



Many patrols were sent to reconnoiter, each day more and more units were attached to the regiment as 749th Tank Battalion, 813th Tank Destroyer Battalion and the 463rd Antiaircraft Artillery Battalion and by the 2nd of July, the regiment was once again complete. Each company re-found its strength and orders were received. 315th Infantry Regiment was given the mission to seize Hill 30. If men succeed in taking Hill 30 plus an other hill at the south of the town, Germans will be forced to withdraw to their next line of defense, which was at the time, at Lessay.
Note: 315th's Command Post was moved to coordinates 093923, near Le Haut de Gris.
The 79th Infantry Division's Headquarters were counting on a rapid attack so men were ordered to spread as quickly as possible, but many of them found themselves lost and reported as Missing in Action before reappearing some days later.
On its way to assault Hill 30 2nd Battalion took many prisoners of war (Germans, Austrians and Czechs) as "G" Company, despite the enormous amount of prisoners taken, Germans fired an artillery barrage with all available guns they had. Indeed, they were answering to the terrific artillery fire made by the American Army in celebration of 4th of July. Boys of the 2nd Battalion succeeded to assault Hill 30 but paid the high price of losing many of its men.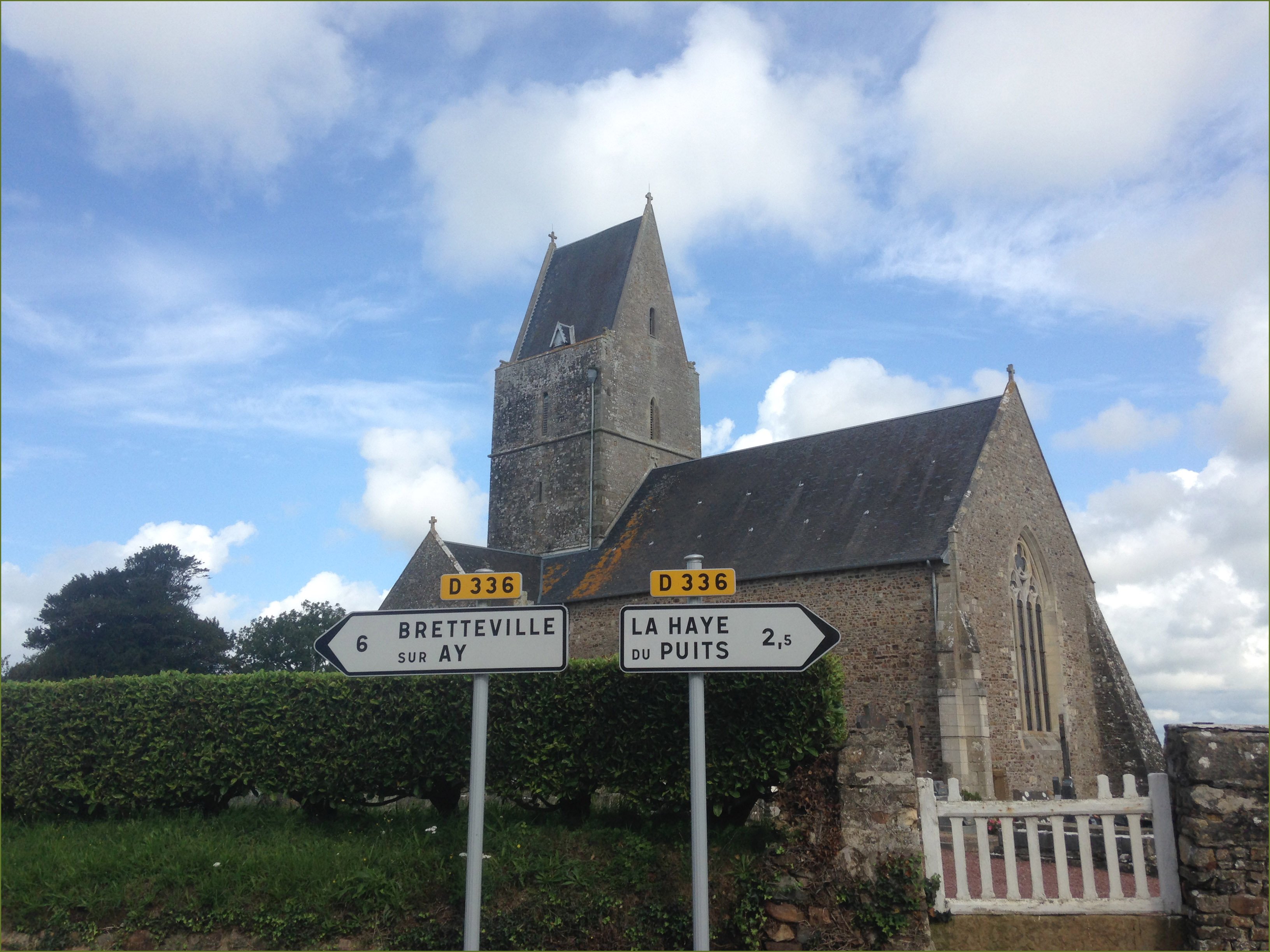 Church of Montgardon on Hill 84.
Along the road Saint Lô d'Ourville – Denneville, heavy battles were taking place and so for four days until the 7th. According to the men of the 315th's , Montgardon church's steeple (see photo above) will go down in history as one of the most enemy observation point of the war. It was from here that Germans were directing their artillery fire when 314th Infantry Regiment was assaulting Hill 84. Officers of the Headquarters compared the bloody fighting of Hill 84 as the one encountered in Tunisia for Hill 609.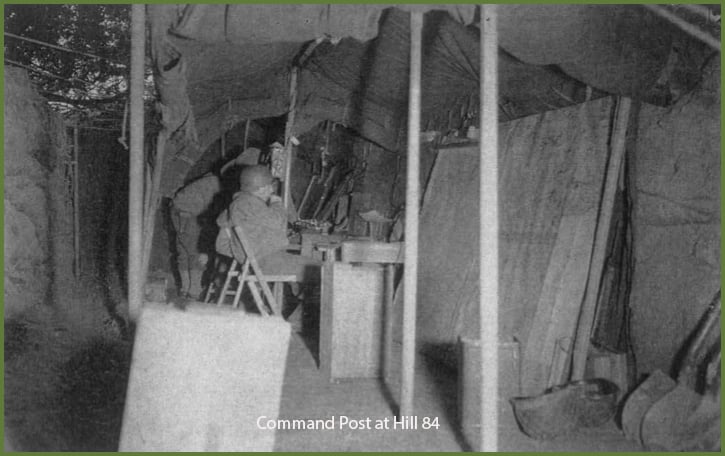 ©UnitHistory of the 79th Infantry Division.
From the 3rd to the 11th of July 1944, the regiment encountered many casualties, men enlisted in the regiment since the beginning were wounded or killed. Wounded were shipped to England to recover as quick as possible. The work of 315th Infantry Regiment's Medical Aid and officers made around La Haye-du-Puits was according to soldiers, excellent. They could be proud of their work and duty for saving their boys and assumed command under a terrific German artillery fire.
Through 313th and 314th Infantry Regiments 's story we have discovered that tanks were used but not at the beginning of the battle. Why? The landscape was only made of hedgerows, plus German artillery fire was dangerous but mostly the rain combined to hedgerows and mud would make difficult or impossible their utility.
Medics taking care of the casualties after the battle of La Hay-du-Puits - ©CombatReels.com
The 315th Infantry Regiment was ordered to pass by the west in an attempt to encircle the town of La Haye-du-Puits and to meet 313th and 314th Infantry Regiments at the south.
The regiment commanded by Lieutenant-Colonel Bernard B. McMahon went toward the city of Montgardon (southwest of La Haye-du-Puits). On their way to battle, several German soldiers were captured, some of them revealed they were in the locality of La Haye-du- Puits since one or two days. German High Command ordered them to left their assembly area wherever in France to join Normandy frontlines. Many of them were based at Brest or Paris. At this time men wearing Wehrmacht uniform were not Russians or Czech but true Germans. Despite it, many of them told 315th's boys, a counterattack was scheduled on the morning of the 8th of July.
Fightings around Hill 84 were costly in men and ammunitions, plus it was discovered during the night that they were dealing with 3rd Infantry Regiment of the 2nd Panzer Division SS Das Reich and 70th Company of the 1st Paratrooper Regiment.
The German counterattack was postponed. Why? During an attack on Hill 84, men from 2nd Panzer Division SS Das Reich were made prisoners, many of them reported to have been brought up onto frontlines for a counterattack. They have also reported both blanks of Ay River were mined and they were moving their artillery once guns have been discovered.
Note: German forces had pulled up south of the Ay River with their artillery and counterattack began on July 10th at 1106am.
315th Infantry Regiment's boys knew Germans were running out of gas because guns were triggered by horses. They get told by locals that Germans were planning to schedule another counterattack on hills around the city to definitely control Montgardon. The enemy knew if Montgardon was under fully American control, La Haye-du-Puits would be definitely lost. The situation was might be in a little favor in US Troops, the situation could balance at any time. Casualties were still high, in one day the regiment suffered 73 casualties (6 officers and 67 enlisted men).
Battles for Hill 84 ended on July 11th at 0206am when 2nd Battalion's commander reported to occupy it once and for all. Hill 84 was might be under control, there was still one German strongpoint at L'Orguillet, a hamlet part of Bretteville-sur-Ay. These information's given by the Reconnaissance Troop told that this strongpoint had dug-in tunnels, dug-in emplacements and an unknown number of Germans. To seize and destroy it, 2nd Battalion of the 315th sent some combat patrols to Hameau Biémont and La Traverserie at the East of L'Orguillet.
Patrols' missions were to clean out all areas around this strongpoint to isolate and to make it vulnerable. Orders said: "All trees, all hedgerows, and fields must to be searched and patrols were to be continued to determine what frontal resistance there might be, and if it were found that there were only small pockets of enemy, a small Task Force was to be used to wipe them out."
Note: Interrogation from Germans prisoners and French civilians indicated that there was just a little resistance left in the area. The rest of the force has been pulled out.
During all the day of the 13th of July, men were resupplied and reequipped as their morale was extremely low due to the heavy casualties encountered. Men could enjoy the feelings to take a shower and to read their mails.
Note: Division Command Post was located in a castle at coordinates 149855 in the vicinity of Bolleville. 159 replacements were assigned to the respective units.
From Montgardon, 315th Infantry Regiment moved down the highway towards Lessay in the vicinity of Angoville-sur-Ay at the north of the Ay River. The real first contact with large scale minefields was made here, at Angoville-sur-Ay. Germans had buried various kind of mines everywhere along the road. Despite the work accomplished by the engineers, casualties were inevitable especially when night patrols were sent out.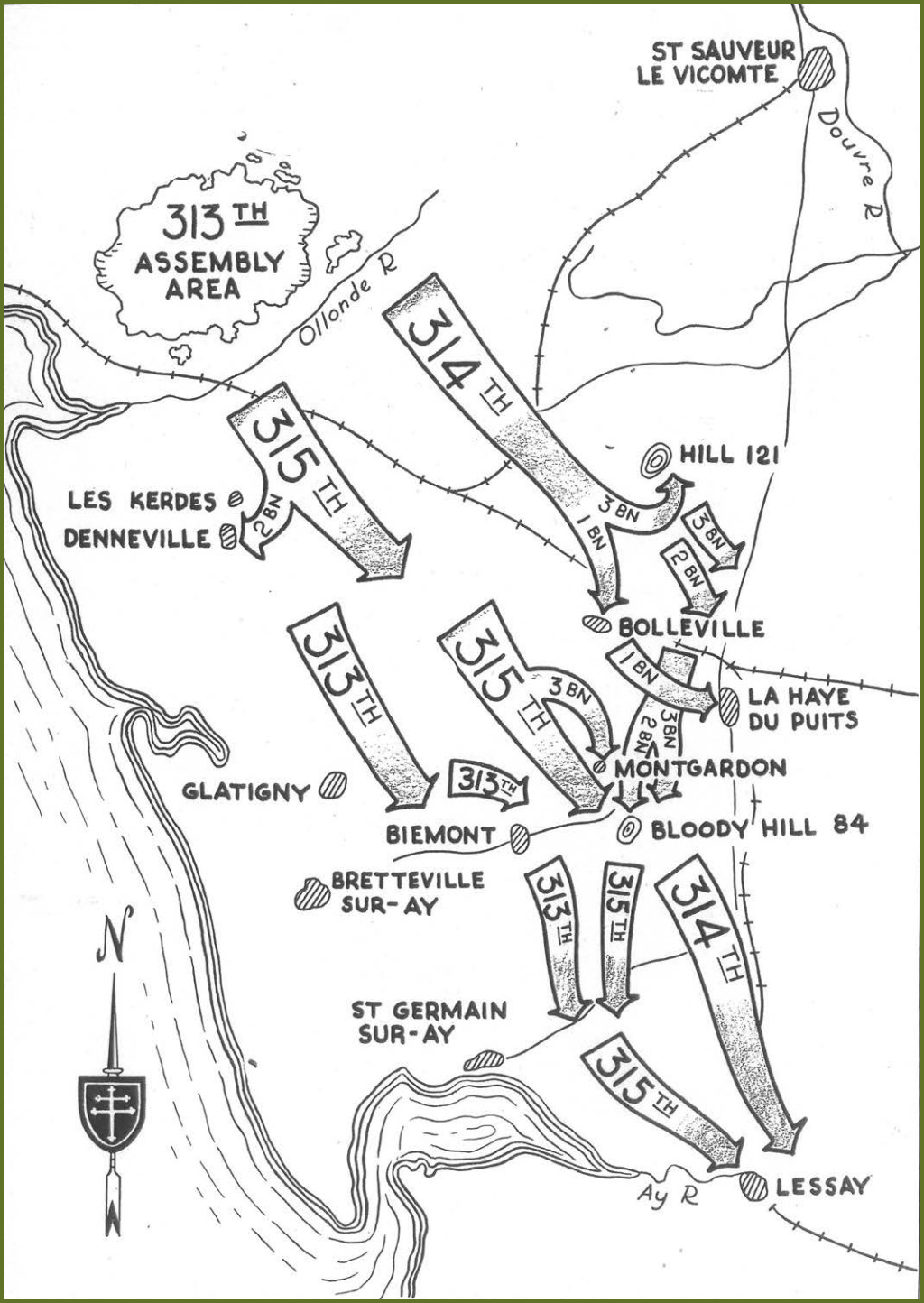 ©79thUnitHistory.
Still on their way toward Lessay, many civilians living in county went to town before the American's arrival to know what was the situation there. Those civilians gave every detail as the number of German soldiers, number of guns to their liberators.
Command Post was set up in the church steeple of Vesly, offering the possibility for the 315th to overlook the towns of Créances, Lessay and hill across the river. On the 15th of July, Division Headquarter ordered the regiment to send one patrol on the east of Lessay and another one at the west to reconnoiter the area and to come back with information's about German strength but to not cross the 75-grid line because of the division and corps interdictory fire.
On this day, men from patrols ran into various minefields which were especially on crossroads. Staff Sergeant Joseph A. Poulin "A" Company of the 1st Battalion, after crossing minefields and after to be targeted by machine gun nests reported that several men considered as Missing in Action after the battle for Hill 84 have been made prisoners but healthy.
On July 16th, at night, patrols could hear the sound of armored vehicles, and footsteps, indeed Germans were withdrawing further south. They left Créances and Pirou leaving behind them Russians fighting in 3rd Reich's ranks.
Note: Only 315th Infantry Regiment was onto frontlines. 313th and 314th were at their bivouac area.
This Russian force caused many troubles while a patrol from 2nd Battalion was trying to cross the Ay River at Vierville, west of Lessay. Those soldiers fired on them with machine guns forcing 2nd Battalion to withdraw. Boys of the battalion pulled back and attempted to cross 200 yards farther down the river. While men were trying to cross the Ay river for the second time, they heard noise of enemy wagons and movements which was getting closer and closer. "E" Company reported on its way back to its command post that the enemy on the other bank of the Ay river left the area but some groups were still holding their positions, always able to harass them.
Note: Enemy forces were men from the 941st, 942nd and 943rd Infantry Regiments ; By mistake someone from Corp Headquarter has reported that Lessay was already under American control which was not the truth.
Only on July 19th, two patrols of the 315th were able to cross the Ay River and to penetrate enemy territory about 300 yards. In the meantime, heavy battles were taking place on a bridge north of Lessay where Germans were still holding their positions to maintain a bridgehead despite their withdrawal. For the next two days, patrols were again sent out to cross the Ay River.
Note: On the 18th of July, objectives for the 79th infantry Division during Operation Cobra were already established.
D-Day for Operation Cobra was postponed fourth times due to the bad weather conditions. At first it should be launched on July 21st then on July 22nd, July 23rd, July 24th and finally on the 25th of July. These different postpones, allowed the regiment and division to send out patrols along the Ay River to silence once and for all the remaining enemy outposts.
While active patrols were still taking place, "B" Company of the 315th Infantry Regiment captured thirty-four enemy soldiers in an observation point at 0100pm on July 22nd. Once again two other patrols were able to cross the river on the 24th of July.
Crossing of the Ay River; Objective during Normandy Breakthrough
The command post was moved on July 25th, at coordinates 173817 in the vicinity of La Viéville in preparation for Operation Cobra.
Note: As you are aware now, Operation Cobra was launched on July 25th, 1944, but D-Day for VII Corps was July 26th.
D-Day 26th of July. Each regiment received different orders and objectives:
314th Infantry Regiment will follow the 28th Infantry Regiment of the 8th infantry Division across the Ay river once 28th has secured the high ground southeast of Lessay.
313th Infantry Regiment to follow the 314th and seize the area south of Lessay.
315th Infantry Regiment was ordered to cross the Ay River at the west of Lessay.

1st Battalion of the 315th assembled north of the river at coordinates 206756, ready to cross it and to establish a bridgehead. 3rd Battalion was to be at the rear of 1st Battalion as a support while 2nd Battalion continued to outpost the river line.
Note: 121st Cavalry relieved 3rd Battalion which took over the river defense line up to Fierville.
During the night of the 26th to the 27th of July, regiment discovered other extensive minefields along the Ay River, men were ordered to make a stop and to wait for the engineers. River banks were cleaned out of mines by 1000am, on July 27th. Only three hours later around 0115pm, 315th's battalions could restart their advance and finally cross the river once and for all to take Lessay.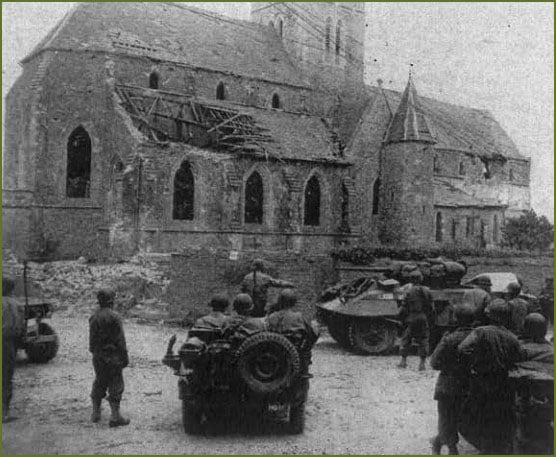 ©Unit History of the 79th Infantry Division.
Note: 1st Battalion under Lieutenant Colonel Milton L. Rosen's command and 2nd Battalion crossed the Ay River near the main highway bridge and started their attack on Lessay at 0630pm. 3rd Battalion crossed it at the east of the town and occupied the high ground between Lessay and 314th Infantry Regiment's area.
When men crossed the river, Germans opened fire with their artillery, in the course of the American advance toward the town, artillery fire stopped and small arms fire took over. By the end of the day, after more or less a week of many attempts to cross the river, 315th Infantry Regiment reported to have captured Lessay at 0930pm.
A command post was set up in town but as Germans were on the run, men moved to the village of Le Buisson on the road southward towards Coutances.
Note: 3rd Battalion stayed in its area at the southwest, 2nd Battalion moved to a new assembly area near Gaslonde after cleaning out Lessay of the remaining Germans.
On the 28th of July, 315th jumped off at 0615am with its 3rd Battalion on the left, 1st Battalion on the right and 2nd Battalion behind the 1st to push further south.
Note: 28th of July was one of the rare days where men encountered no opposition.
On the next day, regiment was ordered to follow the 6th Armored Division on its drive to Granville at 1130pm. A new command post was set up at Boisroger, north of Saint-Malo-de-la-Lande,
At the CP, Lieutenant-Colonel Bernard B. McMahon was receiving information from a French civilian who inadvertently thrown a grenade wounding him and other soldiers present. Unfortunately, a girl whom was with them was instantly killed.
The same day, Lieutenant-Colonel John A. McAleer took command of the 315th Infantry Regiment and Lieutenant-Colonel Rosen became Executive Officer.
During July 30th, 315th Infantry Regiment and all elements of the 79th Infantry Division plus attached units continued to advance south, establishing at the east of Coutances in the vicinity of Tourville-sur-Sienne.
Note: None German opposition was encountered.
As men were advancing further to the south, main roads, inland roads, fields, villages, hamlets were jammed of German armored vehicles, tanks, weapons, trucks, guns, rifles, machine guns, grenades, dead horses. This was an evidence of the situation in which German Army was. Men knew at this moment that it was not a retreat but the beginning of the German Army's defeat in Normandy.
Written by Pierre Fallet - Normandy American Heroes.