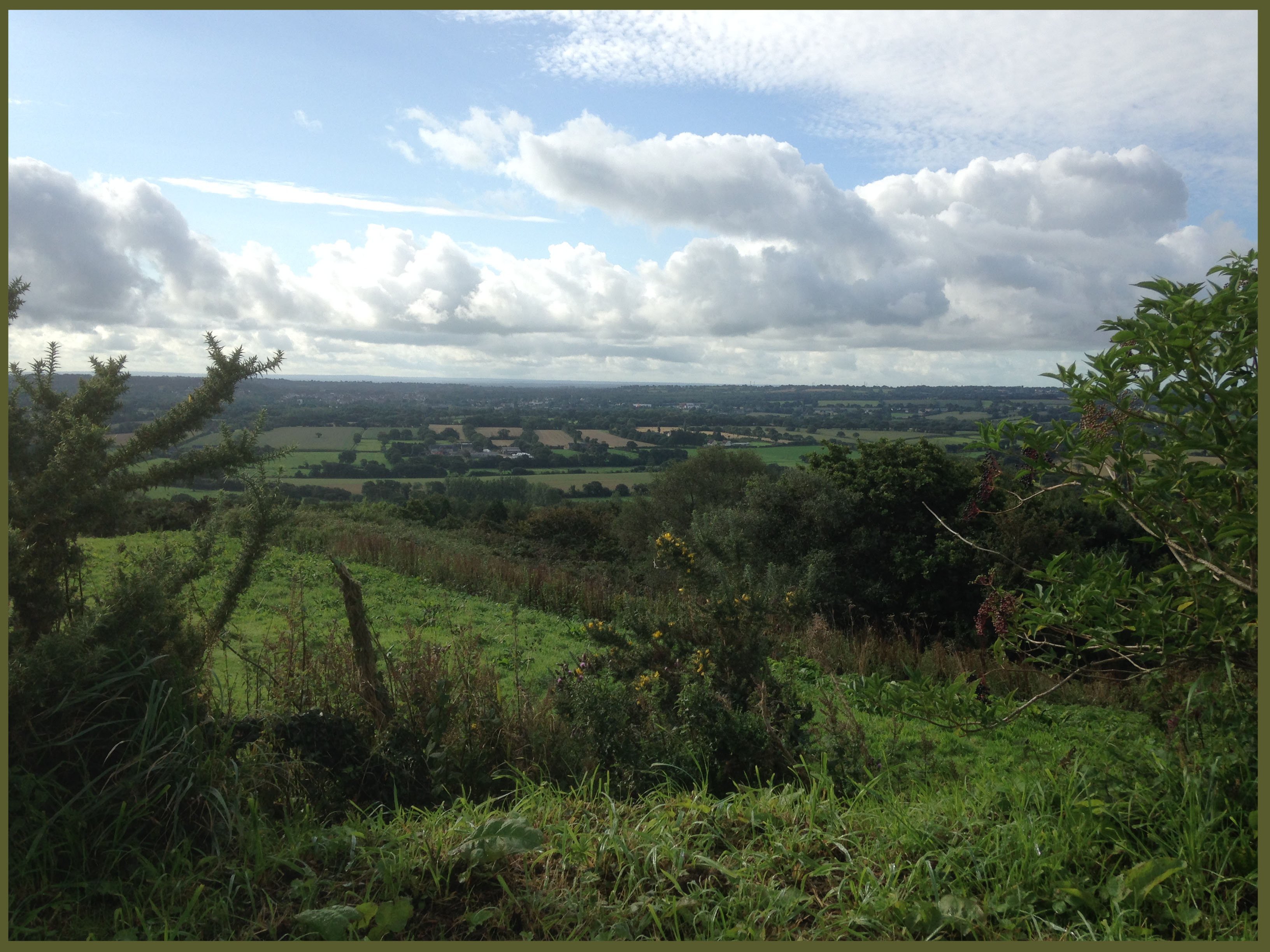 As the American armies were progressing toward Brittany, the 315th Infantry Regiment was still on its way to the South. Lessay was under Division's control, Germans were retreating, everything was unfolding as planned. On the 28th of July, the entire 79th Infantry Division made an advance of 12-14 kilometers. It was now the time to seize Fougères, the entrance of the Brittany County.
The order to move on Fougères was received on July 30th, to liberate Brittany from Nazi occupation, plan called for three Task Forces in a broom fashion to sweep it completely of enemy soldiers.
1st Task Force: 6th Armored Division and 83rd Infantry Division were sent to Saint-Malo then followed the northern road to Brest.

2nd Task Force: 4th Infantry Division plus 8th Infantry Divisions have broken through Rennes and continued toward Nazi submarine bases of Saint-Nazaire and Lorient.

3rd Task Force: 29th Infantry Division plus 5th Rangers went up the center of the peninsula toward Brest
Passing through Saint-James with their band of brothers of the 313th and 314th Regiments, streets were full of civilians. Girls were either waving or throwing flowers on the boys, others were sending kisses on them as they passed. The joy of the population everywhere showed the Division that they were really part of the liberating Army.
At first, the Command Post was established into Fougères itself but due to the broadening on frontlines it was necessary to move it in "Forêt de Fougères".
315th Infantry Regiment in Fougères - ©Footage CombatReels.com
The only proofs of the former German occupation were the enormous number of abandoned and destroyed vehicles and equipment in the fields, roads. Every piece of ground was jammed with enemy abandoned equipment, sometime one or two scattering soldiers in bedraggled condition were trying to surrender or to escape East to join the fortified towns of Brittany.
On August 3rd, a report was received telling 35000 Germans were at the southeast of Laval, but Officers of 315th Infantry Regiment thought it was exaggerated. The town was about 40 miles from Fougères and was an important crossroad to reach Paris.
August 4th, was a special day, 79th Infantry Division was transferred into the XV Corps and 3rd US Army commanding by the famous General George S. Patton. Men could not dream better, they knew that Patton is a real chief of war and that they would move really fast toward Paris.
Toward Mayenne River
On August 5th, the Regiment was moving by trucks to an assembly area East of Laval, it was also during the night of August 6th to August 7th that the order to push forward Paris by taking Le Mans was received. But before to march on Le Mans, a natural barrier must to be crossed, the Mayenne River.
To cross the river, Laval must to be secured ! This mission was assigned to the boys of the 313th as they were the first in town. These boys used the dam, and few bailey bridges built by the engineers. In the meantime, 314th 's men were crossing the river in the North in Changé. Finally, 315th Infantry Regiment used the same bridge used by the 313th to cross the river on August 7th.
As in Saint-James, Laval inhabitants were in the street to welcome their liberators, once again the Lorraine Cross Division was touched by the sincerity of the locals.
As Le Mans was at approximately 60 miles, Regiment moved to an assembly area in the village of Thévalles, waiting for the trucks. Command Post was set up in an abandoned Airport German Headquarters, where ammunition dumps and underground hospital were found. But the most precious finding was the showers! Men could finally take a shower, first one for many of them since they left England.
In the early hours of August 8th, Regiment left Thévalles for a long motor move which was made eastward passing through Brulon and Loué. It seemed Division was catching up with the Germans in their flight as resistance was growing as it getting closer and closer of Le Mans.
Resistance was growing but it was only sporadic. In conjunction with 90th Infantry Division, this was rapidly wiped out. On the same night, town was occupied, Command Post's Regiment was set up in a castle which was still on the previous day German Headquarters.
In connection with the taking of Le Mans, an incident there is worthy of retelling. During the afternoon of the day, Private Maurice Saint Aude of Headquarters Company was accompanying Captain Patch on a reconnaissance for a truck turn-around when a civilian stopped them.
This French man spotted Germans in the woods and wanted to share it with Americans. Once arrived at the location, Private Sainte Aude exposed himself to possible enemy fire and called on the enemy to surrender. Three jumped up from their ditch but Private Sainte Aude noticed there were more. His courage, strength to conquer forced, not ten or twenty, but forty-one other enemy soldiers well-armed with machine guns and grenades to surrender. This large capture of enemy soldiers including four Officers cleaned up the sector but more so prevented numerous American casualties who were supposed to bivouac 100 yards from the enemy position.
On the 9th of August, 315th Infantry Regiment went North of Le Mans making a stop at "The Château" probably Château de la Groirie. According to the men it was the finest Command Post ever set up to date. Place was plenty of eggs, wines, ciders. But war doesn't wait!
On August 10th advance continued following the path made by 5th Armored Division. As men were passing through the town, civilians thrown kisses, flowers but also things to eat as apples, tomatoes, pears. The 315th continued its road of advance North passing through Saint- Corneille, Savigne-l'Èvêque, Sillé-le-Philippe and Beaufay, distance of 19 miles on a hot day. Finally, 315th bivouacked for the night in the vicinity of Courcemont.
Orders were always the same during this time, move North again and again. There was no longer any doubt, 79th Infantry Division was on the way to Paris. 315th continued, still to the North its march through villages of Saint-Aignan and Marolles-les-Braults.
For the first time since Fougères, Regiment was put in defensive positions on August 11th. Ahead of them, Forêt de Perseigne which could have been used as very well-hidden position by Germans. The mission consisted to put 79th Infantry Division in defensive positions while Air Corps would drop oil bombs to trap whatever German forces might be in the forest.
After spending the night in Courgains, men continued their northward surge to catch up with British and Canadian forces at the North with the intention to create a solid front. But as it was determined Forêt de Perseigne was cleared of enemy, bombing was called off.
Once again 315th Infantry Regiment continued its march to the North on a distance of 18 miles. Towns-people of Mamers and Saint-Julien-sur-Sarthe were already in streets before Division's arrival.
In Saint-Julien-sur-Sarthe, a French man was holding in his hands a warning German notice informing civilians that the use of private automobile was strictly prohibited except for the convenience of the German Army under penalty of court-martial for sabotage. This man who was a store-keeper approached one of the vehicles in ripping it down with his heel telling "Boche Kaput".
Men of the 79th Infantry Division passing through the village of Mamers on August 12th, 1944.- ©Footage CombatReels.com
Sunday August 13th and Monday 14th, 1944 were spent in Saint-Julien-sur-Sarthe in rest, shower, washing clothes and equipment. During those two days men swam in the Sarthe River, the occasion for some of them to be completely clean since the arrival of the Regiment in France, it was probably the most enjoyable day that men had spent for a long time.
(Note: A ceremony was held on Sunday August 13th ,1944. Silver Stars for gallantry in action were awarded to the following men:
Private First-Class Arthur Herbet (AAR spelling) (Posthumously)

Private First-Class Dewey A. Dickerson

Private First-Class Lynn E. Conrad (Posthumously)

Private First-Class William J. Shorter

Private First-Class Leonard K. Horton

Sergeant John W. Gibson, Jr

Staff Sergeant Samuel G. Belich

Private First-Class Theodore Scouten

Private First-Class August H. Meckelburg Jr (Posthumously)

Private Louis Romanoff (Posthumously)

Private First-Class Horace J. Bennino (Posthumously)

Staff Sergeant Dewey Shepherd
The insignia of the 79th Infantry Division is a Lorraine Cross, also used by the Free French Forces. As the 315th was one of the closest unit of Paris might be it was a sign of God? The move toward Paris itself began on August. 15th, 1944 !
Written by Pierre Fallet - Normandy American Heroes