Located between Aisne - Oise Cemetery and Aisne - Marne Cemetery, the city of Château-Thierry is a crossroad between Paris, city of light and Reims, French Kings' city.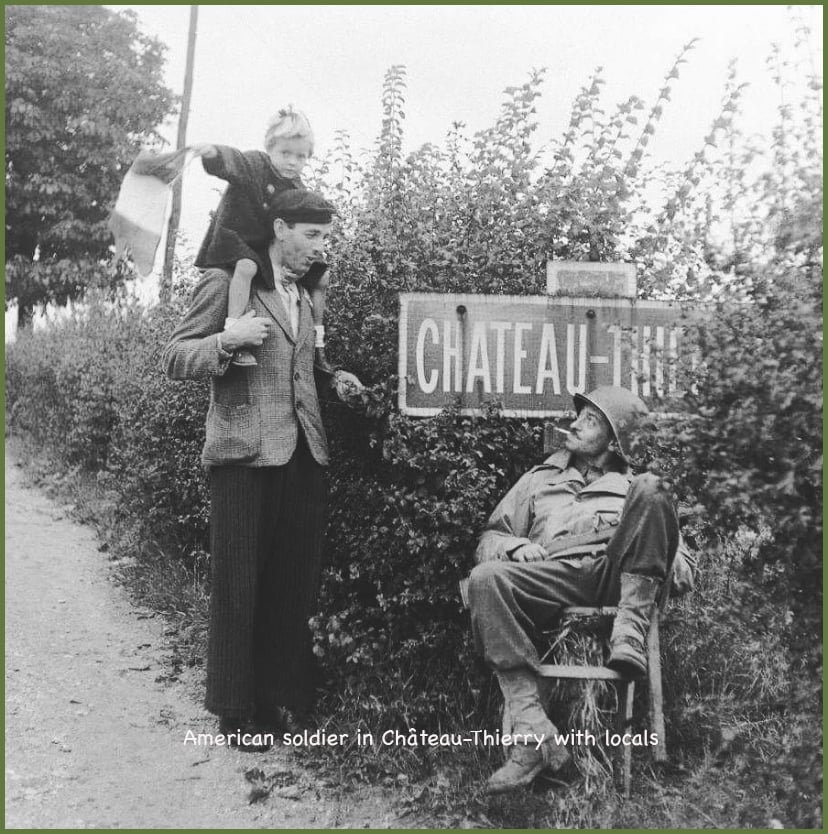 The town owes her fame to one man, the French fabulist Jean de La Fontaine born on July 8th, 1621. Overlooked by many vineyards and by many villages or hamlets, Champagne is a tradition for all inhabitants.
The town is famously known thanks to Jean de La Fontaine but not so much people are aware of the town history.
Château-Thierry history dates back to the Merovingian era when it was an ancient city. Across the ages and centuries many famous French people fought for it.
1285: City became "Royal"

when Jeanne de Navarre married Philippe IV le Bel.

1429: French Kingdom was drawn into the Hundred Years' War, the town was held by Duke of Châtillon working for the British Kingdom. French knight known as Jeanne d'Arc freed the town without a single fight.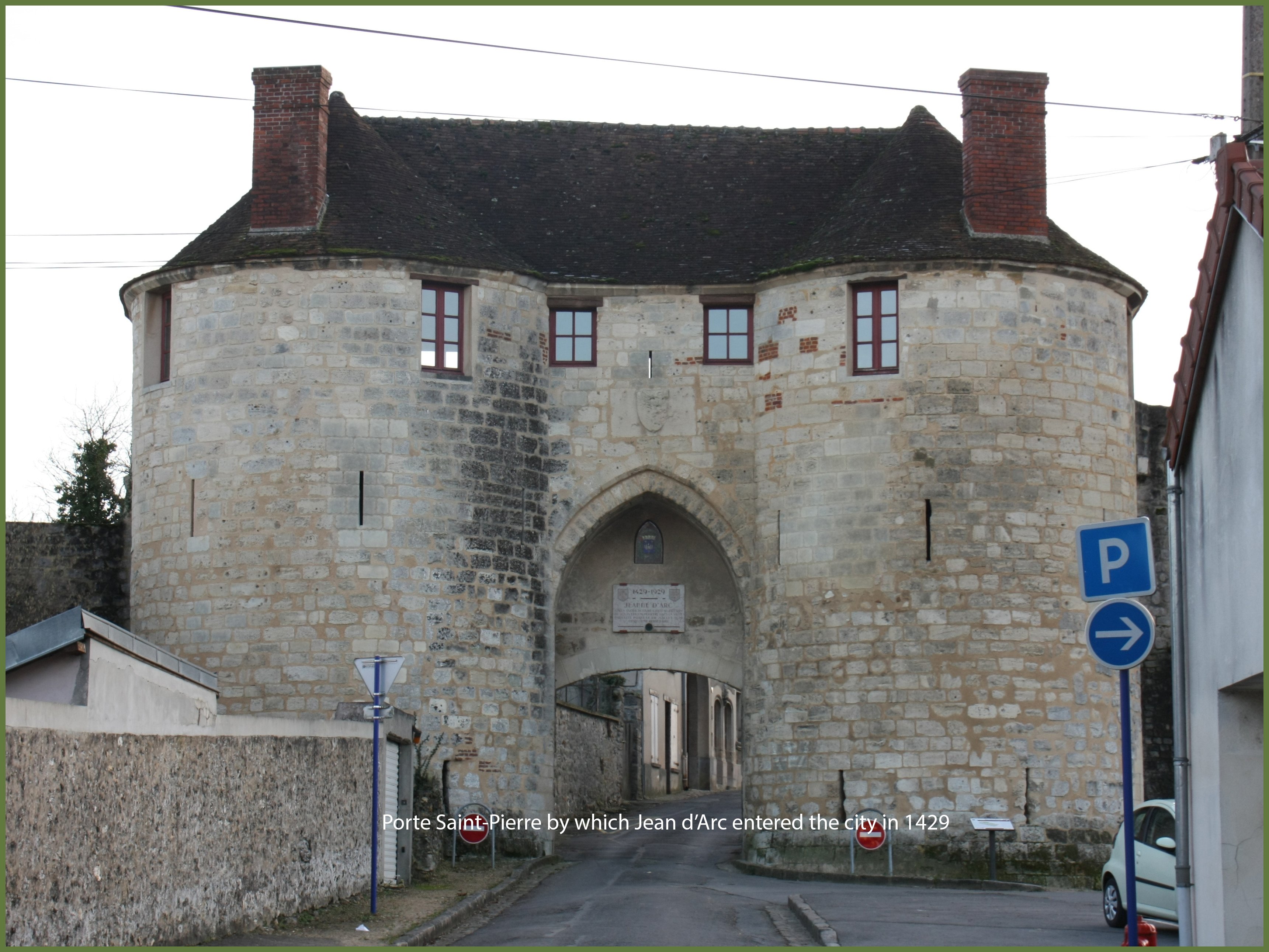 1544: Charles de Habsbourg, famously known as Charles Quint ruler of the Holy Empire, Aragon, Castille, Naples, Netherlands Kingdoms, but also of New World Kingdom came to face the French soldiers.
1814: On February 12th, Napoléon 1st, former French Emperor succeeded in repulsing at Château-Thierry, Prussian, Russian troops commended by Marshall Von Blücher
1862: Merovingian necropolis was discovered around Chesneaux neighbourhood, another one was also found twenty-one years later during the construction of the railroad leading Amiens to Dijon.
1934: During the construction of Jules-Maciet elementary school, coins with the note "ODOMO FIT" were found among sarcophagus.
First World War
Aisne county as many other counties in the North of France was not spared by the First World War. One hour by car at the Northeast of the town and 30 minutes from Reims, German and French armies fought on the battlefield of "Chemin des Dames".
This battle is really interesting, both armies had set up their camp inside a cavern known as "Caverne du dragon". Both were separated by a simple stone wall and lived inside the cavern for months like rats.
(Note: It is possible to visit the cavern, to discover where men spent many months, living in the dark, with appalling living conditions.)
Not really far from the cavern, there was the village of Craonne, completely wiped out of the map by the shelling. There are still tracks of the former village, it is possible to walk through the remains. After the war it was rebuilt not far away from its initial place and was considered as many other villages in the North of France as "Martyr Village".
Much closer of Château-Thierry, during the summer of 1918, German army was about to break the Allied lines. The famous 4th Marine Expeditionary Brigade prevented the enemy to open the road toward Paris and freed Château-Thierry by fighting into "Belleau Wood".
Second World War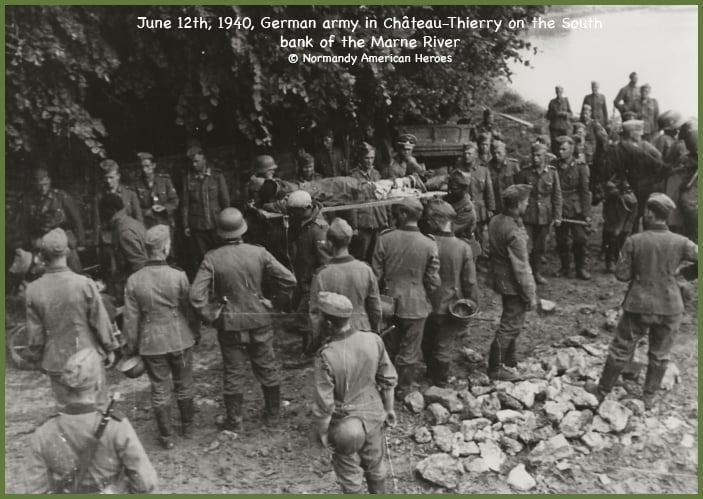 In June 1940, France was occupied by the Nazis. The first German troops started to set up into the town, and will remain until August 1944.
The town was liberated on August 28th, 1944, by the men of the 7th Armored Division. Precisely, the 7th Armored came from the village of Montmirail at the south and entered Château-Thierry by the street "Avenue de Montmirail".
(Note: The video below shows War Reporters visiting the First World War American Monument of Hill 204 and the Aisne-Marne Cemetery)
© Chronos Media - Video from ©Youtube
Surrounded by vineyards
The territory of the actual city is linked with the powerful Herbertiens Family, descendants of Charlemagne, former French Emperor. This family is at the origins of the birth of Champagne County.
If you like Champagne, Champagne Tours are made for you!
Stretching from Épernay famously known to be the capital of Champagne to the West of Chateau-Thierry, Marne Valley's Champagne Tour will allow the amateur of French gastronomy to discover an ancestral know-how but also the Champagne heritage passing through vineyards, fabulous landscapes, castles along the Marne River.
Champagne richness can also be found underground. Dug in since 12th century, "Maison Pannier" rests her bottles into caves over a length of 1,24 miles which allow quietly, champagne to reach a maturation in the dark.
To introduce you with vineyard, we would like to present you "Champagne Patrick Gratiot & Fils". Wine-grower since four generations, with a wine growing of ten hectares.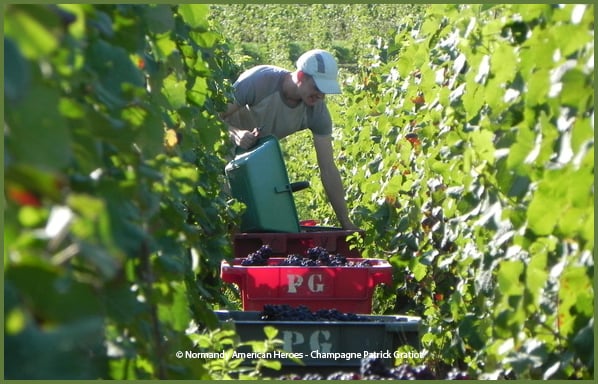 In 2005 Mr. Gratiot Patrick became COVAMA's chairman, his vision about the future? Sustainable development.
(Note: COVAMA is cooperative gathering many wine-growers and managing three French wine brands Champagne Jacquart; Champagne Pannier; Champagne Montaudon.)
In collaboration with his different co-workers, they created seven wine cuvées, working different varieties of vine as "Meunier" ; "Chardonnay", "Pinot Noir". By mixing those several varieties , they succeeded in creating for you Champagnes with different tastes, suitable with various dishes or diverse occasions.
Patrick's hard work allowed him to be awarded of the highest French decoration, "Légion d'Honneur" for the Champagne's development into Chateau-Thierry area also know as "Marne Valley".
Working since several years in a spirit of sustainable development, respecting the nature, reducing pesticides as much as possible his personal growing was rewarded and certified as High environmental Value and Sustainable viticulture in Champagne.
Family is really attached to the Champagne History and to their village, indeed Patrick was for ten years Great Master of Pinot Meunier brotherhood in Charly-sur-Marne.
His future is assured, since December 2010, his son works with him.
Jean de La Fontaine – Château-Thierry's son
Born on July 8th, 1621, in Chateau-Thierry French fabulist Jean de La Fontaine was the son of Charles de La Fontaine, Master of Waters and Forest, and Hunt Captain of the town. His mother Françoise Pidoux was Jean Pidoux's daughter, lord de la Maduère.
In Paris he get back to his law studies and made some friends, young poets as Paul Pellisson, François Charpentier, Tallemant des Réaux or Antoine de Rambouillet de La Sablière, husband of Marguerite de La Sablière.
At the age of 26 years old Jean de La Fontaine married Marie Héricart at La Ferté Milon (Birth town of the French dramatist Jean Racine) and became father of a son named Charles.
From 1658 to 1663 he will work with Nicolas Fouquet, superintendents of Finance of the realm. Fouquet is known for the building of Vaux-le-Vicomte castle. He will be taken as prisoner by Louis XIV, according to some French Historians, the French King was jealous of the beauty of Vaux-le-Vicomte. Fouquet will be accused of a lot of crimes.
Other historians think Nicolas Fouquet was the famous prisoner "Prisoner with the iron Mask.
La Fontaine testified in Fouquet's favor by writing « L'Ode au Roi » then « l'Élégie aux nymphes de Vaux ».
During the rest of his life, Jean de La Fontaine will write many fables known across the world as The fox and the crow or The cicada and the ant. He passed away on April 13th, 1695, in Paris. His body rests at Père Lachaise Cemetery.
Nowadays his fables are still taught in elementary school and middle school. This year, Château-Thierry celebrated the 400th Birthday of his birth.
A crossroad between Paris, Reims, Épernay, Château-Thierry is full of history. Many famous Kings, Emperors, Armies fought for it. It was, it is and will always be the entrance of Champagne county.
Written by Pierre Fallet, Normandy American Heroes